The Best Restaurants in Ocean Beach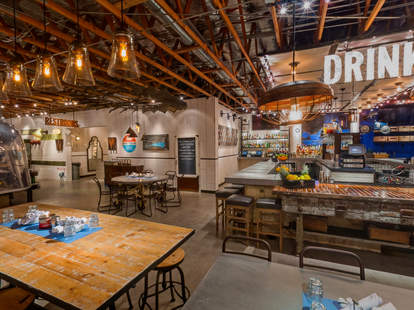 Of all the neighborhoods that make up the city of San Diego, Ocean Beach is by far the most... interesting. OB is known for having a laid-back vibe that attracts an eclectic mix of characters from surfers and beach bums to hippies and free spirits (and many overlapping combinations thereof). The one thing it's not known for is being on the cutting edge of the food scene. But that doesn't mean you can't eat deliciously there. Here's proof.
Courtesy of OB Warehouse
4839 Newport Ave
OB Warehouse is open seven days a week for dinner, and on the weekends you can brunch it up during their Beats, Bubbles & Brunch with live music from noon to 3pm. The Sofa-King Delicious cinnamon roll is no joke. This giant beast is smothered in tons of thick cream cheese frosting, sprinkled with candied pecans, and likely to induce naps. Mimosas are only $2 or create your own 100% personalized Bloody Mary. The order form looks a little like a pop quiz, but don't panic. Grab your #2 and fill in the bubbles next to the spices, ingredients, and other add-ons you want. The main menu features fresh Cali ingredients in dishes influenced by cuisines from Asia, the Mediterranean, Morocco, and the Middle East. It's even serving the Canadian favorite, poutine covered in cheddar curds and made with short rib.
1956 Bacon St
Pizza Port is the spot for a slice and a cold one in OB. After a long day at the beach, nothing is better than pizza and beer. These guys started out making pizza in Solana Beach, but they got into brewing around 1992, making them one of the pioneers of craft brewing in San Diego. Their beers win too many awards to count (especially after you've been drinking delicious beer!). You can even get beer in your pizza, just ask for the signature whole-grain beer crust.
2218 Cable St/4993 Niagara Ave
If you ask San Diegans where to get the best pho in town, guaranteed OB Noodle House will be on their list. Its spot on Cable St is the original location and along with the Asian-fusion menu it has a lengthy selection of rotating craft beers, but not too long ago it expanded and opened Bar 1502. Over on Niagara the same delicious pho is being served, but this new spot has a whiskey-focused bar program to go with it. Whichever location you choose you will not be disappointed.
Courtesy of Raglan
1851 Bacon St
Raglan Public house is a gourmet burger joint inspired by a trip to the land down under. All of the burgers start with 100% organic grass-fed beef and are topped with LTO, garlic aioli, and tomato chutney. That's where things start to get crazy. If you want to be boring, stick with the Average Joe, but the rest of the burgers are rocking unique toppings like roasted peppers, jalapeño coconut raita, or grilled pineapple. If you want to taste something really different then try the Bare Lil Lamb burger made with a house-ground leg of lamb patty, blue cheese, and mint dressing. The patio is a great place to hang out and people-watch (and there is plenty of that to be done in OB) and if you check out the resto's website you can even get the surf report before you head to the beach.
Sara Norris/Thrillist
5083 Santa Monica Ave
No matter where you eat in OB, you can't beat the view from Wonderland Ocean Pub. Perched up on the second story of a building opposite the beach, it has a panoramic view of the ocean with the iconic OB Pier front and center. Being so close to the water, it only seems natural that the menu is heavy on seafood with all the poke, oysters, and ceviche you can eat, but it doesn't skimp on bar favorites like nachos and salt & pepper wings either. It's the perfect place to grab some dinner, have a cocktail, and watch the sunset during its acoustic Sunset Sessions Monday-Friday starting at 6pm.
Erin Jackson/Thrillist
5010 Newport Ave
Hodad's has been family owned since the '60s and is a staple in San Diego with locations in OB, Downtown, and Petco Park. It suffered a huge loss earlier this year with the sudden death of beloved owner Mike "Bossman" Hardin, but his burger legacy continues. You won't find trendy burger add-ons here; just huge, classic burgers with fresh toppings. Pair one of those with a basket of onion rings and one of the massive milkshakes and you won't be hungry again for a week.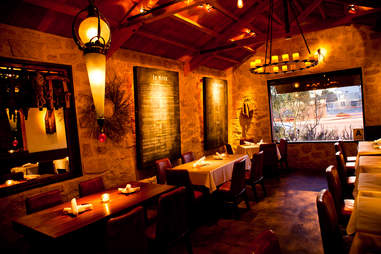 Jeffrey Brown/Thrillist
4996 W Point Loma Blvd
Upon walking into BO-beau you'll feel like you've left free-spirited OB and somehow ended up at a French bistro. With its rustic feel and dim mood-lighting this is definitely a solid bet for a date spot. BO-beau serves only dinner starting at 4:30 and the menu features updated French classics. It's known for its crispy Brussels sprouts with pancetta, Parmesan, and balsamic and you have to try the five variations of moules & frites, which is a fancy way of saying mussels and French fries, which are delicious.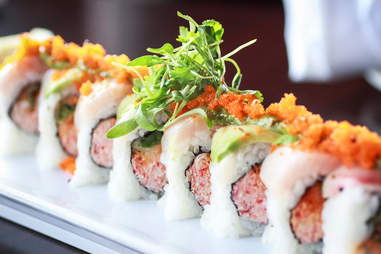 Sara Norris/Thrillist
4902 Newport Ave
No, The Joint is not another head shop in OB, although it is rolling its own... sushi! This place serves a mix of tapas like blackened salmon tacos and bacon-wrapped dates along with a fresh sushi menu of special rolls, nigiri, and sashimi. It gets pretty creative with the sushi too. If you sit at the sushi bar just let the chefs know what you like and they can make you something amazing. The resto also serves wine and craft beer along with a great selection of sake and some standout happy hour specials.
4941 Newport Ave
The Old Townhouse Restaurant has been serving the people of OB since 1973. It opens bright and early at 6am, closes at 3pm, serves breakfast all day long, and offers bottomless cups of joe. The place has the ambiance of a well-loved old-school diner. It's a greasy spoon in the best possible way, and serves American classics like hearty breakfasts of pancakes and biscuits & gravy, meatloaf and BLTs for lunch, and milkshakes and Coke floats for dessert. This is the kind of place that serves a family for generations and still genuinely cares about knowing its regulars and connecting with its customers. Just check out its Yelp page where the owner has personally responded to almost every single comment.
4230 Voltaire St
It wouldn't be OB without healthy restaurants like Peace Pies. This is the place for everything raw, vegan, organic, gluten-free, and tasty. Its produce is sourced from local farms so that you get the freshest ingredients possible whether they're served in a pizza, wrap, or dessert. No matter what you order, you can't stop in without trying the kale chips. Aside from the food, Peace Pies is an environmentally conscientious company with a zero-waste policy using only Earth-friendly packaging and it even composts its food scraps.
1846 Bacon St
Most San Diegans think the only places in town to find good Italian food are in Little Italy, but Poma's Italian Deli has been serving authentic Italian fare in OB since 1965. Using the Poma family's recipes it makes pizzas, pastas, and its famous torpedoes. These sandos are all about the incredible fresh bread. Whether you order them hot or cold, the torpedoes are stuffed full of cotto salami, mortadella, hard salami, provolone, lettuce, tomato, oil, and vinegar and topped off with pepperoncini.
1424 Sunset Cliffs Blvd
The Little Lion Café might be one of the newer places to dine in OB, but owners and sisters Anne-Marie, Jacqueline, and Dominique are no strangers to the restaurant business in this neighborhood. Their family owned the popular Belgian Lion restaurant for more than two decades, and now these three are carrying on the tradition of making amazing food in Ocean Beach. Staying true to their roots, they serve fresh foods with Belgian and California influences. It's so local that some of their produce is even grown on Griffin Farms, which is owned by Anne-Marie and her husband Matt. The place is quaint and just down the street from Sunset Cliffs so you might have to wait a bit for a table, but it will be worth it.
4956 Voltaire St
Next time you're strolling down Voltaire St you have to stop by this 1924 craftsman-style house-turned-Tiki-themed coffee shop which is serving up "paradise in a cup." Behind the fence lies a tropical oasis full of lush green plants and plenty of tables where you can enjoy your coffee or lunch while pretending you're off on an island somewhere. The interior has vintage red velvet couches and a cozy fireplace crowned with a longhorn skull that makes it feel kind of like you're hanging out in a friend's living room; probably because it actually used to be someone's living room. The food menu is small, but it is filled with everything from acai bowls and salads to bagel sandwiches and Te Mana coladas. Sticking with the Aloha theme, it offers a combo Hawaiian plate as well. In addition to serving organic coffees, it also has kava on the menu and a large selection of teas to choose from.
1774 Sunset Cliffs Blvd
Sundara is an OB favorite for Indian food. The menu is simple, but well done. If you want to taste something different, this spot offers chicken tikka masala pizza made with a garlic cilantro naan crust. Did I mention all of the naan is baked to order in a clay oven? If you don't want to get off the couch, it does deliver to OB and some of Point Loma, but then you'd miss out on meeting the friendly staff. Plus it has a cozy covered back patio lit by candles, lanterns, and white lights strung from the ceiling, creating much better ambiance than your couch does.
5083 Santa Monica Ave #1f
Shades is an OB favorite for people and dogs alike. It occupies the space below Wonderland Ocean Pub and has the same great view of the beach and OB Pier plus the added bonus of an outdoor patio where dogs are always welcome. Even the owners' dogs Nilla and Bean are often found out front greeting customers. Guaranteed your pooch with love the "Fido Menu." The owners love pups so much they team up with the San Diego Humane Society to host quarterly pet adoption events. So even if you don't come with a dog, you might leave with one. Shades is open early for breakfast, like 6:30am early, so it's the perfect place to fuel up before or after your morning surf. There is no better location for a sunset dinner or drinks and you can't leave without one of the giant cookies. If you check in on Yelp, you'll get one for free.
Sign up here for our daily San Diego email and be the first to get all the food/drink/fun in town.
You may or may not find San Diego writer and photographer Sara Norris in OB, but you can definitely find her on Twitter: @saraknorris.