According to many experts, San Diego is one of the fittest cities in the nation, but Turtle from Entourage and a couple of his NYC pals are about to ruin everything! In a valiant effort to destroy Hollywood bring the East Coast's fat sandwiches out West, the trio opened the first Fat Sal's Deli in La La land in 2010, and have now set their devious eyes on SD's historically slim stomachs. Turtle's signature sando's The Fat Jerry, loaded with cheesesteak, chicken fingers, mozz sticks, crisp bacon, fried eggs, fries, mayo, ketchup, and finally salt & pepper, although you'll no longer be able to push anything real good after eating it. The finished-only-once-in-history Big Fat Fatty is a ~9lb amalgamation of cheesesteak, cheeseburgers, pastrami, chicken fingers, bacon, mozz sticks, fried eggs, jalapeno poppers, fries, onion rings, chili, marinara & fat sauce on a 27in garlic hero. If you can somehow eat it in 40mins or less and survive, the normally 50-buck monstrosity is free and you can create/ name your own fat sandwich for the menu. To please people who oddly kinda value their life expectancy, the menu also has some normalcy like the Terrific Triple Decker Turkey Club, which only looks like a double decker, but did you really need a third? Some sandwiches, like this here Irresistible Italian, can be made fat by adding any number of fried add-ons, or just by canceling its MTV reality series. These Meat Luv'rz Pizza Rolls (sweet Italian sausage, pepperoni, ground beef, Provolone, and mozz wrapped in a crispy egg roll) are one of three kinds of Sal's Fabulous Fat Rolls, which you'll just have to purchase until you can grow your own.
Recommended Video
This Popular Burger Spot Used to Be a Public Restroom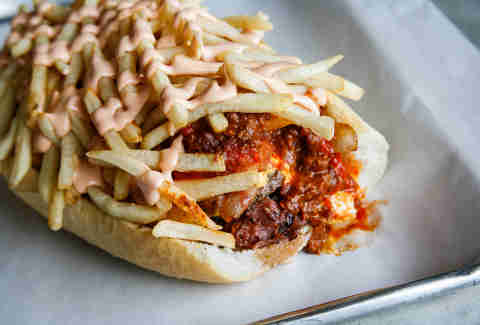 Previous Venue
Next Venue
Venue Description
1. Fat Sal's Deli
956 Garnet Ave, San Diego, CA 92109
Opened by Jerry Ferrara (Turtle from Entourage) and a couple of his pals, Fat Sal's Deli serves hefty sandwiches like the eponymous Fat Sal: a behemoth stuffed with roast beef, mozzarella sticks (yes, the sticks), onion rings, fries, brown gravy, and mayo on a garlic roll.