10 reasons to hit Parq, San Diego's new restaurant & club double threat
The long-vacant space that was once the home of Gaslamp hot spot On Broadway has been transformed into Parq, a massive multi-million dollar restaurant/nightclub combo that is sure to live up to its predecessor's legacy. For one, the space remains under original owner Carlos Becerra. For 10 more reasons, keep reading...
1. It's bringing the outdoors in
The restaurant space has a ceiling that's totally open to the sky, and indoor trees that have hundreds of twinkling flowers -- so you can occupy your meal with a heated debate as to whether you're really outside or inside.
Sara Norris
2. They know how to make an entrance
You'll enter Parq thru two epic roll-up doors that open to the front of the space, revealing a hotel-like lobby with a trippy 12ft wall full of greenery.
Sara Norris
3. There's a bit of a Secret Garden-vibe
Ivy climbs metal trellises in between booths, giving off on an indoor-urban-park-feel by mixing the organic with the industrial -- like eating farmers market greens while listening to Nine Inch Nails, but better.
Sara Norris
4. The kitchen's in good hands
Having had his start at the Paris Las Vegas, Chef Errol LeBlanc is no stranger to nightlife dining, but you'll probably recognize him as last year's winner of Food Network's Chef Wanted with Anne Burrell (or possibly from SD's Café Sevilla). His menu is full of deliciousness, from lacquered pork belly to this eye-catching grilled octopus.
Sara Norris
5. They have a great rack
Specifically, this sous-vide rack of lamb with black mission fig & pear chutney, and fall squash.
Sara Norris
6. They know how to party
When you find yourself sufficiently full, take a walk through the cavernous stone tunnel lit by flickering chandeliers into Parq's 20,000sqft nightclub.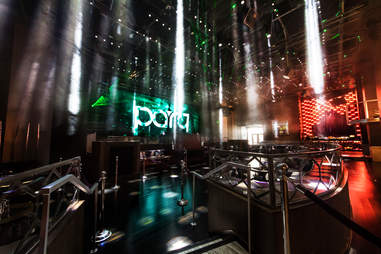 Sara Norris
7. This party comes with special effects
Parq spared no expense when it comes to giving partygoers a nightlife experience that's like no other in SD. They installed state-of-the-art lighting and sound systems that will have you bumpin' and grindin' on the dance floor. Oh yes, they have lasers AND a fog machine.
Sara Norris
8. You can drink at two different bars
There's a smaller one by the tunnel entrance and this not-so-tiny one, which stretches the length of the room and has a massive LED-lit display stacked to the ceiling with bottles of champagne.
Sara Norris
9. No phone battery? No problem
You'll never have to beg the bartender to charge your cell phone again, with charging stations in every booth. There are also drawers where you can stash purses and anything else you don't want to go missing while you're on the dance floor.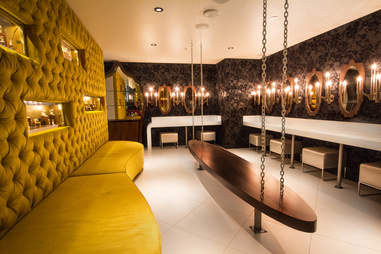 Sara Norris
10. The ladies will love this
The powder room not only has an entire wall made of tufted yellow velvet, it also has private access to the bar, and mirrored stations complete with makeup artists to make sure everyone remains looking good.
Sign up here for our daily San Diego email and be the first to get all the food/drink/fun in town.