Pho Is Everywhere in SD, but Is Most of It Even Good?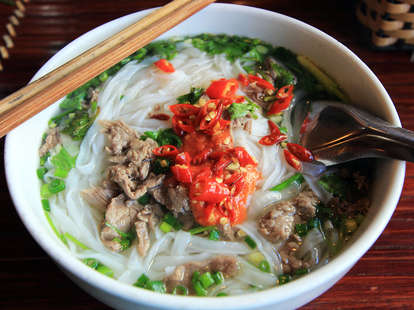 One day, pho in San Diego did not exist. The next day, seemingly, it was ubiquitous.
San Diego experienced an influx of Vietnamese immigrants from the mid '70s and onward, resulting in the fifth-largest Vietnamese population in the country today, behind three other cities in Southern California and Houston, TX. Now, there's hardly a corner of town where you can't get a bowl of pho, the extraordinary Vietnamese beef noodle soup, though it's not always beef and hardly always extraordinary. Truth be told, somewhere on the voyage from non-existent to ubiquitous, a lot of San Diego phở wandered into the realm of commoditized homogeneity.
First, what is pho really?
Pho, properly spelled "phở," is pronounced "fuh" (though many mispronounce it "foe"). As Tien Nguyen recently noted in Lucky Peach magazine (in an entire issue devoted to the stuff!), the word and the pronunciation lend itself to puns, and many a pho establishment has availed itself of that opportunity. Perhaps the most notable is Pho King *insert adolescent chuckle here*. There's one in San Diego and pretty much every other city, but it often seems they're rarely the place to find the best bowl in town.
There are generally four main moving parts to a bowl of pho: the broth, the noodles, the meat, and the garnishes (bean sprouts, basil, cilantro, lime, and chili peppers are common). The broth and the meat for phở is generally beef, though depending on how strict you want to be in your definition of the term "pho," there are versions involving chicken, duck, pork, and various seafood, as well. Even the seafood-based bowls often feature a beef broth built by lovingly simmering bones, oxtails, and the undesirable parts of the cow for many hours.
But pho broth is far more than a stock, rich and long-simmered as it is. It owes its ethereal flavor profile to charred ginger and onion, on the one hand, and a bevy of aromatic herbs and spices -- particularly cinnamon, star anise, cardamom, black pepper, and cloves -- on the other.
Most phở uses flat rice noodles. (Indeed, the word "pho" is likely a corruption of the Cantonese word phaan meaning "flat rice noodles.") It's no accident that the name of the dish is also the name of the noodles ("banh pho"). While the choice of protein usually determines the name of a bowl of pho, at the end of the day, pho is a noodle dish -- not a meat one.
Pho traces its origins back to Hanoi at the turn of the previous century, the product of a cross-cultural collision between Vietnam's French occupiers (and their taste for beef), thrifty butchers, street vendors making use of the non-glory cuts (the ones the French didn't want), and customers (and vendors) from the neighboring provinces of China. It was strictly a Northern Vietnamese dish until the partition of the country at the end of the French occupation in 1954, when millions fled south to Saigon, bringing their pho with them. The migration continued -- and spread -- as South Vietnamese headed across the Pacific to America following the end of the Vietnam War.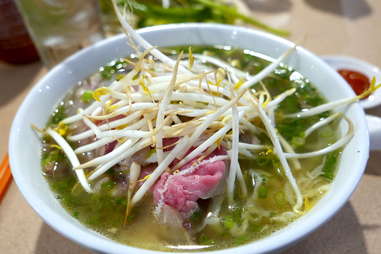 A San Diego pho style guide
The single best bowl of pho in San Diego -- the second isn't close -- is at Phở Hòa (4717 El Cajon Blvd, City Heights). Featuring a broth that is crystal-clear but with a richness that speaks of beef bones and oxtails, charred onions, roasted ginger, and Vietnamese spices, the star of the bowl is the noodles. Rich and tender, they take on the essence of the broth, yet bring their own flavor to the party. Pho is the only thing on the menu at Phở Hòa. No spring rolls, nothing else. The fact they've stayed in business -- and very busy -- for a very long time is the proof-of-concept for their business strategy: do one thing really, really well.
Pho Ga is beef pho's lighter, non-bovine cousin, based in poultry. The best in town is at Bolsa Vietnamese Restaurant (9225 Mira Mesa Blvd, Suite 118, Mira Mesa). Where beef pho pronounces the muscular, pho ga whispers of delicacy. Bolsa achieves that, but does so with a broth that still manages to taste like the liquid essence of chicken. It is a soothing and powerful Vietnamese "answer" to Jewish penicillin -- aka chicken soup with matzo balls.
Most pho restaurants offer a dish that may not be immediately recognizable as pho: bo kho -- essentially beef stew. The best place in town to try it is Pho Point Loma & Grill Restaurant (2788 Midway Dr). It offers the stew either as pho bo kho with rice noodles or banh mi bo kho with a French baguette perfect for sopping up the thick, viscous broth. Either way, the dish is a melding of French influence with Southeast Asian spices -- lemongrass, ginger, star anise (as well as hints of curry and Chinese five-spice) -- that brings the dish to heady levels: a cross between pho and classic oxtail Bourguignonne.
These exceptional bowls of pho are, increasingly, just that: exceptions.
Some might not consider Bún bò Huế to be pho. I'm not one of those people. One of the best examples can be found at Như Ý Restaurant (4712 El Cajon Blvd, Suite A, City Heights). Bun bo Hue is, essentially pho's spicy Central Vietnamese cousin. Like pho, bun bo hue is a beef noodle soup with different cuts of beef (and, at Như Ý, cubes of blood cake and bits of pig's foot). Unlike pho, it uses thicker, rounder vermicelli noodles. The flavor profile is balanced between sour, salty, and sweet notes with a spicy element -- rare in most Vietnamese cooking -- that is a characteristic of Central Vietnamese regional cuisine.
If you and your dining partner can't decide on what version of pho you both want, Saigon Restaurant (4455 El Cajon Blvd, City Heights) might be your best choice. In addition to the full panoply of beef cuts -- rare steak, flank steak, brisket, tripe, tendon, beef balls, in any combination you desire -- there are also excellent chicken, vegetarian, shrimp, and seafood options. Wander a little deeper into Saigon's menu and you'll find several versions of bánh canh soup, featuring a thicker, softer noodle. The best of these is bánh canh tôm cua giá: a Vietnamese udon-style noodle soup stewed in a shrimp broth with sweet crab meat (imitation crab meat costs $1 less).
But these exceptional bowls of pho are, increasingly, just that: exceptions. The rule, it seems, is broths full of MSG. The outline of pho is there, but not the depth of flavor you can only obtain by long, slow simmering, each ingredient being added at just the right time. You can find the shortcut version just about anywhere: little shops, big shops, in the heart of Little Saigon, and all along the Convoy. It's notably evident at any of the restaurants of the Pho Ca Dao chain.
The source of the homogeneity
What accounts for such consistent, widespread mediocrity? The answer, I thought, might just come in a box. Two of them actually: instant pho cubes and spice packets containing an array of typical pho spices in a cheesecloth sachet.
These two products are designed specifically to make a serviceable pho achievable by any home cook. Would a restaurant -- an actual Vietnamese restaurant prominently serving pho -- really do such a thing?
My first thought was no, they wouldn't. It would be too easy to tell the difference. I decided to ask An Minh Cao, the owner of Pho Hoa, what he thought. "I got here at 4 in the morning," he said. "Not everyone's willing to do that." When I asked whether others were using pho cubes, his reply was a wry smile. "I don't know what other people do." He might as well have winked.
It did seem odd that what amounted to a bouillon cube and a couple of easily acquired spices could passably mimic the real thing such that a small industry could be built around it. But what if they did just a little more? A crucial step in the making of real pho broth is the charring of real onion and real ginger; what if you added that to the pho cube and spice sachet? There was only one way to find out.
"I got here at 4 in the morning. Not everyone's willing to do that."
And so I tried it. A trip to Thuan Phat market in Linda Vista yielded the onion, ginger, pho cubes, spice sachet (two different brands), banh pho flat rice noodles, thin-cut beef, and garnishes. I charred the onion and ginger on top of my gas burners and combined that with the pho cubes, spice sachet, and water. After bringing it to a boil, followed by a relatively short simmer, the result was a pho broth that was strikingly similar to that on offer at many -- if not the outright majority -- of pho joints in town. The resulting bowl of pho was not the best I've ever enjoyed, not by a far sight, but it also was far better than the worst. It was pretty much average. It was also this: easy. I didn't even have to start it at 4am...
Which is to say: there are no shortcuts to extraordinary pho. You don't get an amazing bowl of pho from a cube and a sachet, not even by charring your own onions and ginger. What you get is something easy, something relatively quick, something anyone can do: something readily replicable.
To get an excellent bowl of this excellent dish takes time, commitment, and caring. And on the road from non-existent to ubiquitous, we in San Diego ended up with both the extraordinary and the commoditized.
Sign up here for our daily San Diego email and be the first to get all the food/drink/fun in town.