Chad White's new prix-fixe popup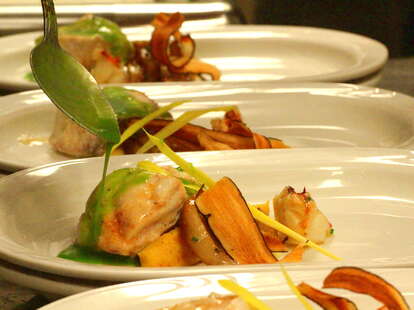 After his recent departure from Counterpoint, Chad White's now following in the other Mr. White's footsteps and taking his cooking skills mobile with a weekly prix-fixe popup and plans to take the operation to different establishments all around town. For now, the chef'll be taking over Carnitas Snack Shack for two seatings (6p & 830p) every Tuesday evening, letting his whims run wild to prepare you palate-bending foodstuffs like you see below:
No longer just how toddlers respond to Italian potato dumplings, this yuca gnocchi is bolstered by squid ink reduced with lobster stock and masa, and rests on a bed of cotija-spiked queso crema.
Because he can do what he wants, what was originally planned as just Baja lobster humitas (an Ecuadorian sweet-corn tamale) with white corn masa, sauteed abalone mushrooms, deep-fried salsify, and scallion sauce, got an added heap of Baja pink baquetta grouper at the last minute thanks to the help of a local purveyor
Served with a pickled grape marmalade and salted peanut butter cookie, this seemingly traditional flan has some serious throat-tickling properties thanks to it being cooked with deep blue meth fresh tobacco leaves.