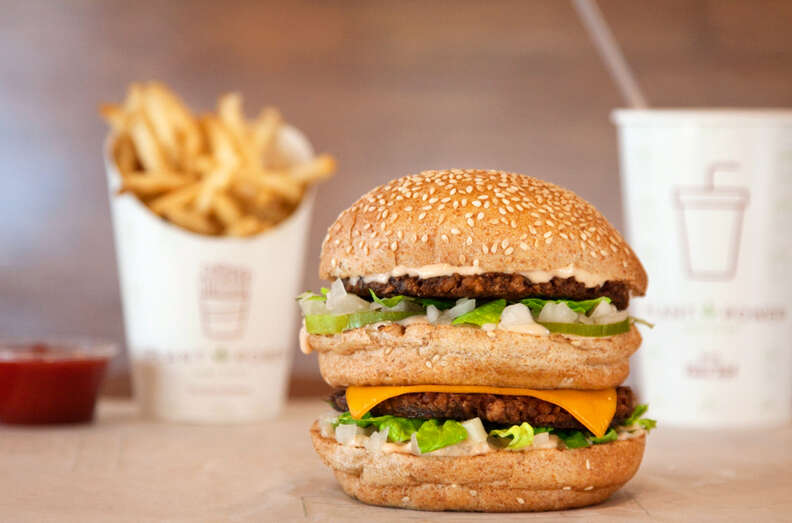 Courtesy of Plant Power
Courtesy of Plant Power
It's a nondescript August afternoon in the sleepy North County beach town of Encinitas. On the city's main street, a handful of surfers plod across the 101, but there's not much else brewing in town -- that is, except for the line of cars pouring out of a newly finished lot on Santa Fe Drive. Bumper-to-bumper traffic lines up to the I-5 off-ramp, and a growing crowd of pedestrians spills out of the lot and begins to wrap around the block. It would be one thing if this mass of people was gathered because Pope's in town, but the reality is even more remarkable: they're lined up for a vegan fast food burger.
"Yeah, we never imagined it would be like that," Zach Vouga, the co-founder of Plant Power, told Thrillist about the vegan burger joint's success since opening in 2017. "I've never seen such an intense demand for something. We were slammed hour-in, hour-out, every day once we opened our doors."
The Encinitas location is the second Plant Power to come to the San Diego area, with the first spot landing in Ocean Beach in 2016 -- and in Vouga's vision, it won't be the last. The goal is to open 10 new Plant Power franchises in the next one-to-three years, up and down the California coast, with locations set to open in Redlands and Long Beach later this year.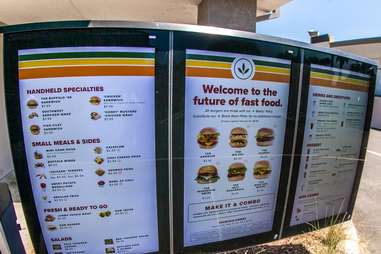 The menu and layout of Plant Power resemble a hybrid combination of Shake Shack and McDonald's (the store's co-owner, Jeffrey Harris, even goes so far as to call it a "vegan McDonald's"). Customers can order everything from a "Fish" Filet Sandwich to The Big Zac -- a humbly-named vegan cousin to the Big Mac -- and wash it all down with thick "milkshakes" made from almond milk. For Vouga, it was important that Plant Power not put off a holier-than-thou vibe about the vegan offerings.
"My fear with being a vegan restaurant is you're stigmatized into this 'hippie realm,'" the 27-year-old Vouga said. "We didn't want to be that; we wanted to be a haven for people who want a burger, but maybe found out animal agriculture is a leading cause of greenhouse gasses, or who maybe had a doctor tell them to watch their cholesterol."
The mixture of fast food that isn't terrible for your health with straightforward messaging that isn't preachy or smarmy seems to have struck a chord in San Diego, a city that takes its burgers seriously and its fitness even more seriously. And it may be the key to starting the next big national trend in dining.
"San Diego promotes this year-in, year-out health activism, where people are constantly paying attention to what they put in their bodies, so it made sense here," said Vouga. "But what we've seen nationally is that, often, parts of California lead the way with dining trends and then the rest of the country plays catch up."
Right now, it looks Vouga might be onto something. Across the nation, vegan and vegetarian fast food options are popping up with increasing frequency. Up in northern California, Amy's Drive Thru has become a staple in Sonoma County and is looking to expand to Marin County soon, while out on the East coast, chic vegan spot By Chloe has grown from its original store in New York City's Greenwich Village to 11 locations that include spots in Boston, Los Angeles, Providence, and London.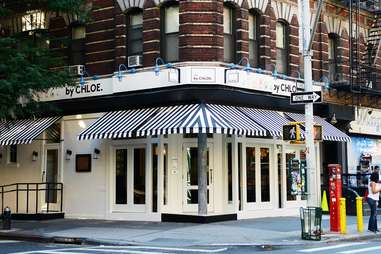 "Whether you eat vegan once a year or once a week, we don't want you to come in and feel guilty about what you ate the day before," Samantha Wasser, who co-founded By Chloe in 2015, told Thrillist. "We didn't want to create a place that seemed like it was yelling at you. And we've found that a large portion of our customers are people who come in, enjoy a delicious meal and have no clue it's vegan."
By Chloe is a sterling case study in Vouga's belief that vegan fast food chains can represent a "paradigm shift" in the eating habits of the nation. Between their opening in July of 2015 and today, By Chloe has served over 1.2 million customers and more than 600,000 vegan burgers. Wasser says the demand for By Chloe's growth is massive right now, and that she is beset by emails and requests from people on social media to expand to new markets.
"Five years from now, I'd love to see By Chloe on every college campus across the country and in any small area you can think of," Wasser said. "Because we know the smallest towns and cities want access to these type of foods as well."
Despite that interest, though, small towns and college areas may ultimately present the hardest markets for the vegan fast food expansion. Due to the way the food for By Chloe and Plant Power is sourced and made, the average meal at both will cost more than the equivalent at traditional fast food joints. Wasserman says By Chloe customers can expect to pay about $10-12 for a sandwich at the chain and about $3 for a drink, whereas Plant Power visitors can expect to pay $8 for a burger and $2 for a drink. In lower-income areas, that may fly. But Vouga has plans for reaching a larger customer base with more affordable prices.
"The goal is to be able to buy farmland, so we can be our own supplier, grow our own plants and drive down prices. We also aren't afraid to have our profits cut into to get to price points where we can one day thrive in the inner cities," said Vouga. "We want to take Plant Power where it's needed, in the food deserts in inner city areas where low-income families only see McDonald's and Jack-in-the-Box for miles."
Vouga doesn't mince words when he says he believes Plant Power can change the national mindset towards vegan food and start a revolution of sorts in fast food. "The location we just opened in Encinitas is in a building that used to house a Burger King. I find that very poetic," said Vouga. "It makes me feel like the world is changing in a direction that favors the product offerings we have. When I see the fast food giants going out of business, I know we're onto something."
Sign up here for our daily San Diego email and be the first to get all the food/drink/fun in town.