Everything You Need to Know About SD's Super-Hyped Pie Shop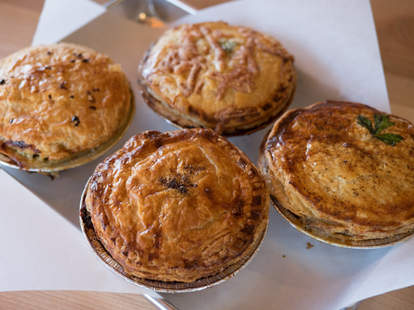 The recent opening of Pop Pie Co. is excellent news for the pie-starved populace of San Diego, whose options were previously few (and far-flung). The shop's vision is to produce traditional single-serving pies, both sweet and savory, with a twist, crafted from quality ingredients that deliver maximum returns on flavor.
"I've always loved pie and I felt a strong responsibility to bring it to market the right way," says Steven Torres, a co-partner of Pop Pie Co., adding that savory pies, usually laden with meat, gravy, and mashed potatoes, are ubiquitous in Australia, New Zealand, South Africa, and Great Britain. "It's the equivalent of our burrito -- there are different versions, from basic to gourmet."
The much-hyped outfit in University Heights has seen lines out the door since its early October official opening. It's a partnership between Torres, who interfaced with many restaurant owners in his previous job at JP Morgan, and chef Suebtrakarh Suebsarakham (Gan, for short), whose resume includes an MBA and a culinary degree from Grossmont College. Torres said his early career path gave him a "head start," but adds "I probably learned more in the last year than I did in all my years at college."
Seeing an opportunity to fill a void -- San Diego hasn't seen this kind of casual eatery before -- the duo searched for spaces in Little Italy, Barrio Logan, and North Park before deciding on the corner spot in University Heights, a former hair salon that required extensive renovations to accommodate their vision. The entire space was gutted and transformed into a "neighborhood gathering space" with communal tables, roll-up windows, and no outlets or Wi-Fi (a deliberate move to encourage conversation).
Torres knew he had something good going when the shop's chicken potpie snagged the judges' and audience award at FoodQuart, a local restaurant competition at Quartyard. This was back in March when Pop Pie was still in the ideation and planning phase. That same pie is served at the restaurant today, along with other temptations. Here's everything you need to know about San Diego's newest (and hottest) pie shop:
ERIN JACKSON/THRILLIST
It all starts with the crust
At Pop Pie Co., it's always a short crust on the bottom and flaky puff pastry on top, both made with butter. Torres said they experimented with blending lard or shortening into the mix, but those experiments only proved butter is best.
ERIN JACKSON/THRILLIST
The menu is compact but mighty
Currently, five varieties of savory pie are available: steak and ale, classic chicken pot pie, green hog and cheese, green curry chicken, and jackfruit (the lone vegetarian/vegan option). You can get a pie all by itself, or add a side like creamed corn, kale salad, or mashed potatoes & gravy for a few bucks more. All that being said…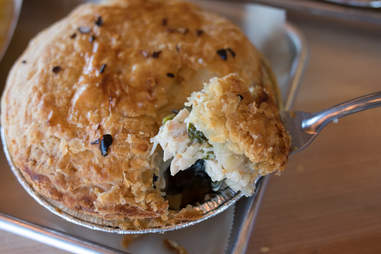 ERIN JACKSON/THRILLIST
Try the green curry chicken pie, like now
Under that flaky, buttery crust, there's crunchy green beans, tender chicken breast, and a creamy coconut curry with aromas of Thai basil and lime leaf. It's mildly spicy and so instantly addictive you'll already be making plans to return for your next visit before your second bite. Torres says the pie is currently a seasonal special, but it's so mind-bendingly delicious we're hoping it stays on the menu in perpetuity.
Like all of the pies, the green curry option is satisfying without being too heavy. As it turns out, that's completely deliberate. Torres says the pies were designed that way so people can make them a regular part of their routine. "If you make something too heavy, people will only treat themselves once in awhile. We want our customers coming back," he explains.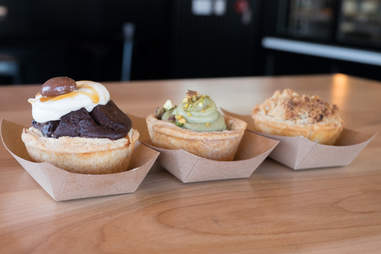 ERIN JACKSON/THRILLIST
The sweet pies are pint-sized
Depending on your outlook, that could be a good thing -- who wants to choose between sweet or savory when you can have both? Current sweet offerings include salted caramel chocolate fudge, "Green Ceremony" (dark chocolate ganache topped with matcha green tea pastry cream and toasted pistachios), and apple crumble, made with Gala, Fuji, and Red Delicious varieties.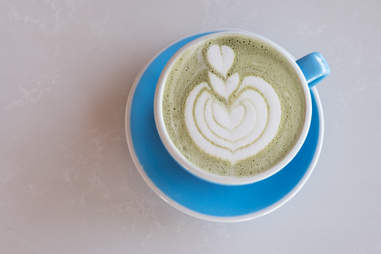 ERIN JACKSON/THRILLIST
There's coffee and beer too
In the ultimate bid to keep customers happy, Pop Pie Co. offers craft brews on tap (and pie-pairing suggestions!) along with a comprehensive selection of coffee beverages, like pour-overs, cold brew, and flavored lattes made from beans sourced from a
variety of local roasters
, including James Coffee Co. and Bird Rock. They also feature beans from a different West Coast-based roaster each month.
It's a bit too early to predict Pop Pie Co.'s future, but given that it's been such a smash hit right out of the gate, it's possible another location could open elsewhere -- think of Crack Shack or Carnitas Snack Shack. Torres says he's certainly open to the idea. For now, your best bet is to visit early (ideally between 11am and 2pm) for the best selection of pies before it inevitably runs out.
Pop Pie Co. is open Tuesday - Sunday, 7am - 7pm.
Sign up here for our daily San Diego email and be the first to get all the food/drink/fun in town.
Erin Jackson is a San Diego-based food writer and photographer who loves sharing her latest finds. If you enjoy food and cat photos, by all means, follow her on Instagram.