RIP: 9 San Diego bars & restaurants that we'll miss
Although the food scene in San Diego seemed to be bursting with bars and restaurants 2014, it also meant goodbye for some San Diego staples. Not the office supply stores -- those are still around. As the year comes to an end, pour one out for these beloved San Diego establishments that won't be joining us in 2015.
Stingaree
Downtown
Nine years after Stingaree became a Downtown hot spot, they closed their doors indefinitely in November. San Diegans said a sad farewell to celeb-studded parties, top performers, and game-changing DJs. The space was sold off to Hakkasan Group, and is supposed to undergo a massive renovation. Rumor has it that they plan to reopen sometime in 2015 as Omnia. 
Chantelle Photography
Gabardine
Point Loma
Brian Malarky's Point Loma outpost, Gabardine, closed this January leaving Searsucker and Herringbone as the mainstays of the Enlightened Hospitality Group's dining destinations. Word on the street (and on their website) is that they shuttered Gabby to focus on a national expansion of their two "premier brands".
Quality Social
Quality Social
Downtown
After a 4-year run in Downtown, Quality Social closed suddenly and without much explanation this November. So now where are we supposed to get our picklebacks?
Southpaw
Southpaw Social Club
East Village
A bunch of new dining destinations took over the East Village in 2014, but one of the first restaurants to move into the neighborhood was one of the first to move out. Southpaw Social Club, with its perfect view into Petco Park, closed down in October. But not to worry, Good Time Designs is still holding down the entire block with their other venues on J and 7th.
Ciro's
Pacific Beach
PBers will have to find a new favorite place for a frosty craft beer and a slice during game time. Ciro's Pacific Beach location is no longer. The good news is that their Gaslamp location is still around, if you get a craving for Buffalo chicken pizza and garlic knots. Mmmmmm, garlic knots.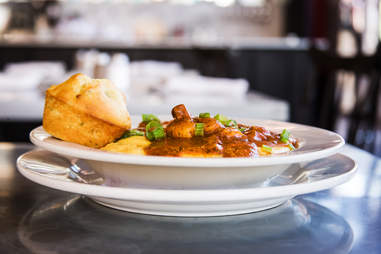 Sara Norris
Acme Southern Kitchen
East Village
Terryl Gavre's East Village restaurant called it quits back in August after just eight months. Despite loyal regulars, the down-home Southern-style cuisine simply didn't resonate with Cali burrito-loving San Diegans who don't know collard greens from... wait, what's a collard green?
La Jolla Strip Club
La Jolla
The UTC area is an odd neighborhood for a place called the Strip Club, whether there is actual stripping going on or not. Cohn Restaurant Group is hanging onto the space and will re-open at some point with a new concept better fit for the 'hood. In the mean time, if you get the hankering for a steak that you've grilled to perfection yourself, either buy yourself a grill, or check out their other location in the Gaslamp.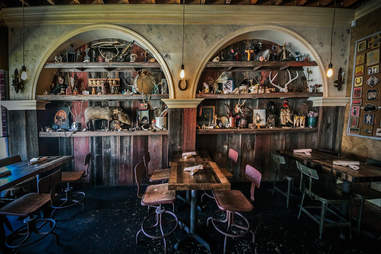 Sara Norris
American Voodoo
University Heights
Due to long delays with the liquor license, it seemed like the neighborhood waited forever for American Voodoo to open. There were mixed reviews on the Creole-style cuisine, but this place must have had some bad juju, because almost as soon as it finally opened, it was closed.
Sara Norris
Swoon
North Park
One would think that the uber-fancy desserts at Swoon would have been a perfect fit for the hipsters of North Park. With Swoon's ever-changing tasting menu every visit was certainly a unique experience, but like their Facebook page states, not everyone got it, which led to their ultimate demise. However, it looks like Chef Ian is still at it with some desserts available at both Carnitas Snack Shack locations.
Sign up here for our daily San Diego email and be the first to get all the food/drink/fun in town.