16 Quintessential Foods and Dining Experiences in San Diego
Mexican food, fresh oysters, and more make America's Finest City.
Photo by Cece Canton, courtesy of Juniper & Ivy
Here in San Diego, we've got it made. Perfect weather, gorgeous beaches, and access to some of the freshest seafood, fruits, and vegetables in the country. And now, with most COVID-19 restrictions lifted, we're ready to explore all that our city has to offer. But where to start? We've got killer burgers, amazing pizza, loads of craft beer and of course, some of the best Mexican food this side of the border. No worries, we've checked out some of the city's best experiences for you— you know, the places we go to when celebrating a first date or a new job, when our taco-and-beer-crazy friends from out of town come to visit, or when we just want to show off why we're America's Finest City. These are our picks for the best, most quintessential San Diego experiences to put on your food bucket list:
Various locations
San Diego's most popular food is, without a doubt, the humble taco. Surprisingly, no one really knows the origins of the taco, but the mid-16th century writings of conquistador Bernal Díaz del Castillo refer to people living in the lake region of the Valley of Mexico, who ate tortillas filled with small fish. And here we are in 2021, still happily munching on tortillas filled with Baja-fried fish, birria, barbacoa, and just about any other stuffing you can imagine. One of the best ways to experience San Diego's taco scene is to hop in the car and hit up as many taco stands and restaurants as your gas tank and stomach can handle. A great jumping off point is Las Cuatro Milpas in Barrio Logan, where they've been slinging rolled and regular tacos since 1933, and the ever-present line out the door tells you it's legit stuff. Head east to Chula Vista for Aqui es Texcoco's authentic nose-to-tail lamb barbacoa—choose from shredded lamb meat, rib, cabeza (head meat), pancita (tripe and giblets) or sesos (brain). Other must-have tacos can be had at Corazon de Torta, Tony Tee's taco truck that is usually parked at breweries around the city, North Park's El Comal for Baja-smoked marlin and excellent mole, or Seafood la 57, the taco truck that hangs out in the Target Express parking lot in South Park. Or Puesto, or Salud, or, well, you get the idea.
Banker's Hill
Hands down, it's the most spectacular view in San Diego, spanning the entire city, from the airport to the bay, and with the culinary chops to match. Chef de cuisine Stephane Voitzwinkler artfully blends American, French, and Alsatian influences into dishes—think rosy pink duck breast and dry-aged ribeye, or modern takes on local swordfish and Georges Bank scallops. There's also an argument to be made for brunch—each month Executive Pastry Chef John Brockway creates a new menu's worth of handmade pastries, breads, donuts, jam and biscotti, plus the occasional popsicle that's perfect for dunking into a glass of bubbly, just for fun. Make reservations well in advance to nab a coveted window seat, and note that there is a dress code.
How to book: Reservations are required and can be made via OpenTable or by calling 619-239-1377.
Carlsbad
Like the chicest, easiest camping trip you've ever experienced, almost everything on Campfire's menu is kissed by fire. Whole-grilled fish, roasted broccoli, and sprouted porridge bread are must-trys, along with, of course, s'mores for dessert. The delightful cocktail list also uses fire and smoke to create some of the most unique libations to be found anywhere in San Diego.
How to book: Reservations are recommended and can be made via OpenTable. Walk-ins are accepted if seating is available.
Slurp your weight in fresh oysters
Various locations
Getting your oyster fix in San Diego couldn't be easier. Whether you love British Columbia's briny Kusshis, Carlsbad's creamy Lunas or sweet, nutty Kumamotos from the Pacific Northwest, you'll find an amazing assortment of oysters from either side of the country at our local oyster bars. The Fish Shop has three locations and a sublime oyster shooter that comes hot or mild with cocktail sauce, horseradish, a fat-poached shrimp, and a beer chaser, plus $1.25 oysters on the half shell every Thursday from 4 pm until they run out. Ironside Fish and Oyster in Little Italy consistently serves one of the largest varieties of bivalves in the city. Pacific Beach's Duck Dive adds some tangy heat to their half-shells with a citrus-jalapeño mignonette, or if you're squeamish about raw seafood, opt for Oysters Rockefeller topped with shrimp, spinach, chipotle jack cheese, and breadcrumbs, broiled golden brown and crunchy. Other local favorites include chic Charles + Dinorah in Point Loma, and laid-back TJ Oyster Bar, with two locations in Bonita and one in Chula Vista.
South Park
So much attention is given to the death metal soundtrack and Victorian/goth decor at Kindred that it's easy to forget they also have an outstanding cocktail/mocktail program and some of the most inventive vegan dishes in the city. Their cashew beer mac crushes your carb cravings, Memphis BBQ jackfruit is a smoky, tangy, spicy mouthful and for dessert, and s'mores sliders will satisfy your most hardcore sweet tooth.
Middletown
Stroll through the iconic hexagonal entryway and all the way back to the beautiful patio at Starlite, Middletown's retro-cool hot spot since 2007. Signature mules are popular choices from a solid cocktail menu that leans towards strong and spirit-forward. For food options, comfort staples like mac and cheese, a juicy burger and crispy shoestring fries, or lush roasted bone marrow satisfy the most ravenous appetite.
How to book: Reservations are recommended and can be made via Yelp. Walk-ins are accepted if seating is available.
Scope out San Diego's best brews
Various locations
With more than 150 breweries at our disposal, putting together a stellar brewery crawl in San Diego is a no brainer. North County boasts Stone Brewing World and Gardens' IPA-centric pours, the traditionally brewed Belgian styles at The Lost Abbey and the always outstanding Pure Project. Head south to Barrio Logan for traditional Latin flavors infusing Border X Brewing's beers, Thorn Brewing Co.'s perfect pale ales and newly opened Mujeres Brew House, San Diego's first Latina-owned brewery, for collaborations with neighboring breweries as well as their own beers. The Point Loma/Liberty Station/Midway area is home to Eppig Brewing and their spectacular bayfront patio, Oggi's San Diego-style IPAs and ales, and Modern Times, who does everything well and remains one of San Diego's best breweries. Other great neighborhoods to chase your beer dreams in are North Park (Belching Beaver Brewery, North Park Beer Company, The Original 40 Brewing Company), Little Italy (Ballast Point, Bolt Brewery, Mikkeller Little Italy), and Ocean Beach (Kilowatt Brewing, OB Brewery, Mike Hess Brewing).
Del Mar
When you have to pull out all the stops, do it at Addison, San Diego's only Michelin-starred restaurant. Chef William Bradley creates contemporary French five- and ten-course prix fixe tasting menus that change frequently, and no detail is left to chance—the most luxurious ingredients are used in meticulously planned and perfectly plated dishes. Service is choreographed to be attentive without being intrusive, and most dietary requests can be accommodated with at least 48 hours notice.
How to book: Reservations are required and can be made via OpenTable.
Little Italy
Juniper & Ivy was one of the first restaurants to open in the north end of Little Italy six years ago, and today it's still garnering high praise both locally and nationally. Culinary Director Anthony Wells changes the menu nearly daily, taking advantage of whatever local seafood and seasonal fruits and vegetables are available. A few signature dishes have managed to stay on a bit longer, like the delectable dry-aged whole roasted duck, the off-menu In-N-Haute Burger, and, of course, the wildly popular dessert, Yodel.
How to book: Reservations are recommended and can be made via OpenTable. Walk-ins are accepted if seating is available.
Chill out with ice cream on Convoy Street
Various locations
Convoy Street is best known as a go-to destination for Asian cuisine, but it's recently become a hub for trendy ice cream shops too. Known for creative flavors and inventive cones or waffles to hold your scoops, you'll want to skip dinner and head straight for dessert. SomiSomi's Instagram-popular ah-boong is a cute fish-shaped waffle cone you can order filled with nutella, custard, red bean, or taro and topped with soft-serve in flavors like ube, black sesame, matcha, or milk tea, and showered in crumbles or sprinkles. Also popular are taiyaki, or Japanese fish-shaped pancakes. Bing Haus specializes in Thai-style rolled ice cream and a spectacular seasonal bingsoo—shaved ice and red beans under a mountain of watermelon or honeydew balls, all doused in condensed milk. For the lightest, fluffiest Taiwanese shaved snow ever, stop by Iceskimo, where owner Robert Yang still hand makes each ice block for the freshest quality. Their Hong Kong bubble waffles, filled with creamy soft serve, are also popular. Not headed to the Convoy area? Hit up Mr. Trustee Creamery at Cardellino in Mission Hills, North Park's Gelati & Peccati, or, for an ice cream version of your favorite cocktail, hit Métl Cocktail Creamery in the Gaslamp Quarter, where you can choose from 30+ boozy scoops, including a half-dozen non-dairy selections made with homemade cashew milk.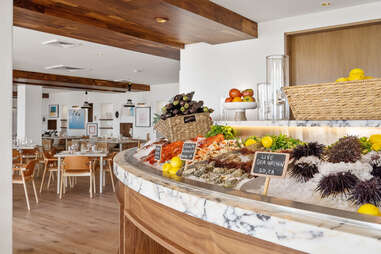 Coronado Island
Enjoy world class sea-to-table cuisine in Serēa's airy, sophisticated dining room; the cleverly raised floor in the main dining area means that everyone gets a great view of gorgeous sunsets, whether you're seated inside or on the multi-level outdoor patio. This is the place to splurge on local seafood, either lightly grilled on an open wood fire or flash-fried and beautifully composed by Chef Jojo Ruiz, a James Beard Smart Catch Leader recipient in both 2019 and 2020 for his commitment to sustainable seafood practices. Pair your meal with a selection from the eclectic wine cellar or a luxurious hand-crafted cocktail.
How to book: Reservations are recommended and can be made via OpenTable. Walk-ins are accepted if seating is available.
Little Italy
Devilishly delicious cocktails from a tableside cart, in-house aged prime cuts, and an over-the-top, opulent atmosphere keeps Born & Raised firmly in the ranks of San Diego's see-and-be-seen hotspots. Even their burger is a must-have–a 50/50 mix of ground aged and dry-aged steak scraps with a bit of bone marrow for luxurious flavor and mouthfeel; only 15 or so are available daily. End your meal with a sky-high slice of carrot cake or a giant chocolate macaron emblazoned with the Wu-Tang logo, and a nightcap on the rooftop deck.
How to book: Reservations are recommended and can be made through OpenTable. Walk-ins are accepted if seating is available.
Catch a sunset on a rooftop bar
Various locations
Rooftop drinking is practically a competitive sport in San Diego—what better way to end the day than watching the sunset over the Pacific Ocean with an ice cold drink in your hand? Lumi by Akira Back, a Michelin-starred chef, features stellar crafted cocktails, top-tier whiskey and an excellent array of sake, including Akira Back's own. Altitude Sky Lounge, at 22 stories, boasts the highest open-air rooftop bar in the city, along with expansive views of Point Loma, the Coronado Bay Bridge and the Padres playing at Petco Park during baseball season, to go with their classic martinis and mules. Intimate and laid back, Fairweather Bar is home to some of San Diego's best bartenders, whose cocktail specialties include a killer Singapore Sling.
Pacific Beach
Despite small quarters and a parking-challenged location, Rocky's Crown Pub has been serving one of San Diego's best burgers since 1977. The 80/20 blend of chuck from Central Meat & Provision is hand-pattied daily and comes in two sizes, one-third or a half-pound, with or without gooey melted American cheese. Mayo, leaf lettuce, tomato, raw red onion (ask if you want it grilled), and pickle chips make this the burger you loved as a kid and still crave as a grownup. Fries can be added as a side order, and there's a decent selection of beer to wash it down. Valid 21+ ID is required, and bring cash—no credit cards accepted.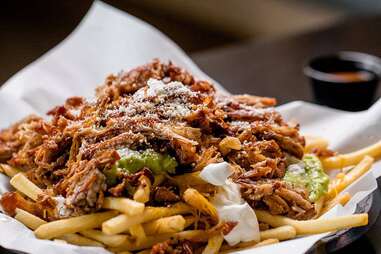 Various locations
This local culinary creation features thinly sliced strips of seasoned steak, shredded cheddar or melted nacho cheese, sour cream, guacamole, and chopped cilantro and onions over french fries and is served at just about every San Diego taco shop, but Lolita's does it best. Top it with some green and red salsa and you're good to go.
Ocean Beach, Petco Park, and Downtown
Even though the single (or mini) sizes are more manageable, there's something deeply satisfying about tackling a double bacon cheeseburger from this iconic burger shop. You'll feel like you had a busy, accomplishment-filled day, even if you go home and immediately fall asleep for several hours. (This is the recommended course of action, especially if you also have fries and a shake.)
Sign up here for our daily San Diego email and be the first to get all the food/drink/fun in town.
Mary Beth Abate is a San Diego-based freelance writer by way of Chicago and Los Angeles. Her hobbies include yoga, pickling and fermenting stuff, reading cookbooks and drinking fabulous gin. Keep up with her experiments @MaryBeth_Abate.
San Diego writer and photographer Sara Norris does not regret any of the years that Great Maple's pecan pie may have taken off her life. Follow her while she's still around @SaraKNorris.

Erin Jackson is a San Diego-based writer and photographer who lives to eat (see above). If you like food tips and cat photos, definitely follow her on Twitter at @erinjax.