It was just a couple of months ago that we were celebrating the end of 2019 and telling each other that 2020 was going to be better. But our new reality is here, and we all need to accept that our lives aren't going to be quite the same for weeks, maybe months. The impact of extended shutdowns will affect every part of the economy, of course, but one of the hardest hit will be the hospitality industry.
New regulations went into effect across San Diego County at midnight on March 17, 2020, ordering the closure of all bars, breweries, wineries, tasting rooms and similar businesses that serve alcohol but not food. However, breweries are still allowed to manufacture beer and self-distribute through retail outlets, direct to consumer delivery, and to-go service. Likewise, restaurants must discontinue on-site dining, but can continue takeout, delivery and curb service. These laws are currently in effect until March 31, and can be extended.
So how do we support the brewers, cooks, dishwashers, servers, and all the other folks who pour our drinks and plate our food? We've run through some safe, practical options below, and as always, tip generously and thank profusely -- these are the front lines working hard to make our lives easier.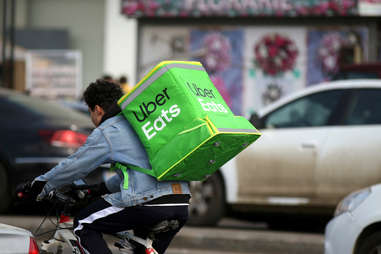 Get your food delivered
Apps like DoorDash, Uber Eats, Grubhub, and Postmates already have thousands of restaurants signed on, and have implemented physical distancing protocols to ensure contactless delivery of your dinner. Not only the restaurant benefits -- drivers also face losing their paychecks if more restaurants close. All of these delivery services have also put into effect various forms of commission fee waivers to help participating restaurants, and Uber Eats will also give you free delivery from independent restaurants (look for the EAT LOCAL banner in the app).
That said, the cut taken by delivery services means less money going directly to the restaurant you're trying to support -- so if you can place an order through the restaurant's website, you should do that.
Buy gift cards for future use
Buying gift cards puts money in a business's coffers with almost no expense to them until it's redeemed, which gives them some breathing room while they adjust to the loss of on-site dining for the time being. Check your favorite brewery or restaurant's website -- some can send them electronically, or give them a call and see if gift cards can be picked up or mailed. Better yet, if they are offering takeout or curb service, order some crowlers or dinner and ask them to put a few gift cards in the package with your food.
Grab some swag
You've been eyeing that hoodie for long enough; visit a restaurant, bar, brewery or winery online store and order it. While you're at it, you probably need some new, cool glassware, a couple of tote bags, and your dog would love those biscuits too. Of course, smaller places may not have an online store, but they're almost certain to have some T-shirts or caps, so give them a call and let them hook you up.
Use takeout, drive thru, and curb service
Although a number of restaurants, especially high-end, fine dining establishments, are simply shutting down operations for the duration, many are still busy preparing dinners for no-contact drive-thrus, takeout, or curb service. Check online or call for details; while some restaurants are offering their full menu, others have streamlined down to their most popular options for faster service. Many are offering special deals, discounts, or freebies with your order.
Likewise, some breweries have chosen to close their public operations, but a good number still offer online sales, takeout, curb service and delivery of bottles, cans, crowlers, and kegs. Ian Cheesman at the West Coaster has created a comprehensive, editable list of local breweries and their current status to get you started -- but again, call ahead to confirm and avoid disappointment.
Leave a good word on social media
You'll probably have some extra time on your hands during the coming weeks, so make it a point to reach out, both directly and indirectly, across social media to connect and offer moral support. Leave a review on Yelp, Google, or other sites, even if it's been a while since you were there. Visit their Instagram or Twitter pages, like and comment on their posts, and let them know that we haven't forgotten about them. If nothing else, it'll help everyone feel a little less alone.
Contribute to organizations that help service workers
Consider donating to relief funds for hospitality workers who will be getting greatly reduced paychecks (or none at all) during the COVID-19 shutdown. Even small amounts are appreciated. The Restaurant Workers' Community Foundation has created a COVID-19 Crisis Relief Fund, the OFW Emergency Fund has an Emergency Coronavirus Tipped and Service Worker Support Fund, and Women in Hospitality are working on a resource guide for restaurants and workers who have been affected. Closer to home, the San Diego Brewers Guild has a resource guide for breweries and workers, with instructions and links to various aid organizations, and an impact poll to collect data, which will be used to communicate relief requests to Congress. Look to Go Fund Me to help specific local businesses, such as The Elegant Truffle, Cesarina, Parc Bistro-Brasserie, Meze Greek Fusion, Union Kitchen & Tap and so many others.
Contact your representatives
Email and call your state representatives and senators to demand that the industry is included in the federal stimulus plan.
Don't give up
We don't know how long these shutdowns will last; it's important to keep supporting our community as we adjust to our new circumstances, no matter how long it takes. Let your favorite hangouts know that you're there for them today, tomorrow, and until the day comes when we can walk into their business and raise a glass to them in person again.
Sign up here for our daily San Diego email and be the first to get all the food/drink/fun in town.
Mary Beth Abate is a San Diego-based freelance writer by way of Chicago and Los Angeles. Her hobbies include yoga, pickling and fermenting various vegetables and beverages, reading cookbooks and traveling through Mexico. Keep up with her experiments @MaryBeth_Abate.