Lunch: it's more than the forgotten middle-meal child between breakfast and dinner. It's a chance to escape the workday and eat so well you feel like your boss should be mad at you (which, if you linger too long, that might come true). Here are some of the very best places to eat midday in a dozen San Diego neighborhoods: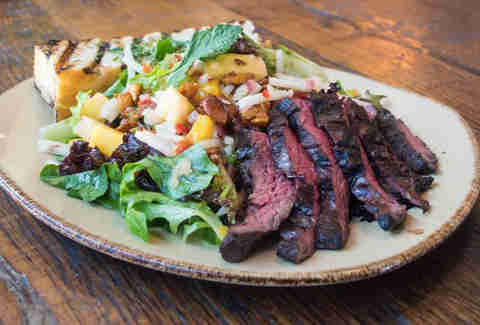 What you're getting: Grilled steak salad
 
Tasty and reasonably priced salads, sandwiches, and plates round out the menu at this casual restaurant at The Forum shopping center in Carlsbad. The parking lot can be busy during the lunch rush, but you won't wait long to get your food, so it evens out in the end. Bonus: if you want to get a little grocery shopping done on your lunch break, there's a Jimbo's next door. 
Protein-heavy salads, like the grilled steak with pineapple-mango salsa, jicama, cashews, and jalapeño lime dressing, are a smart option for lunch. Salads come with a thick slice of grilled focaccia. It's just the right amount of carbs, protein, and veggies.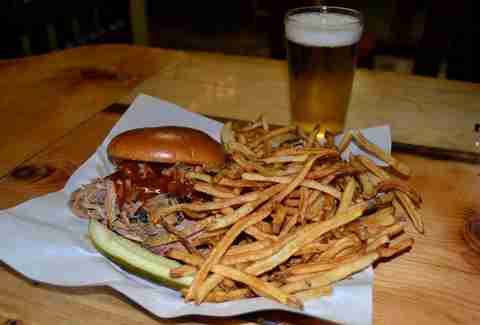 What you're getting: A pulled pork sandwich
When you want to break out of your salad/soup/sandwich routine, hit this Southern BBQ joint for some legit barbecue. Big portions are standard here, so if you're looking to eat a reasonable-sized meal, stick with the BBQ pulled pork or brisket sandwich. On Tuesdays, you can score a BBQ pulled pork or beef brisket sandwich with a bottle of beer (or soda) for under $10.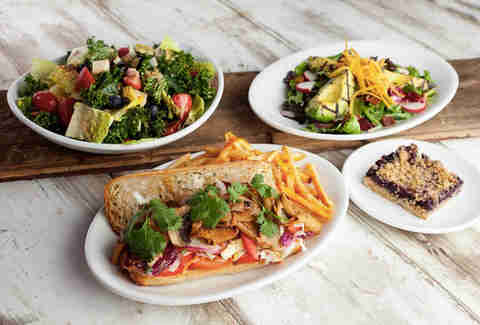 What you're getting: The Hungry Lu's Special
When you're hungry for a classic Italian sandwich, head to this friendly shop in the north end of OB, where first-time visitors are often rewarded with a free cookie. Seating is limited so get your sandwich to go and picnic at Robb Field park. The Hungry Lu's Special (rosemary porchetta, sweet capocollo, mortadella, and havarti) is always delicious... and you must get a container of the Italian cookies, or a cannoli, or both.
What you're getting: The pot roast sandwich
This affordable, pint-sized spot excels at tasty things between bread (sandwiches and burgers). The casual-to-the-core interior has limited seating; snag a spot looking out onto the street if you can. The pot roast sandwich with caramelized onions, creamy horseradish, and a mound of shredded iceberg lettuce is a great pick. If you have some extra stomach real estate to spare, split an order of spicy lamb "lollipops."
What you're getting: The Hot Poppa
Since 2009, this family-owned shop has been filling bellies with huge sandwiches and topped hot dogs made from Boar's Head meat and cheeses. There is a small seating area outside that gets the job done. Don't forget to browse the wide selection of craft sodas and salty snacks. The Hot Poppa sandwich (with turkey, Pepper Jack, cream cheese, Flamin' Hot Cheetos, and jalapeños) is the deli's most famous creation, but there are plenty of more mainstream options too.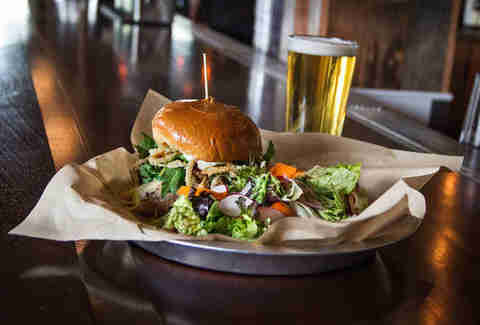 What you're getting: The Caipira
If all you know about Brazilian food is acai bowls, that's actually OK! This particular cuisine is fairly underrepresented in San Diego, which is reason enough to get your butt to this super-casual spot to try things like pastels (essentially, giant empanadas), pão de queijo (cheese bread), and gluten-free tapioca crepes. A croissant stuffed with your choice of savory filling (the Caipira -- shredded chicken, tomato sauce, and cheese -- is particularly good), especially with a big glass of mango juice.
Coronado
Saiko Sushi (address and info)
What you're getting: The spicy tuna lunch combo

Just like anywhere else, there are a lot of cheap, crappy sushi places in San Diego. Saiko Sushi isn't one of them. The restaurant's commitment to sourcing sustainable fish means guests can enjoy seafood favorites like yellowtail, sea bass, scallops, octopus, and uni that have been scooped from local waters. This is a great reason to reward both locations (North Park and Coronado) with your lunch money. The spicy albacore tuna lunch combo (with a spicy albacore roll and tuna, shrimp, salmon, and yellowtail nigiri) ticks a lot of boxes, or live it up with the chirashi, a 15-piece sashimi platter with steamed rice.

Sign up here for our daily San Diego email and be the first to get all the food/drink/fun in town.

Writer Erin Jackson is a fan of both San Diego and lunch. Follow her @ErinJax.