If you want a good burger, you just bust out your old Kenan & Kel DVD and laugh HYSTERICALLY, but if you want a great burger, that's a little trickier. Thankfully, we've painstakingly done the legwork for you and brought you not just five great burgers, but the five greatest in town.
5. Wild Boar Burger
Crazee Burger
Multiple Locations
The menu at Crazee Burger is every carnivore's dream, with burgers made from kangaroo, alligator, venison, and a list of other animals that you don't traditionally find on a bun. But their Wild Boar Burger is the best move, with red wine pear, mushrooms, bacon, cream, and plum jelly.
4. Hubcap Burger
Hubcap
3926 30th St; North Park; 619.291.1859
Starting with a grass-fed beef patty, the Hubcap Burger works deliciously with its standard cheese, shredded lettuce, house pickles, tomato, and homemade mayo, but if you feel like getting a little crazy have them pile on the avocado, fried ham, jalapenos, caramelized onions, Fritos, uni pate, and a couple more grass-fed patties.
3. Mashed Potato, Bacon & Cheddar Cheese Burger
Hash House A Go Go
3628 5th Ave; Hillcrest
The guys at Hash House are known for making a killer breakfast, but they're not messing around when it comes to their stuffed burgers. This massive beef creation has mashed potatoes and bacon sandwiched between two beef patties, and finished off with the classic lettuce, tomato, and red onion.
2. The Bare Lil Lamb
Queenstown Public House
1557 Columbia St; 619.546.0444
For a flavorful down-under take on a burger, they're grilling up a New Zealand all-natural lamb patty and topping it with blue cheese crumbles, mint jelly, and shoestring beetroot on a toasted bun; go ahead and add the egg for a buck more, because your cholesterol is already hopeless at this point.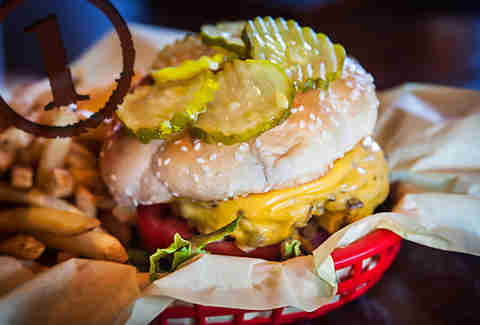 1. Hamburger/Cheeseburger
Rocky's Crown Pub
3786 Ingraham St; 858.273.9140
Proving that you don't have to get all fancy with tons of toppings to make a good hamburger, Rocky's is keeping it simple. They are the best at making a classic hamburger or cheeseburger, and they should be, since that's pretty much all that's thing on their menu. They do it up right with either a 1/3 lb or 1/2 lb beef patty, mayo, lettuce, tomato, onion, pickles, plus cheese if you want it... and of course you do.