Encinitas is no longer just a sleepy beach town. On any given weekend, the bars and lounges are packed, with people walking (and stumbling) from one end of Highway 101 to the other. The bustling nightlife has had a ripple effect on the restaurant scene, with more places than ever to eat right (meaning, no fastfood drive-thrus) after hours. Here are eight restaurants to curb your late night appetite, from Cardiff to Leucadia.

897 So. Coast Hwy 101
Open till: 11pm
Since Blue Ribbon's opening in 2010, the artisan pizzeria (it's in the name, OK) has been seemingly swarmed around the clock. The thin-crust pizzas are perfectly crisped in a wood-fired oven. It's not your average late-night pizza joint with pie toppings like fennel sausage, garlic meatballs, white truffle oil, and cream cheese paired with chives. While you're likely to meet a long wait early in the evening, the late night happy hour is the time to go, with $7 personal pizzas served from 9:30-11pm, Wednesday through Saturday.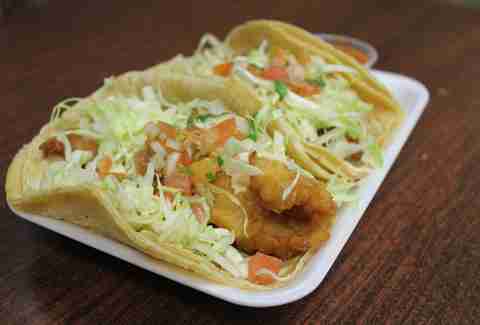 820 Birmingham Dr
Open till: 24/7
Don't let El Pueblo's location fool you: it's the perfect after-hours stop to hit after a night out. Sure it's inside a Valero, but you can fill up on double-wrapped, beer-battered $1 fish tacos at this 24-hour spot while you your Uber driver fills up on gas. The salsa bar almost makes you forget about the carwash just a few feet away.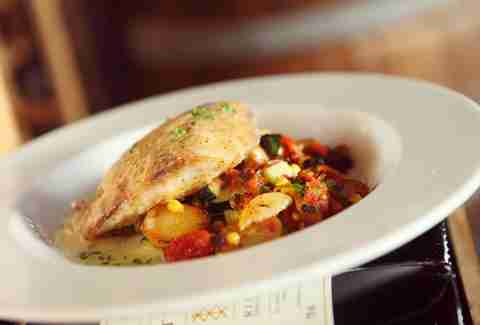 897 South Coast Highway
Open till: 1am
3rd Corner is a little bit of everything. The kitchen is open until 1am on weekends and it's right in the heart of the downtown bar scene. It's got a retail wine shop with a huge selection at every price point so you can browse for a nice bottle before sitting down for a perfectly creamy risotto or a braised short-rib. And, this is the wrong listicle for this fact, but it's got bottomless mimosa weekend brunches.
476 S Coast Hwy 101
Open till: 24/7
When the Encinitas bars shut down, the party rages on at Filiberto's. It's open 24 hours and does not skimp on the portions. The burritos are wrapped in a giant, warm flour tortilla and filled with a variety of Mexican staples, from eggs and cheddar for a breakfast burrito, to carne asada and french fries for a California burrito the size of your forearm.
219 N El Camino Real
Open till: 24/7
Located in New Encinitas, Cotixan is one of the few open 24 hours, which means the Cotixan fries, drenched in sour cream, guacamole, and shredded cheddar, are waiting for you at any hour of the night. Since it have a drive-thru option, you can shamelessly roll through in your dirtiest pajamas to pick up a breakfast burrito, served all day.
1953 San Elijo Ave
Open till: 11pm
If you don't mind the quick drive down to Cardiff, Wine Steals is a great place to take a date since it's got a good wine selection, thin-crust pizza, cheese boards, and counter service, which all amount to a laid-back yet upscale fast-casual vibe. Relax on one of the comfy couches and take your time deciding amongst pies, since the kitchen stays open until 11pm on most Fridays and Saturdays, depending on demand.
996 North Coast Highway 101
Open till: 11pm
While Regal Seagull gets lots of love for its extensive, rotating beer list (spin the wheel of indecision to let fate decide your beer of the night), the premium, locally made sausages deserve some credit too. Try the sausage sampler plate and stock up on all the different condiments. The kitchen is open until 11pm on Fridays and Saturdays.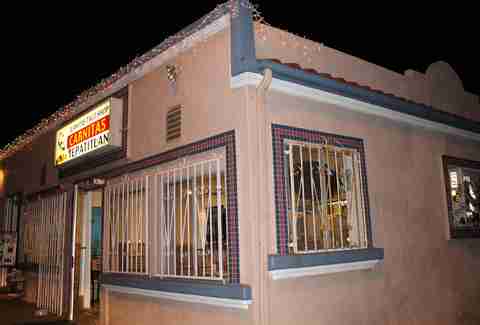 290 North Coast Highway 101
Open till: Midnight
Those who haven't been to Juanita's may be a tad skeptical based on the taco shop's outside appearance, but don't let that stop you. It's is an unpretentious taco and burrito spot right in the heart of Leucadia. Stop in for a late night California burrito, which has the perfect ratio of carne asada, french fries, sour cream, guacamole, and cheddar cheese.
Sign up here for our daily San Diego email and be the first to get all the food/drink/fun in town.
Ellen Wright is a freelancer at Thrillist who once saw someone fall asleep into their burrito at one of the above restaurants (and will not name names here). To see what Mexican place she's currently frequenting, follow her on Twitter: @PacificPolished