Pancakes don't have to try hard to taste delicious... most times, a little syrup is all you really need to make them sing. But that doesn't mean they can't sing louder (if your pancakes are literally singing, don't eat them, as they may not be actually pancakes). Here are seven SD pancakes that go above and beyond the heights reached by lesser breakfast foodstuffs.
Berry ricotta pancakes
Hanna's Gourmet (address and info)
University Heights
Ricotta cheese adds a touch of tang to these light and fluffy pancakes topped with chocolate sauce, but the best part is there are so many raspberries, strawberries, and blackberries on top that you get a burst of sweet, fruity goodness in every single bite. Just be prepared to defend them from your tablemates' wandering forks.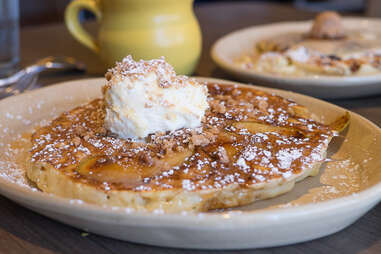 Candy apple pancakes
Snooze (address and info)
Multiple locations
Super-sweet pancakes are a core component of the menu at Snooze, but none of them come close to the candy apple pancake, with caramelized apples baked into the batter and whipped mascarpone, spiced pie crumble, and caramel glaze spooned, sprinkled, and swirled on top. True to its name, it captures all the joy of eating a candy apple WITHOUT the risk of ripping out a filling. Hot tip: this particular 'cake is a seasonal special, so it will only stick around until April. You know what to do.
Tiramisu pancakes
Cafe 21 (address and info)
Gaslamp Quarter
Cafe 21's show-stopping cocoa-infused tiramisu pancakes are plated with espresso syrup, homemade chocolate drizzle, and mounds of mascarpone & cocoa whipped cream. YES, this is considered breakfast! Half-size portions are also available, and you don't need to wait until the weekend to indulge -- they're available every day from 8am-3pm. Why haven't you left yet?
Ricotta pancakes
Jsix (address and info)
East Village
Your first clue that this isn't an ordinary serving of pancakes is the whipped cream on top. It doesn't stop there! Mixed into the batter, there's so much ricotta cheese that this medium-sized stack practically eats like a slice of cheesecake. Your food coma awaits.
Bourbon Dutch Pancakes
The Patio on Lamont (address and info) and The Patio on Goldfinch (address and info)
Pacific Beach and Mission Hills
The Patio's Bourbon Dutch Pancakes are significantly thicker and more cake-like than most, with caramelized bananas and apples baked right into the batter... BUT IT GETS BETTER. On top, you get fluffy chantilly cream, a seasonal berry compote, and a mix of agave & maple syrup.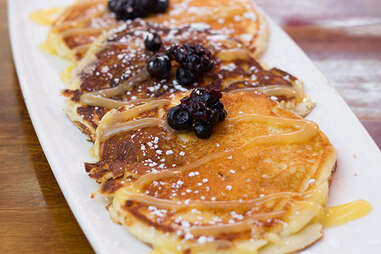 Pancakes con Ricotta e Limone
Davanti Enoteca (address and info)
Multiple locations
In case you haven't noticed, some well-used ricotta is one route to the top of the pancake game. A generous drizzle of lemon curd and wild blueberries amp up the flavor of this tasty trio of perfectly griddled, golden brown ricotta pancakes from Davanti Enoteca. The only bummer is they come three to a serving (the ideal portion size is closer to 17).
Apple Butter Hot Cakes
100 Wines (address and info)
Hillcrest
If you're prone to indecision between sweet or savory dishes at brunch time, then order this pancake plate from 100 Wines. You'll score three fluffy pancakes boosted with apple butter and topped with tart cherry compote (plus a friendly little foursome of maple sausages). It's the best of both worlds! Oh, and they have mimosas for $1.
Sign up here for our daily San Diego email and be the first to get all the food/drink/fun in town.