The Heart & Trotter: San Diego's Long-Awaited Whole-Animal Butcher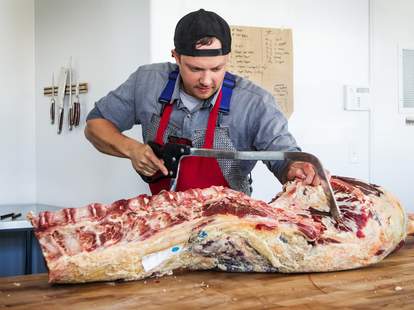 There was a time long ago when meats didn't need to be labeled "locally sourced," "ethically raised," "grass-fed," "sustainable," or "chemical-, hormone-, and antibiotic-free," because they were simply called "meat." Thanks to James Holtslag, Trey Nichols, and the support of a wildly successful Kickstarter campaign that raised about $50k, the carnivores of San Diego can get back to those old-school roots at The Heart & Trotter, the only whole-animal butchery in town. Here's a look at what it's up to.
Sara Norris/Thrillist
Animals are delivered to Heart & Trotter fresh from carefully selected local farms
They're then stored on custom-made rolling racks in a walk-in until they are ready to be broken down.
Sara Norris/Thrillist
James spent months as meat apprentice
Specifically, an apprentice at Lindy & Grundy Meats in West Hollywood, where he learned the craft of traditional butchery. So if you really want to get a look at where your steak comes from, come by the shop in the morning when you'll be likely to catch him and the rest of the staff in the process breaking down the animals into fresh cuts of meat just behind the counter. Or you can stand on the sidewalk like a total creeper and watch them from big windows that look directly into their prep area. Weirdo.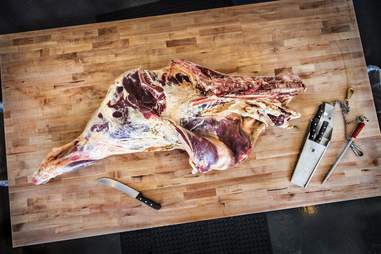 Sara Norris/Thrillist
Over the course of a couple of hours this hindquarter of beef...
That's some fine-looking hindquarter!
Sara Norris/Thrillist
... becomes sirloin steak, ground beef... 
Plus several other fresh cuts ready for the barbecue. Or the chili. Or the meatloaf. That's up to you, really.
Sara Norris/Thrillist
Making sure that nothing goes to waste, they use of every part of the animal from head to tail
Even the femur in this hindquarter will be cut down and sold as marrow bones (!) for roasting or making beef stock.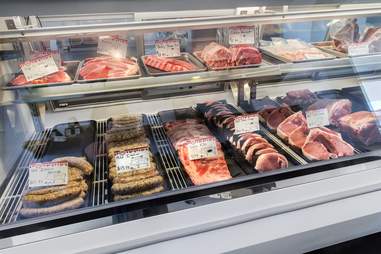 Sara Norris/Thrillist
The selection of meat goes way beyond beef
Expect to see pork, chicken, duck, lamb, and occasionally even rabbit. Sorry, Bugs.
Sara Norris/Thrillist
There's a chef on hand taking things to the next level
James and Trey brought on Chef Lhasa Landry to help create items like headcheese, patés, rillettes, and prepared foods like sandwiches and charcuterie boards (coming soon!). Lhasa also makes the shop's fresh sausages like Italian, bratwurst, and chorizo.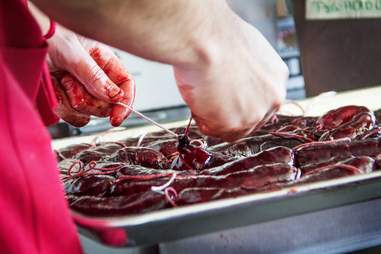 Sara Norris/Thrillist
That next level also includes making their own smoked blood sausage in-house
Where else in San Diego can you find that?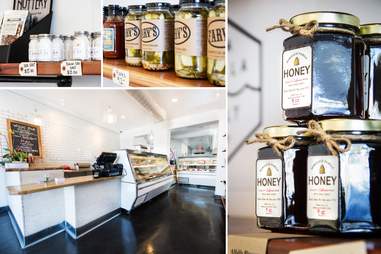 Sara Norris/Thrillist
There's more local goodness than just meat
They have shelves stacked with mustards, honey, La Jolla sea salt, and other meat-friendly items. There's also a cold case full of eggs, butter, cheeses, and more -- all from right here in San Diego.
Sara Norris/Thrillist
James and Trey may look familiar
It's possible (likely, even), that you've seen them demonstrating their skills during events at places like Carnitas Snack Shack, Sea & Smoke, and Alchemy. Soon they'll be holding small, hands-on classes ranging from sausage-making to cooking courses. You can also help keep the old-school craft of whole-animal butchering alive by signing up to learn how to break down pork, lamb, and other animals.
Sign up here for our daily San Diego email and be the first to get all the food/drink/fun in town.