Thrillist's Top Pick Get to Oceanside Pier August 2-4 to check out over 90 of the hottest female pro surfers competing in the largest female surf competition in the world, the Supergirl Pro, plus live music, vendors, and... did I mention almost 100 female pro surfers? See who's in the lineup... All Weekend Urge American Gastropub's third anniversary extravaganza is starting at 1030a on Friday and partying on thru Sunday with three anniversary beers (including the bourbon barrel-aged Don't Make It Weird), music, live screen printing, ghost wings, two casks & 51 taps of their best draft list of the year. Tickets are here… Friday, July 26th One of SD's biggest fashion events, Project Ethos, is at Fluxx tonight with SD native DJ Ayeena and a live performance by Eryn Woods, plus vendors, an art gallery featuring works in a variety of mediums, and -- of course -- tons of models strutting their stuff on the runway. Stick around for the after party that keeps raging until 2a.Get on the VIP list... Saturday, July 27th If you loved the I Love Poke festival, you're going to love the Pig & Poke at Summersalt from 1-5p, with eats like guava roasted pig, ahi poke, shaved ice, and more Hawaiian favorites. Get your ticket in advance, while they're still cheap… Today is the official grand opening for the new Karl Strauss Brewery tasting room and beer garden happening at noon with 20 beers on tap for tasting and food trucks parked outside. See what they've been up to for the last 24yrs… Beer Fest at the Del Mar Racetrack is kicking off at 1p with over 100 craft brews to sample and more than 40 of SD's top-rated beers, then stick around after to jam out to Sammy Hagar & the Wabos, which is free with your admission to the track. Get the details… Monday, July 29th Get in on the San Diego Brewing Co. and Callahan's Pub 2013 Golf Tournament at Carmel Mountain Ranch Golf Club starting at noon. Sign up here… Wednesday, July 31st Bar Pink is hosting the Commune Summer Dance Party with DJ Peso, AndrePower, and a trunk show by Industry Bastards. Dance your face off for free… Saturday, August 3rd El Dorado is partnering with On-Life Suicide Prevention Organization for their third annual San Diego Showcase, featuring a dozen local breweries and guest bartenders from six of the best craft cocktail bars. A ticket gets you 10 beer tastings and two full cocktails… BrewFest Encinitas is going on today from 4-7p at MiraCosta College with 15 craft breweries and a VIP section featuring special beers. Get in on the VIP tastings… Head to TJ with Turista Libre to check out four of chef Javier Plascencia's restaurants. The tour includes round-trip border transportation, food, and wine or beer pairings at each stop, as well as a cocktail at Bar 20 to finish out the day. Reserve your spot…
Recommended Video
Is This $2k Gold Pizza Worth It?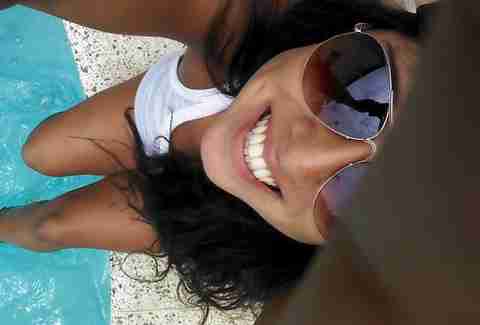 Local Lady We Love, and Where to Find Her
You may have met Becca slinging shots behind the bar at SandBar in Mission Beach, but by day, she volunteers her time teaching illiterate adults how to read, traveling, hanging out with her two Alaskan Eskimos Fresco and Dante, cruising in her six-person golf cart in Pacific Beach, and kicking ass at everything from surfing and spear-fishing here in SD or Mexico, to hitting the slopes snowboarding in Mammoth. If she has to be indoors, you can bet she's contorted in some crazy position at a hot yoga class. In her down time, you'll catch her at her favorite sushi spot, Sushi Kuchi in PB, or breaking it down on the dance floor at Tavern by the Beach.