10 Things You Didn't Know About Rubio's
No other city has a love affair with fish tacos quite like San Diego, and Rubio's has been at the forefront of feeding San Diego's obsession since the early '80s (when, incidentally, that song "Obsession" was really popular). We all know the fish tacos are the shiz, but here are 10 things you probably didn't know about Rubio's.
Courtesy of Rubio's
1. Nobody loves fish tacos as much as Rubio's founder Ralph Rubio
He even has the license plate to prove it.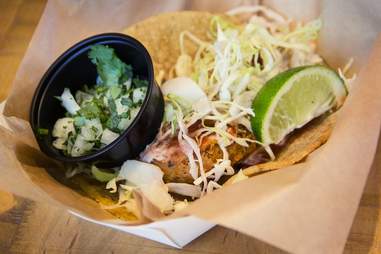 Sara Norris/Thrillist
2. One million fish tacos is not a big number to them
In fact, it's estimated that Rubio's will sell their 200 millionth (yes, 200 MILLIONTH!) fish taco this summer.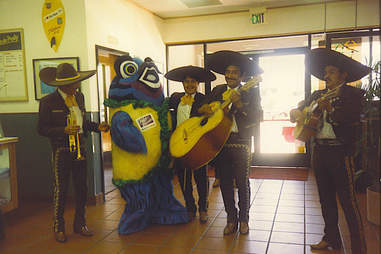 Courtesy of Rubio's
3. Back in the day, Rubio's had a mascot named "Pesky Pescado"
He was a giant fish wearing a taco vest, who could occasionally be seen hanging out with a mariachi band. He's retired now.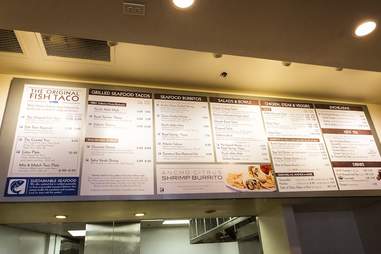 Sara Norris/Thrillist
4. The first six months it was open, Rubio's had French fries on the menu
If you really miss them, these places might be able to take care of you.
Courtesy of Rubio's
5. The first Rubio's location opened in 1983 in a former Orange Julius stand
That was in Mission Bay. The second opened on the San Diego State campus, Ralph's alma mater.
Courtesy of Rubio's
6. Out of the eight people working on Rubio's opening day, there was only one paid employee
Her name was Jenny Alexander; she was also the only non-family member on staff.
Sara Norris/Thrillist
7. You can thank a random chef from Puerto Nuevo for Rubio's famous Salsa Picante
Ralph tipped the guy $20 for his salsa recipe, which he wrote down on a paper napkin.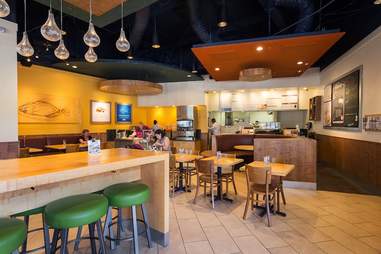 Sara Norris/Thrillist
8. There's bacon in the gourmet shrimp tacos
And it is the best thing ever.
Courtesy of Rubio's
9. Ralph once had an extremely successful date at the Rubio's in PB
When Ralph invited his date Dione to visit him at the newly opened third Rubio's location in PB, she thought he was a line cook, not the owner. She still went out with him anyway, and later became his wife.
Sara Norris/Thrillist
10. Rubio's has gone from taco shop to taco empire
There are now 38 locations in San Diego, where it originated, and more than 200 total locations in California, Nevada, Arizona, Colorado, and Utah.
Sign up here for our daily San Diego email and be the first to get all the food/drink/fun in town.