San Diego's 9 Most Underappreciated Restaurants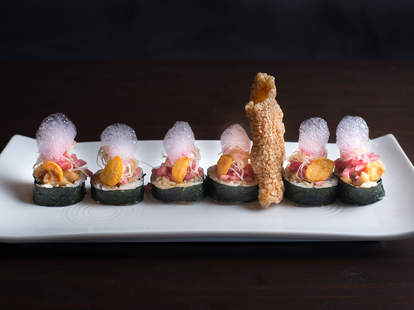 In a city where hot new restaurant openings come almost as fast and furious as certain Vin Diesel films, some legitimately fantastic establishments sometimes get lost in the shuffle. If you already know and love these fine places, go ahead and give yourself a pat on the back and a thumbs-up in the mirror. If not, prepare to update your restaurant hit-list with nine more noteworthy spots to try.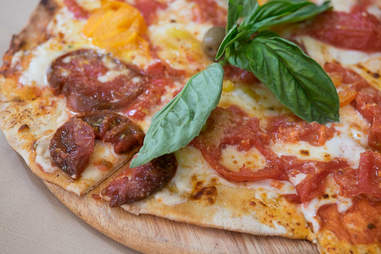 Erin Jackson/Thrillist
Gaslamp
Italian restaurants are so plentiful in the Gaslamp Quarter, they tend to blur into one amorphous, tomato sauce-scented blob. And while it's easy to write off entire blocks as tourist traps set to snag unknowing convention-goers, you'd be doing yourself a disservice to overlook Osteria Panevino -- a friendly, approachable spot with a slew of tempting items, including house-made spinach ravioli in creamy pesto sauce, and braised veal osso bucco over saffron risotto.
SARA NORRIS/THRILLIST
Downtown
This Southern-inflected restaurant is home to one of San Diego's most unsung burgers, made with a beef/bacon patty, lettuce, tomato, and savory roasted garlic aioli (no cheese necessary). It's similar to
that other spot
known for mixing pork products into beef patties, but more expertly executed. Get some dry-rub chicken wings and a slice of gooey pecan pie to complete the experience.
ERIN JACKSON/THRILLIST
Clairemont
The odd location, next to a designer rug showroom on a seldom-traveled stretch of Morena Blvd, makes Kurt Metzger's farm-to-table spot tricky to find, but deeply satisfying dishes like red velvet waffles with cherry syrup, candied walnuts, and cream cheese frosting make it a cinch to love. It's a solid pick for
lunch
or dinner, too.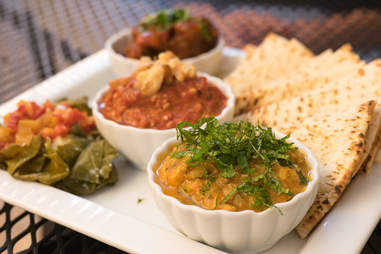 ERIN JACKSON/THRILLIST
University Heights
Hanna's sunny-side patio is a prime destination to discover flavor-packed international eats, including South African meatloaf, Moroccan chicken tagine, and the "Mediterranean feast" appetizer pictured above, which comes with a duo of tasty dips, spicy eggplant salad, and baked ricotta wrapped with grape leaves (plus plenty of warm pita wedges). There's also a monthly family style dinner highlighting several dishes from a specific cuisine for $35 per person. Date night: done.
ERIN JACKSON/THRILLIST
Pacific Beach & Rolando
San Diego's two outposts of this Tempe, AZ-based, stoner-themed sub shop have somehow remained under the radar, despite serving bomb toasted subs available in three sizes: "nug" (4in), "pinner" (6in), or "blunt" (12in); Kool-Aid on tap; and evil-genius desserts like Froot Loops cereal bars.
BLUE SMOKE
Mission Valley
High-quality rolls, robata items, bento boxes, and all manner of teriyaki-glazed meats round out the robust menu at this reasonably priced sushi spot in Fashion Valley Mall. Don't leave without ordering something with pork, like the grilled pork belly skewer or the Wave Hog: a Japanese-Californian fusion roll with pork belly, pickled red onion, garlic chips, pomegranate foam, and a crisp chicharron "surfboard."
ERIN JACKSON/THRILLIST
Ocean Beach
Ocean Beach might not be the first destination that springs to mind for belly warming Indian fare, but that's exactly what you'll find at Sundara, along with a decent selection of craft brews and a shortlist of cocktails, like rum mango lassis. The friendly vibe in the snug interior or covered back patio is much more appealing than the over-dressed spaces slinging tepid fare in the Gaslamp Quarter or even the casual, hole-in-the-wall spots in Miramar. Two tips: "medium" is all the spice you'll need, and at least one order of garlic naan is an absolute must.
Chula Vista
Hearty, affordable breakfast and lunch dishes are the main order of business at this cozy Mexican restaurant in Downtown Chula Vista. Sopes piled with chorizo, or righteous chilaquiles bathed in green, red, mole, or chipotle cream sauce are a must. If you love your coffee super-sweet, a bottomless cup of café de la olla with cinnamon will get
your motor running
.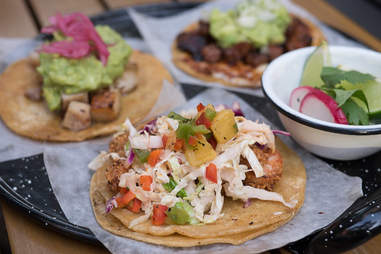 ERIN JACKSON/THRILLIST
Chula Vista
Most people are partial to their local, neighborhood taco shop, which is probably why this Mexican restaurant hidden away in deepest Chula Vista (at the Otay Ranch Town Center) doesn't get the credit it deserves. A new menu that pays tribute to Guadalajara, with tasty items like tostadas, street tacos, and breaded hanger steak tortas make it well worth the drive (just over 20 minutes from Downtown, as long as you don't go during rush-hour).
Sign up here for our daily San Diego email and be the first to get all the food/drink/fun in town.