Long-anticipated American Voodoo has finally brought its eclectic fortress of flavor to University Heights, with a wall full of taxidermy and other random oddities (creepy dolls, anyone?) -- designed by owner and filmmaker Joshua Hamlin -- creating a sort of French Quarter fever dream effect, which will no doubt stick with you once their Creole/Southern comfort food casts its spell on you. Spoiler Alert: The spell results in food comas.
Recommended Video
Potato Skin-Breaded Queso Balls Will Make All Other Apps Obsolete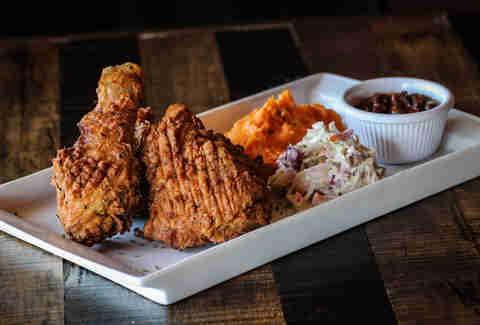 There's something about Mary's... fried chicken (!), probably because it's brined and cooked sous-vide (for extra flavor & juiciness ) before it gets fried up to the crispy golden brown you see here, then served alongside sweet potato mash, cole slaw, and country gravy. But no franks & beans.
One bite of the fig-glazed Cornish game hen and you'll be grateful it's on your plate rather than stuffed and mounted on the wall. It's paired with apple fennel dressing and tasso mustard greens because, in the South, veggies wouldn't be the same without a little pork in them.
Don't miss brunch, or you could miss this smoked pork belly sando with fried green tomatoes, arugula, and a Creole remoulade in a French roll, which Mr. Stewart will no doubt be developing if he eats too many of these.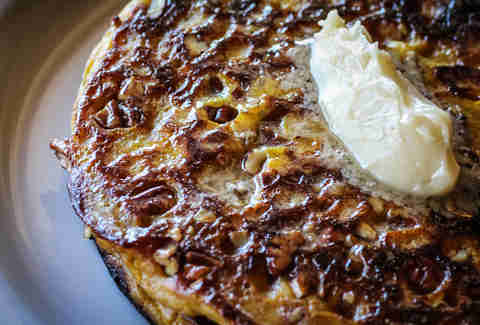 There's also more breakfast-y brunch fare, like these seasonally appropriate pumpkin-pecan pancakes with maple-bourbon butter.
The collection of strange Americana isn't the only point of visual interest. Step into the bathroom and the hand-painted mural by artist Jenna Odhner will really make you feel like you're under a spell. Or, at least, like someone dosed your pancakes.
Previous Venue
Next Venue
Venue Description
1. American Voodoo
4655 Park Blvd, San Diego, CA 92116
American Voodoo, with its taxidermy-bedecked walls and visually jarring artwork, is a crazy-awesome American fare-dishing temple of taste in San Diego's University Heights neighborhood. Get the fried chicken.