What Would Be Your Last San Diego Meal?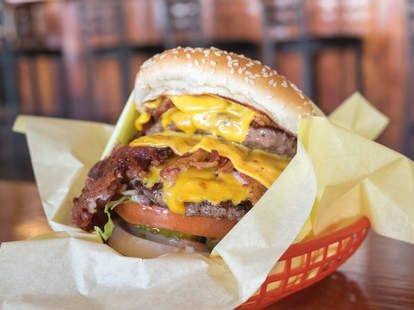 When my esteemed editor proposed a piece highlighting all of the things I'd eat during my last day in San Diego, I was all over it -- not because I have any intention of moving anytime soon, this IS San Diego after all. However, I'm always perfecting the perfect hypothetical itinerary for a day spent gorging myself into oblivion anyway, so I already had a head start.
After some deep deliberation, here's my proposed plan for how I'd go out with a bang (and several stomach-clutching whimpers) during my last 24 hours in San Diego. Have your own thoughts on the matter? Shout them out in the comments.
James McClelland
Breakfast
Wild romps through a city's culinary gems are no place for shame or calorie counting, so my last breakfast in San Diego would start with a magnificent fried delicacy, like a Nutella donut from Bottega Americano. Pastry chef Rygie Dy makes them from a yeast dough with milk powder and 00 flour and tops them with candied hazelnuts and (you guessed it!) creamy Nutella glaze. They're only available at brunch time on Sundays and typically sell out a few hours after opening, so if you want to snag one for yourself, go early. From there, I'd hit the original Bird Rock location of Bird Rock Coffee Roasters for a latte strong enough to make me consider impromptu cartwheels (yet still smooth enough to not require any sugar), followed by a stop at Prepkitchen for a roasted beet salad... topped with an order of bacon-wrapped dates.
Erin Jackson/Thrillist
Lunch
For lunch -- or as soon as it is no longer physically painful to eat -- I'd head up to City Tacos for a camarón taco with juicy battered shrimp, green tomatillo salsa, and grilled corn on a thick homemade flour tortilla (as an appetizer). Then I'd grab a few samples from Belching Beaver's tasting room and a strawberry malt latte at Holsem Coffee, but I'd do the majority of my midday eating at Sab-E-Lee. A bowl of thick and creamy panang curry (level three) is essential, but I wouldn't rule out some pad Thai... and maybe an order of crispy egg rolls with sweet and sour sauce. Oh, and a Thai iced coffee... with boba. Yep.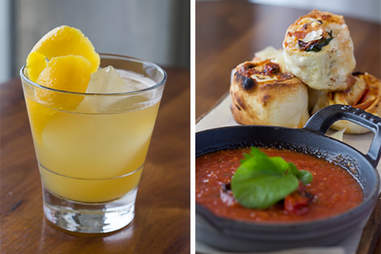 Erin Jackson/Thrillist
Afternoon snack
After an invigorating bike ride around Mission Bay, I'd snag a two-top facing the ocean at Cusp for an order of pepperoni rolls. A Ron Burgundy cocktail or two later, the sun would be dipping below the horizon at the same time as I would be pinching myself to stay awake... because there's still dinner... and dessert... and there's no way I'd miss out on either.
Erin Jackson/Thrillist
Dinner
Dinner is easy: a mini cheeseburger (hold the onions, mustard, and ketchup) and a side of fries from Hodad's. But, instead of eating them naked, I'd snag a few sides of chipotle aioli from Smashburger and use that genius sauce as a fry dip. Hodad's has been a weekly habit for the last three years, so there's no way I'd leave town without one last fix.
Erin Jackson/Thrillist
Dessert
The thing I crave most for dessert most of all isn't even dessert, it's an appetizer. However you want to classify it, the focaccia di Recco from Davanti Enoteca is how I'm ending my night. The flaky, cheese-stuffed creation reaches perfection with warm honey spread over the top. I've never had a problem making a serious dent in it when I've shared it in the past, but it's also great the next day, straight from the fridge.
After a day like that, I'd probably eat steamed broccoli for a week straight, but I'd start missing all the best eats from my adopted hometown the very next morning. But enough about me... how would you spend your last day of eating in San Diego?
Sign up here for our daily San Diego email and be the first to get all the food/drink/fun in town.