Get ready for more high-end Chinese and Eastern European in 2013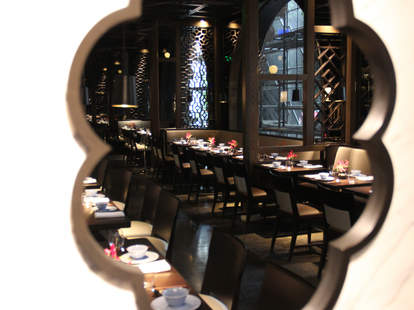 Because your horoscope told you that "you should be open to new experiences" and "something vague that could apply to anyone will happen to you", you should listen to these predictions for SF's 2013 scene from food & bev titans who have a little more to go off of than Jupiter rising in the house of Mercury over Saturn next to Gemini
Lisa Nourse, Owner, Lisa Nourse PR: More restaurateurs and chefs getting into the fast-food and food product businesses. More chefs who want to work outside of their four walls and cook in new settings via platforms like Kitchit, Outstanding in the Field, and The Bold Italic dinners. More top-tier "name" bartenders who become beverage brand ambassadors
Sophie Uong, Chef, Picán: More fermentation, home-made charcoal, more whole bird roasts/food feast dinners, more upscale fast casual restaurants
Jay Barmann, Editor, San Francisco Grubstreet: Some things will close, some things will open, and I will be well fed. Oh, and the return of the White Russian
Defne Altan, Owner, Made PR: Pop-ups are getting the funding/recognition that they deserve. We'll be seeing a lot more open their first brick and mortar locations next year. Sous Beurre Kitchen and KronnerBurger are great examples.
Carlo Espinas, Chef, Comstock Saloon: I think you are going to see more places riff off the State Bird Provisions model. Not necessarily dim sum, but looking for innovative and fun ways to dine
Brock Keeling, Editor, SFist: A return to vodka, goddamnit -- and while we're at it, fancy artisan Hot Pockets too. But seriously, if I could request one change in 2013, it would be a return to femininity with food and dining out. A tea party with truffle eggs in aspic in Cinderella's castle if need be; just get the bro out of my meal
Ryan Ostler, Chef, Hi Lo BBQ (coming soon): I would hope that we continue on the trend of "community" over exclusivity. Danny Bowien, Anthony Myint, and the Commonwealth crew really showed us that you can push for excellence and let your hair down at the same time. Mission Chinese Food is a great place to be with friends, relax, party, and eat some awesome food
Ray Tang, Chef, Presidio Social Club:Hakkasan, My China, and MCF may change the SF food landscape. I hope they do. Hot cooking with fire and oil will make a return as legitimate culinary techniques. The Szechuan peppercorn will make its way into the cocktail lexicon. Words like "Numbing" and "MaLah" will take hold in newly gentrified areas of the Mission and Chinatown
Anna Roth, Food Editor and Restaurant Critic, SF WeeklyRye gets bigger than ever and is then pronounced too popular, everyone talks about "ancient grains" but no one really likes them, both the bacon obsession and bacon backlash continue with equal force, more trend pieces are written about beer sommeliers, or "cicerones" as they are sometimes called in the industry.