Because you were totally busy cutting out pictures of Ben Affleck's head and pasting them on Batman's body, chances are you've missed out on quite a few Summer openings in SF. But since we heart you, we've gone to the trouble of rounding up a list of six you probably didn't know about that're totally worthy of a spot in your bars/restaurants/beer halls utility belt.
Recommended Video
Ghost Kitchen: Restaurant Gets Help From Community During Coronavirus Pandemic
Royal Tug Yacht Club
Union Square
Just when you were thinking the Bullitt/Tonic/Soda Popinski's/Wild Hare/Lightning Tavern hyphenate family couldn't get any bigger, they've gone and Duggar'd it with another, and this one's close enough to Union Square to be easily accessible, but not close enough for tourists to find. Along with a delicious mojito made with bourbon, they also have Big Buck Hunter, which you can play while a giant squid judges your sportsmanship from the ceiling.
Ramen Izakaya Goku
The Mission
Not named for the guy who finally defeated Vegeta after, like, 20 episodes of powering up, this Goku is instead a Mission ramen spot sporting five different types of noods, plus a wide assortment of modern Japanese tapas, like sweet and spicy chicken wings (or a million other things you see in this picture).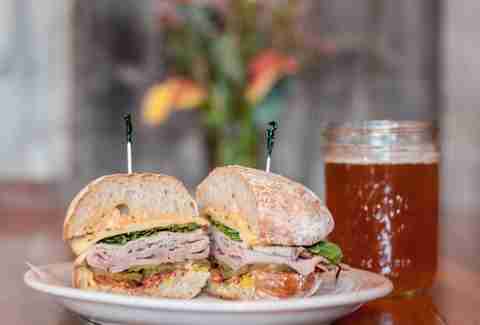 Blue Barn Polk
Polk St
Blue Barn's much needed second location (if you've ever tried to squeeze into the other) has finally hit the Polk St corridor, ensuring you can get your delicious spicy Buffalo grilled chicken sando before 1) heading out to get your bro on, or 2) sticking around to get your classy bro on at their new-to-this-iteration wine bar.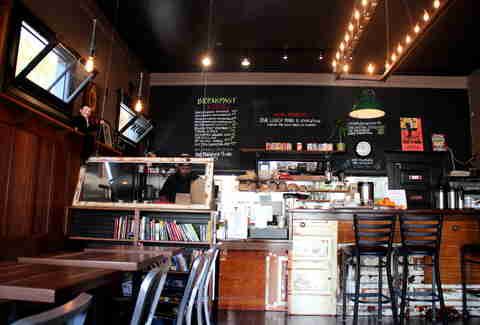 Mission Public
The Mission (duh)
If you're on a break from your intense work day at Kink.com (man, you sure feel chained to your job), you may want to check out this lunch spot from a graphic designer and his friends who've known each other for years, with a bar made of old doors and an evolving menu of sandwiches like the Roast Beef South with pepper jack, roasted red peppers, and tapatio aioli (!!). Plus, they should have beer and wine coming in soon!
The Beer Hall
Upper Market
Proving that Upper Market can be worth going to for things other than a good scare, TBH is a spot devoted to that drink that makes everything better (surprise, it's beer!), with 20 on-tap California brews, including a couple made exclusively for the spot from MateVeza and Armstrong (an SF nanobrewery), PLUS a selection of bottled beers for purchase to go or for drinking in-house with no corkage fee.
SliderBar Berkeley
Berkeley
If you've ever wanted to pick up a Hot Chick in Berkeley, good luck!! Haha no but, seriously, SliderBar's just opened their Berkeley location, where you can grab all the deliciousness that made the SF location great (aforementioned Hot Chick included), plus a couple of newbies like the 49ers-friendly Red & Gold w/ red pepper sauerkraut and corned beef brisket, and also bottomless happy hour cocktails. Yes. That.