While spending your time preparing for Batkid's appearance (buying signs, calling in sick, getting tons of Kleenex for the tears manly things, etc.), you may have managed to miss some awesome new bar and restaurant openings this month, which's why we went ahead and wrote this: a roundup of SF's six coolest new places to eat and drink.
Recommended Video
Art of the Meal: Chloe Rose Makes Super Mario Bros Art With Hot Sauces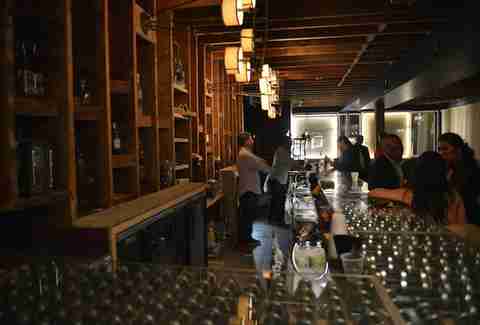 OddJob
SOMA
From some of the guys behind Big (RIP), this new steampunkish SOMA drinkery has both a glass bar top with a working steel conveyer belt underneath (!), AND a Rube Goldberg-type contraption that makes drinks via different lever pulls. Oh and duh, all of the drinks have Bond ties, like the Pussy Galore, which you see, like, every Saturday night... because you volunteer at the SPCA!
Ala Romana
Nob Hill
Helmed by an A16 alum, this casual spin-off of Russian Hill's Allegro Romano is almost all dark wood, and features an extensive wine list along with traditional Italian fare like ricotta gnocchi and four different "Roman-style" pizzas.
Nico
Laurel Heights
From an owner/chef who boasts some serious chops (Luce, Manresa) and a restaurant-name-inspiring nickname (Nico!), this French brasserie in Laurel Heights is a cozy spot (pewter bar, wood accents) that'll ply you with goat cheese beignets (French donuts), and mains like leg of lamb with butternut squash & panisse, or pork belly with lentil and apple.
Pan Grill Sandwich Shop
Embarcadero, Fisherman's Wharf, North Beach/Telegraph Hill
Butterfly Restaurant has spun-off a little sandwich shop in its to-go window where you can get delicious Asian sandwiches like pork katsu and kimchi pulled pork on a homemade milk bun. As for the non-sandwich awesomeness? Try bowls of ahi tuna poke or hanger steak niku on white or forbidden (!) rice (oh.).
Stone's Throw
Russian Hill
Housed in the former Luella space, this quaint Russian Hill, California-style eatery is the first-ever restaurant to partner with Uber (because parking in Russian Hill is the 7th Circle of Hell). Just show them proof you took an Uber to the restaurant, and you get 5% off your bill, plus you can grab "Da Burga" which comes "dressed & ready" with everything-tater tots.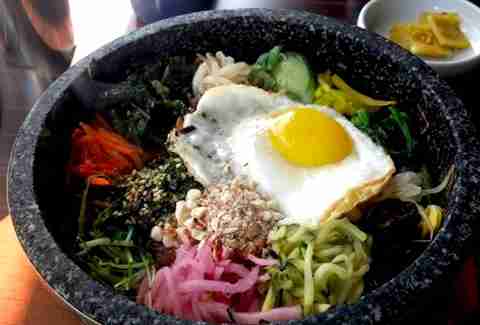 Copan
Oakland
Okay, okay, there are really only FIVE new openings in San Francisco, but Temescal is basically an SF annex, right? And if it isn't, maybe it totally should be so we could take credit for this new Korean spot. The chef's worked in Hong Kong and Tokyo and's doing mostly traditional fare like bulgogi and pork belly, but also has some more interesting twists like the beef tartare with pine nuts, Korean pear, and sesame oil.