The Mission's definitive salsa-slinger, Papalote takes inspiration from time spent in Chapultepec Park, which, duh, is Mexico City's largest park. The menu at this place is as simple as it gets, divided into tacos, quesadillas, and burritos, with all of the standard add-ons, although here they're anything but standard (think: vegan "soyrizo" and grilled tofu). Oh, and the salsa: it's so good that it's been featured on such esteemed cooking shows cooking shows as Chopped and Throwdown! with Bobby Flay.
Recommended Video
This Pizza Dip Lets You Throw a New Kind of Pizza Party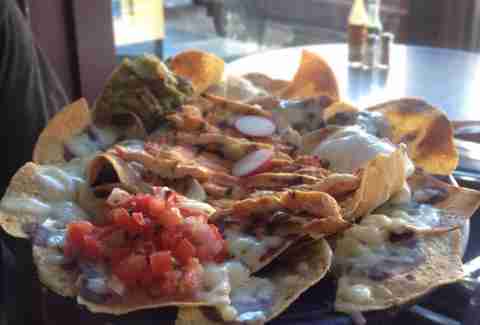 Previous Venue
Next Venue
Venue Description
1. Papalote Mexican Grill
3409 24th St, San Francisco, CA 94110
Nicer than the average hole-in-the-wall Mission taqueria but still super casual, Papalote serves up traditional tacos, quesadillas, and burritos in a sit-down counter-order space. Packed tight with rice, beans, pico de gallo and your choice of meat, the ginormous burritos are the definition of bang-for-your-buck and can easily be split between two people. Make sure you complement your order with plenty of chips served with the restaurant's signature roasted tomato salsa, which counts Bobby Flay as one of its many fans.