Not just what Greg Ostertag used to hilariously prank text Karl Malone, Stock in Trade is also the name of a Marina bar from (some of) the guys behind Wreck Room, with original Mexican floor tiles from the old La Barca space, five rail stations, porthole mirrors, oh, and five rail stations. Did we neglect to mention there's a super sweet half-size bocce court in the dining room? Yeah, there's a super sweet half-size bocce court in the dining room. They've also got a back room complete with a private bar you can rent out for parties and... oh God, what's looming over the table?? Don't worry, he seems to be just as surprised as you. They've got a total of 24 beer taps, 12 different brews cycling through them, and, finally, an opportunity to show off your long division skills. There's plenty of seating, with room for 140 in the main dining room and 30 in the private backroom (meaning you might want to get in line early for the 8-person-max bocce games). Food's made by a former Gary Danko chef and ranges from snacks like these smoked bleu cheese, balsamic date, and crispy pork jowl flatbreads... ...to "The Burger": a combo of house-ground Angus, aged cheddar, caramelized onions, and Tavern aioli on an Acme bun that will totally backfire on Wile E. Coyote. Oh, also, there's a bacon-crusted peanut butter cup ice cream sandwich. Hard not to be Jazz-ed about that, right?
Recommended Video
This Amazing Frito Pie Is the Ultimate Texas Comfort Food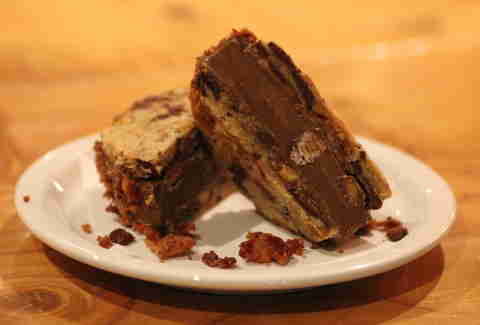 Previous Venue
Next Venue
Venue Description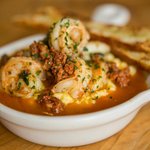 1. Stock In Trade
2036 Lombard St, San Francisco, CA 94123
From the guys behind Wreck Room, Stock in Trade serves playful American bar food, like sausage mac & cheese and pork spareribs, in an atmosphere that, fittingly, doesn't take itself too seriously: porthole mirrors outfit the walls and there's a half-size bocce ball court in the dining room. The Marina joint also serves a killer brunch with the likes of chimichurri-doused steak and egg sandwich and corned beef hash available to accompany your bottomless bubbles (bellinis or mimosas, plus a delicious pomegranate puree).