Being a chef can be a grueling career -- long nights in the kitchen, always working weekends -- but Adam Sobel, our 2016 San Francisco Chef of the Year, has taken on a particularly laborious path. As the corporate chef at MINA Restaurants, he's the guy who oversees MINA Test Kitchen, an R&D laboratory that doubles as a pop-up restaurant -- and which completely changes concepts every three to five months.
Needless to say, he's a busy man with a lot on his plate (ahem), but that doesn't stop him from making the time for travel to taste new food and find inspiration in places and cultures he hasn't experienced before.
But there's one spot he can't stop returning to: New Orleans.
"I try to get down to New Orleans once a year," Sobel says. "It's by far the most unique city in the United States. It's got a timelessness to it and it makes me feel good every time I'm there." He says it's hard to explain why, but that it has something to do with the city's spirit… and soul… and music… and people. "There's a lot of history and preservation there; it's just one of the best cities in the world. There's really nothing like it anywhere."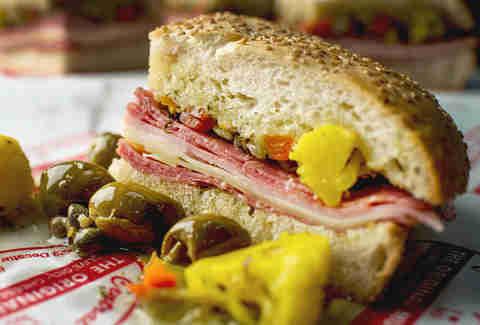 Also, the food.
Clearly, as a chef, one of the major reasons Sobel returns to the Big Easy year after year is to eat. He goes in with a game plan that involves tasting as many delicious things as possible. But how to prepare for such a gastronomic marathon?
"It's hard," he says with a laugh. "If you know you're going to eat a big feast, you skip breakfast and drink lots of water. Also, you've got to just taste. You can't eat the full dish or you won't be able to go the distance."
When tackling the Louisiana city's culinary map, Sobel still loves the classics, but also appreciates that its restaurant scene has been changing in recent years. "Obviously, the Creole cuisine is one of the cornerstones of food in New Orleans, but there's also been a great evolution over the last 15 years beyond Emeril Lagasse, Paul Prudhomme, Galatoire's, and all of those legendary places," he says. "Other chefs are doing really incredible things."
Here's where Sobel ate on his most recent trip:
Shaya
Alon Shaya is a close friend of Sobel's, so he never misses an opportunity to visit the chef's namesake restaurant Shaya, which was named the country's Best New Restaurant by the James Beard Foundation in 2016. "Alon's doing Israeli/Middle Eastern cuisine in a city where you wouldn't expect to find that kind of food, but he couples it with Southern hospitality," Sobel says. "He uses ingredients from the South mixed with the authenticity of Middle Eastern and Israeli cooking -- it's pretty cool."
The last time Sobel was there, he rolled in with a group of 12 people. "We had this unbelievable family-style dinner that was rustic, but also refined and elegant," he says. "The textures and balance of flavors were incredible. There was roasted fish, whole heads of roasted cauliflower, lamb shoulder… it was a true feast."
Galatoire's
The pre-Mardi Gras lunch at Galatoire's, a staple on Bourbon Street since 1905, "was probably the coolest dining experience I've ever had," Sobel says. "It's like a big party for 200 people. Everyone gets there around 11am and you have a table for three or four hours. Everyone is drinking champagne and cocktails and feasting. Jazz bands come in off the street and walk through the restaurant and play… everyone mingles and you end up meeting people at the table next to you that you'll be friends with for life. It's really unlike anything I've ever seen."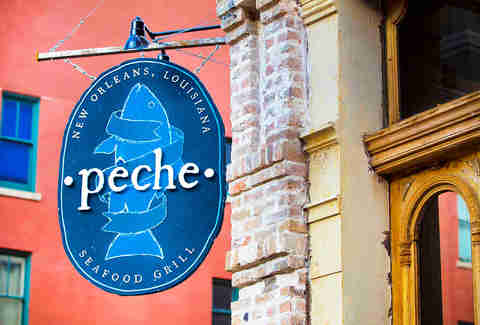 Pêche
"Pêche is another incredible restaurant and one of my favorites in the United States, actually," Sobel says. Located on that dining thoroughfare, Magazine Street, Pêche Seafood Grill cooks its local Gulf fish on an open hearth, and won the James Beard Award for Best New Restaurant in 2014. "Michael [Mina] and I went there for lunch and [chef/partner] Ryan Prewitt showed us such a good time and took such great care of us. We ate the entire menu."
One highlight: Grilled yellowfin tuna collar with "unbelievable" spicy pickled red onions, mint, and lime vinaigrette. "I've never had anything like it," he says. "It was quite inspirational."
Willie Mae's Scotch House
When Sobel wants what he calls "the best fried chicken in the world," he heads to Willie Mae's Scotch House.
The restaurant has an interesting history. Started as a bar in 1957, Willie Mae's moved the following year to a location it shared with a barbershop. When the barbershop closed in the early '70s, the bar's customers demanded food, which proprietress Willie Mae Seaton soon started cooking out of the kitchen -- including her fried chicken.
Thirty years later, Willie Mae's received the James Beard Award for "America's Classic Restaurant for the Southern Region," but shortly thereafter, Hurricane Katrina wreaked major damage, forcing the friend chicken joint to close for two years. Today, it's is run by Seaton's great-granddaughter and is as successful as ever.
As far as what makes people line up out the door for that famous fried chicken? Sobel says it's all about the way the poultry is brined and battered. "It's light, crispy, and spicy. They have it dialed. It's just perfect."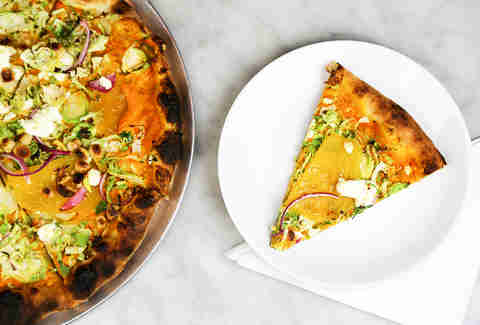 Pizza Domenica
"Pizza Domenica is Alon's pizza joint and they do the best pizza in New Orleans, hands down," Sobel says. Their wood-fired pies range from the exotic (wild mushroom with yard egg, tomatoes, fontina, caramelized onions, and bacon), to the classic margherita, to the locally-inspired muffuletta (provolone, cured meats, pickled vegetables, olives, garlic aioli). "Everything is made in-house. The garlic knots are ridiculous, and the pizzas are so great. I tasted almost every one on the menu."
Central Grocery
Sobel also always makes time to stop at NOLA's famous spots, understanding that if something's really popular, it's probably for good reason. "Honestly, this is kind of played out, but the muffuletta at Central Grocery is, hands-down, one of the best sandwiches in the world," he says. "No one does the muffuletta as good as they do, so I always have one."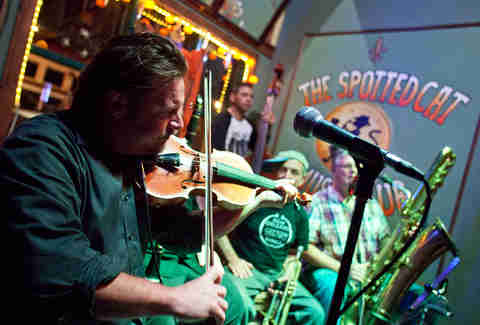 Don't forget to feed your soul, too.
There's only so much food one man can eat in a day, so when Sobel's finished feasting, he likes to check out the city's famed jazz scene. "I'm a freak for live music. I try to go out and listen to live music every night; it's where I like to end my day," he says. "There are a million great places, but the Spotted Cat [on Frenchmen Street] is my favorite. They have amazing blues and jazz."
For Sobel, checking out bands in New Orleans is about more than just having a good time -- it's about helping preserve the musical traditions of jazz and blues. "You just don't find that kind of music in [other] major cities across the country, but in New Orleans, it's a part of their culture and they take pride in carrying it on," he says. "I've seen a 12-year-old prodigy playing trombone in a bar at midnight. You wouldn't expect that, but in New Orleans, they celebrate talent like that."
Take that Big Easy spirit home.
Sobel cherishes every visit to NOLA and uses the trips to inspire his work in the kitchen. "Going to New Orleans is always a great reminder of hospitality, authenticity, and soul," he says. "I cook from the heart and truly want to take care of people, and I take that approach with everything we do in the restaurant. It's got to be authentic. It's got to be soulful."
As far as what he brings back from his trips, it's not as simple as a recipe, or an idea for a dish, or a new ingredient to use. "It's more about the spirit of the place," Sobel says. "There's a soulfulness there that feeds me."
A soulfulness… and also fried chicken, muffuletta, garlic knots, and four-hour brunches. Doesn't get much more satisfying than that.