A.G. Ferrari is your new favorite lunch (and dinner!) spot
Good news! A.G. Ferrari's three SF locations re-opened this past Saturday, and -- aiming to reinvigorate the 95-year-old brand -- they all boast an upmarket neighborhood cafe-style vibe, with a totally new menu created by a totally new in-house chef that's focused on high-quality to-go items. They even brought in a sommelier to refresh the Italian wine program with an emphasis on pairings. Most important, though? The sandwiches are just as delicious as ever (if not MORE delicious), so go there for lunch, or grab dinner to heat up at home. Because you basically never need to shop anywhere else again.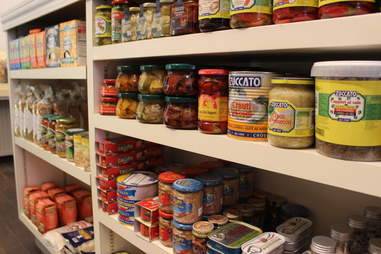 Daisy Barringer
The market stocks all of your favorite imported Italian goods.
Daisy Barringer
Towers of La Primavera canned tomatoes are begging to be put in your homemade sauce.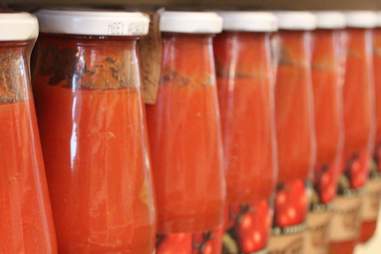 Daisy Barringer
Or you can buy A.G. Ferrari's house label if you're not the "cooking" type. Just heat and serve over pasta.
Daisy Barringer
That new sommelier is focused on showcasing a broad range of Italian vinos w/ regionally-focused educational offerings that rotate monthly. Someone will always be able to tell you which wine pairs best with whatever you're grabbing to eat and, best of all, you can order wine & beer by the glass.
Daisy Barringer
So. Much. Delicious. Cheese.
Daisy Barringer
There's an extensive salad selection with tons of gluten-free options, but let's talk about what's really important here: sandwiches. Cold sandos include an Italian BMT w/ pancetta & heirloom tomatoes, as well as this gorgeous-looking prosciutto & burrata number.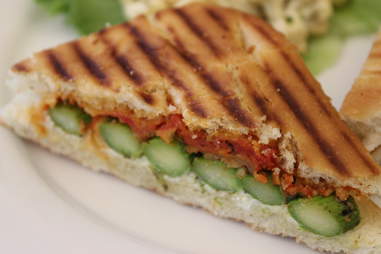 Daisy Barringer
Yes, there are hot sandwiches, too -- they include a grilled asparagus on focaccia (shown here) and a deliciously inventive turkey & fig combo.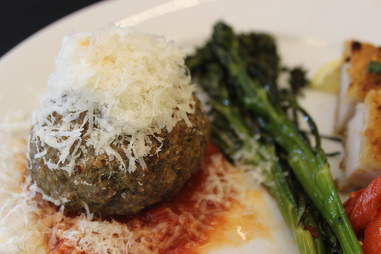 Daisy Barringer
You can't eat sandwiches for every meal though (whhyyyyyyy?!!!!), so A.G. Ferrari also has a huge selection of robust Italian dinners that you can take home and heat up. Don't tell anyone, but the ricotta & beef meatball? It's gluten-free.
Daisy Barringer
What's a delicious meal without something sweet at the end?
Daisy Barringer
It's nothing. Absolutely nothing. So, good luck choosing between all of the yummy imported treats.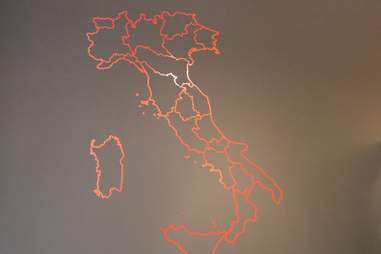 Daisy Barringer
You can hunt down your nearest store right here. Mangia!
Sign up here for our daily San Francisco email and be the first to get all the food/drink/fun SF has to offer.
Daisy Barringer is Thrillist's SF Editor and she could happily eat Italian food and drink Italian wine every night for the rest of her life (don't worry; she'll get her Mexican fix in with breakfast burritos -- she's nothing if not a problem solver). Tell her what you want to eat every day on Twitter @daisy.