RIP: 11 shuttered SF bars and restaurants that we'll miss
As the year 2013 comes to a close, let's pause for a second to mourn the places that also did exactly that (closed). Though nothing will ever compare to the pain of losing Chevy's on Van Ness (never forget), these 11 spots come pretty close.
Andalu
The Mission
We'll miss your Coca-Cola-braised ribs, your insane amounts of sangria, your drinking-chocolate & donuts, and your Los Angeles Angels of Anaheim logo (that's what that was, right?).
Moishe's Pippic
Hayes Valley
We'll miss the fact that -- for TWENTY-SIX YEARS -- this amazing, old-school Jewish deli was one of the few Hayes Valley storefronts that wasn't selling $150 t-shirts.
Bottlecap
North Beach
We're totally gonna miss the fact that you were one of our first guest-bartending spots and also... were very teal?

PieTisserie
Oakland (Jack London Squareish area?)
Yes, we'll miss this mini-pie counter and window in Nido, and no, we won't miss the owner/pie-master... because she's opening up her very own shop/you can still order her pies online!!
Zog's Dogs
FiDi
We'll miss the fact that when we were at our investment banker job in the FiDi that we definitely have, we could grab hot dogs from a place that once offered interpretive dance as a side dish. Seriously.
5th Floor
SOMA
We'll try to miss this place, and pretend we totally don't know that it's reopening with a new concept in 2014 that'll include most of their current talent behind the bar, and in the kitchen, and a patio with a fire pit.
Big
Tenderloin
*Incoherent sobbing noises* What's that? *sniffle* They're looking at opening their own place next year? *nose blow* Well that's good. *slowly puts down pint of Ben and Jerry's*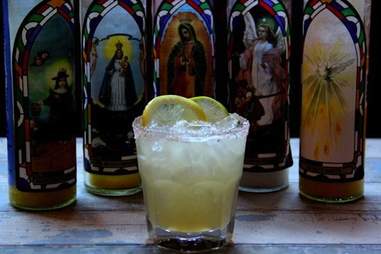 Rio Grande
Mid-Market
Even though we knew this wasn't a permanent thing, we still miss this "dive bar" from the Bon Vivants. There just aren't a lot of places in SF where your Dos Equis comes with six hot sauce bottles, and where they've jerry-rigged Jägermeister machines to pour three upside-down Four Roses Bourbon bottles.
330 Ritch
SOMA
We'll miss being here when no one was shooting guns inside.
Nico's Tacos
North Beach
We'll miss your late-night taco window. So. So. Much. Also your chicken and waffle tacos. Even. Even. More.
The Original Grove
The Marina
Even though we can still enjoy the SOMA Grove, and the Lower Pac Heights Grove, and the Hayes Valley Grove, none of them have nearly as high a yoga pants quotient. That, we will truly miss.