The 11 best wings in SF, as chosen by SF's top food writers
The Niners get back to work in a couple of weeks, which means you get back to eating alllll the chicken wings in a couple of weeks.
To help ensure you're eating the right ones, we wrangled five of the city's best food writers -- Allie Pape from Eater SF, Anna Roth from SF Weekly, Jay Barmann from SFist, Marcia Gagliardi from Tablehopper, and Paolo Lucchesi from San Francisco Chronicle's Inside Scoop -- and had them rank their top six wings in the city. Then we assigned points accordingly (6pts for first, 5pts for second, 4pts for third, etc.), and added everything up for this definitive top 11 list.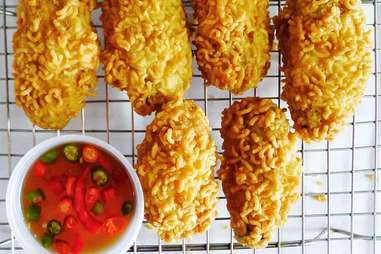 Castro
"They're pretty basic Buffalo wings, but done totally right and are super-sticky with sauce. They're tangy, mildly hot, and not overly salty, and I'm pretty sure they're still using whatever secret sauce recipe Jamie Lauren came up with when they opened." - Jay
Cole Valley
"It's all about context, right? Good Buffalo wings taste even better in the city's best sports bar." - Paolo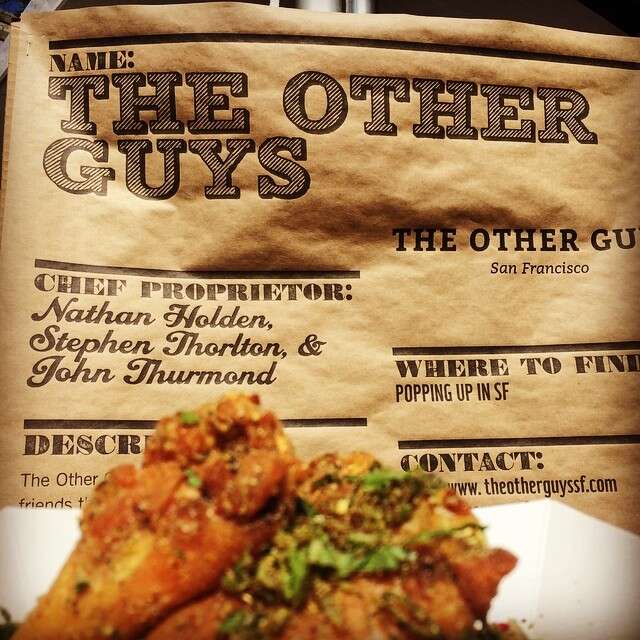 Multiple Locations
"This newish pop-up serves whole wings doused in a zingy, aromatic dry rub made with seven different types of peppercorns (including the numbing Szechuan ones), dried lemon peel, salt, and other good stuff. Eating one is like sucking on a battery, in a good way." - Anna
Outer Sunset
"Toyose is one of the best spots in the city, period. Korean pub food rules the menu, and the fiery, saucy wings are always a must-order. Unless you don't want to get your fingers dirty. Then it's a maybe-order." - Paolo
Hayes Valley
"This was one of the first restaurants I went to when I moved to San Francisco, and even if it's adjacent to a Days Inn, I still think their Buffalo wings are one of the city's best-kept secrets." - Allie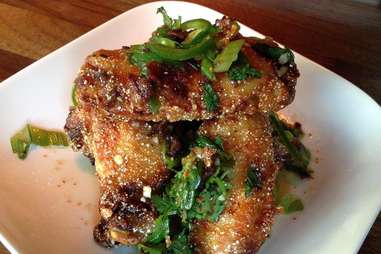 The Mission
"These wings were kind of a sensation back when the Bar Tartine chef was first working at Nombe, when they first opened. They're coated in this fantastic Latin-Japanese combination of scallions, lime, fish sauce, serrano chili, honey, garlic, Japanese pepper flakes (ichimi togarashi), cilantro, and mint, and I could eat 100 of them. I'm really happy that a version is now on the menu at Chino." - Jay
The Mission
"Tender and intensely citrusy from a yuzu infusion, ICHI's wings are the perfect way to counteract all the healthiness of your omakase meal." - Anna
SOMA
"These seriously engineered wings hit all the marks: juicy, crunchy, spicy, sticky, tangy, mad flava, and finger-licking good. Craving them, all the damn time." - Marcia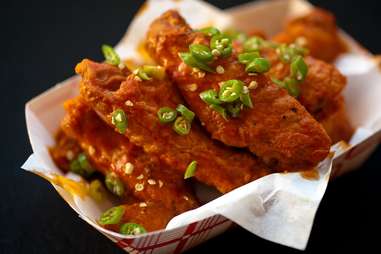 Lower Haight
"That thick, vaguely spicy Korean chili paste they use on the wings is just so damn good... and because it's so close to my house, a 10-pack of them has served as dinner more times than I'd like to admit." - Anna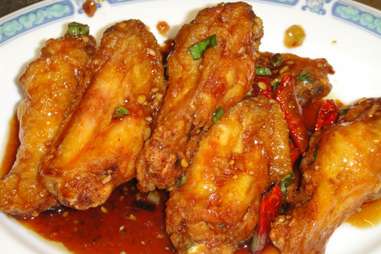 Inner Sunset
"The king stays the king." - Paolo
"Duh. These sticky/sweet/crunchy dry-fried wings are on all the best-in-city lists for a reason, and cravings for them bring me out to the Sunset on the semi-regular." - Anna
"I don't really think anything more needs to be said about these." - Allie
HONORABLE MENTIONS:Kin Khao (3 pts), Trou Normand (2 pts), Memphis Minnie's (2 pts), Frisco Fried (2 pts), and M.Y. China (1 pt).
Special thanks to all of our participants -- we literally could not have done this without you.
Sign up here for our daily San Francisco email and be the first to get all the food/drink/fun SF has to offer.
Joe Starkey is Thrillist's San Francisco Editor and is about to eat a MILLION wings after putting this together. Help support his bad habits on Twitter.