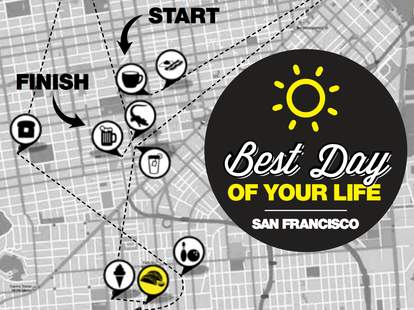 You work hard. You live well. You occasionally even opt for diet soda to go with your burger and your not-salad. You've earned this. Today, the longest day of the year, will be the Best Day of Your Life.To make sure that this day is the absolute best in your entire life, even better than that time you were kissing Sarah Pendleton on that couch in high school and your hand sort of grazed Lindsay Dunlap's boob, we're hooking you up with this sexy itinerary (plus this mobile version, which'll let you save the whole thing to your Foursquare app) that maps out exactly what you need to do to make this day the bee's knees. The day's activities include:
Grab a shot and a beer and a taco (AND a fake mustache!!) on us at Tacolicious, provided you get there early enough after 1p.*
Plus, free churros when you spend more than $10 at Tacolicious.**
Beer and a shot combo with Templeton Rye and PBR for just 7 bucks at Mission Bowling Club.**
We're buyin' you tall boys and wings at Lightning Tavern (to be used in survivor flip cup, of course), as long as you're early (starting at 6p).*
Keep tabs on how everyone's BDOYLin' right here, and don't forget to use the hashtag #BDOYL like you would barbecue sauce: extremely liberally. Round up the troops, because this day is going to be the best.*While supplies last on the freebies at Tacolicious and Lightning Tavern -- first come, first served.**You'll need to check in on Foursquare to snag these deals.