Sure, there's some nice outdoor stuff to do in Berkeley -- apparently there's a university here, or something? -- but when you get down to it, this city's all about pleasing your taste buds. It's the birthplace of the slow food movement, as well as the long-time host to arguably the world's best hot dogs, so there are no shortage of reasons to eat your way through town; here are 13 of the best.
Recommended Video
This Pizza Dip Lets You Throw a New Kind of Pizza Party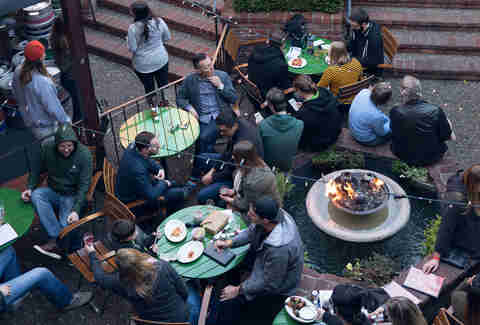 Best lunch (and a brew): Jupiter
  Downtown The backyard beer garden at Jupiter is beautiful when it's sunny and heated when it's cold, so there's really no bad time to visit. Grab a seat back there -- maybe near the fire pit -- and enjoy the outdoors while savoring a wood-fired pizza and sipping a house brew. If you're more of an indoorsy type, the converted two-story livery stable dates back to the 1890s, and is chock full of local historical pieces. Jupiter's pretty much a classic on the
East Bay brewery scene
. Scope the live music Tuesday through Saturday; it's heavy on jazz, groovin' DJs, and Americana folk bands. Continue Reading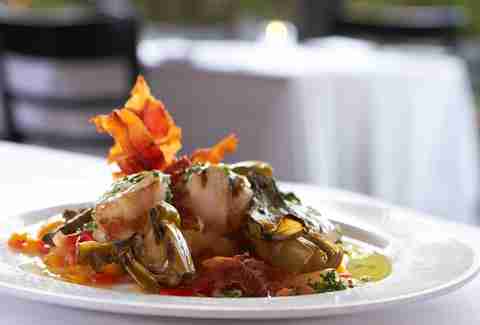 Best date spot: Rivoli
  Berkeley Hills Ready to update your FB relationship status? Make the ask at this upscale modern American spot. Request a garden view table and wow your date with your unprecedented romantic prowess. The service is superb, and even if you get denied significant other status, don't skip Rivoli's dessert.
Best brunch: Venus
  Downtown In an area rife with
glorious brunch options
, none can compete with the lemon and ricotta hotcakes at Venus. Served with lemon curd and blackberry syrup, they're so good you might as well just move in next door for easier access. There are excellent veggie options as well, which fit with the place's cozy, hip vibe -- perfect for a parental visit or a post-adult-sleepover brunch session.
  Gourmet Ghetto This culinary offshoot of the worker-owned Cheese Board Collective has been melting tastebuds since 1985. There's only one flavor of pie per day, and you're gonna have to wait in line (call-in orders are taken for 8 or more pies only, and there's no delivery), but it's totally worth it. There's live music daily while the place is open for lunch and dinner, so enjoy the wait with the rest of the city. Be careful: it's addictive.
  Northside Juicy burgers, waffle-cut fries (add chili cheese or truffled parmesan!), beer on tap, and homemade milkshakes make this the guilty pleasure you desperately need right now. Sure, it might not be the fanciest spot in the land, but wouldn't you rather focus on saving room for some deep-fried candy bars instead?
  Gourmet Ghetto The iconic Alice Waters opened Chez Panisse in 1971, and has been queen of California cuisine ever since. This is the birthplace of the slow food movement -- the sustainable, local, organic bounty that defines your Saturday morning farmers market ritual. Get wise to the
reservation policy
if you'd like to one day revel in the tasting menu here. If you're footing the bill, eat upstairs at the Cafe (but don't think it means you can skip the reservation).
  Gourmet Ghetto Vegetable-laden rice bowls, beautiful tempura sushi rolls, and a delightful Kinoko Miso (mushroom-packed) soup are just a handful of the vegan-friendly treats on offer here. The interior is no-frills, but you'll be too focused on your plate to even notice. Protip: It's generally packed around lunch and dinner, and since there are no reservations, you'll want to avoid primetime to dodge the line. Oh, and make sure to hit the ATM beforehand -- no cash, no soba salad for you.
  West Berkeley Chaat are savory Indian snacks, and you need some immediately. On weekdays, Vik's serves up delicious Indian street fare from 11am to 6pm, and till 8pm on weekends. The food court-style setting lets you pick and choose to your heart's content, and the attached market is full of specialty groceries, so poke around in there after your belly is full. Word to the wise: there's way more selection on weekends, and you'll wanna go early or late to avoid the lunch rush.
Best sushi on a budget: Manpuku
  Elmwood If there's such a thing as a standard sushi dive, Manpuku is definitely it. A long, skinny establishment with counter service and super-fast turnaround, you can inhale endless sushi rolls here and barely dent your starving artist budget. Nigiri starts at $1.70, traditional rolls at $2.95, and the fancy dragon roll action tops out at $8. Not only do you not have to worry about getting sick eating sushi this cheap, you'll leave full and happy.
Best late-night food: Top Dog
  Southside Open until 2am on weekdays (and 3am on the weekend), Top Dog has been satisfying late-night gluttons since 1966. Go classic with the eponymous, all-beef Top Dog; ensure you sleep alone with the beef, pork, and fresh garlic German Frankfurter; or rock the health angle (yes, dogs can be healthy!) with the fan-favorite Chicken Apple. If the party's at your place, pick up a six-pack of cold dogs and buns for the grill. There's usually a crowd during the late-night hours, but don't be scared -- line up and fall in love with a little piece of Berkeley.
  West Berkeley A classic breakfast joint with the gourmet twist you'd expect to find in Berkeley, The Harvest Plate serves up pure goodness like zucchini cakes, kale, fried apples, and applewood bacon or chicken sausage. It's the perfect stop-off before a lazy Sunday strolling the 4th St scene. Best of all? Canine friends are welcome on the airy back patio.
  Downtown Like a tropical beach party in the middle of downtown Berkeley, this funky little shack transports you to paradise on a wave of cilantro garlic sauce. Slurp a $3 mango smoothie, bite down on a $9 tri-tip sandwich with the works (grilled onions, cheese, jalapeños, olives, and pineapples), or destroy an $8 rice bowl full of veggies and protein with a side of bread. With your spare change, try the $2 Guarana Soda: it's Brazil's turbocharged apple juice-y soft drink that's sourced from the same guarana that has you addicted to energy drinks.
  Southside Don't be fooled by this place's meager online offerings: in-house, you'll see a menu overflowing with hot meatball subs, eggplant Parms, sautéed veggie and mozz, and a pulled BBQ chicken and cheddar sandwich that'll make you swoon. You can't fail with the deep dish pizza either -- but you're really here for the sandwiches, so maybe focus on that. There's also some seriously tasty gluten-free bread, for the wheat-free seekers among us.
Sign up here for our daily San Francisco email and be the first to get all the food/drink/fun SF has to offer.
Annie Crawford is an Oakland writer who loves a tasty dish. Follow her feast at: @ReinaAnnie