8 must-hit East Bay openings (one of which is a beer garden!)
Now that we've finally got a $6.5 billion bridge with faulty bolts and leaks and a pedestrian bridge that goes nowhere, might as well take full advantage of it (!) by heading to the East Bay to hit up a slew of stuff that just opened, including a new beer garden, a BBQ pit, and a spot with fried two-cheese-stuffed balls.
Lost & Found (click here for address and info)
Oakland
Probably named so because you were lost until you found this place (eh? eh???), L&F's a beer garden from the people behind The Layover Music Bar and Lounge, and it has a huge selection of local and European craft beers and comfort food like instant ramen "Cheetos" or spicy Korean wings, all of which can be enjoyed on their 7,000sqft outdoor patio, which is about 6,996sqft larger than yours.
Genny's BBQ Pit (click here for address and info)
Oakland
Housed in the old Smokey Fire Pit, Genny's BBQ Pit is a homestyle BBQ joint where nothing is pre-made or out of a box, but everything is pretty reasonably priced. Make sure to try the candied yams, if you can pry yourself away from those ribs for a second.
Barlago (click here for address and info)
Oakland
Wanna get some fresh burrata or a meatball pizza on a heated patio next to Lake Merritt? What if we promised to put jalapeños on the meatball pizza too??? Cool, done deal.
alaMar (click here for address and info)
Oakland
This new Uptown spot marries an industrial port city vibe (alaMar means "to the sea", 'natch) with Cajun cooking brought back to its Mediterranean roots. Think upscale takes on traditional dishes like local Delta crayfish with a Meyer lemon pepper sauce, house pork sausage, and Spring garlic, or starters like this crispy stuffed goat cheese with provolone, red beet puree, and lemon-thyme honey, bee-utiful.

Michel Bistro (click here for address and info)
Oakland
This Lakeshore Ave spot from some actual Southern France natives is all about making French cuisine approachable inside of a small-ish spot that looks kind of like a Paris alleyway with overhead strand lighting. There're a bunch of must-tries here (even the bread delivered in a burlap sack is awesome), but especially the lamb burger topped with aged English cheddar and served with fries, or the signature Pastis, an aperitif made famous in Marseille.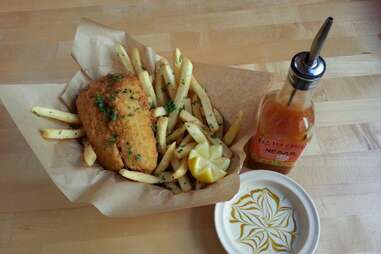 Amba Falafel (click here for address and info)
Oakland
Not exactly an opening, but the already beloved Amba Falafel has started serving kosher meat dishes, as opposed to the original vegetarian fare... so now you can go there for the first time!
The Golden Bull (click here for address and info)
Oakland
A new (old) cocktail bar right off Broadway, Golden Bull is down with our pun game (they've got a "Rye Not?" on their menu!!!) and doing all-day happy hour, so basically, it gets us.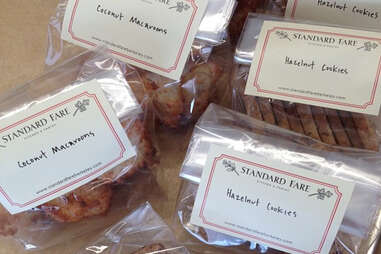 Standard Fare (click here for address and info)
Berkeley
Kinda the greatest guy grocery store... ever?... this Berkeley-mart stocks full multi-person meals that they serve up in awesome ceramic take-home pots that you just slide in the microwave or oven and boom goes the dinner-mite. Coolest part: you won't get charged for using the pots if you return 'em within 10 days. Winner on their weekly changing dinner menu right now: stuffed pasta handkerchiefs with spinach, sheep's-milk ricotta, and green garlic.
Joe Starkey is Thrillist's San Francisco Editor and kinda loves bars that are down with puns. Follow him on Twitter.