The 11 Most Essential Brunch Spots in the East Bay
We've already clued you in to SF's best brunches of 2015, but what about the East Bay? As it turns out, there's a multitude of spots serving up Bloodies, biscuits, and buttermilked brunches just waiting to be discovered by you and your Sunday morning motley crew of otherwise highly respectable pals. To wit:
West Berkeley
Order the Demon Lover chicken and waffles with gravy or you may cause a rupture in the space-time-brunch continuum. The dish is bursting with spiced gravy goodness and will make your hangover that much more bearable. If you can't hang with fried food before noon, try, oh say, anything else on the entire menu. It's the fresh, organic vibe that characterizes the Bay Area food scene (although it's only open Saturday for brunch).
Ocean View (& other locations)
This retro diner has been reelin' 'em in since 1982 with vintage decor and perfectly executed breakfast classics. Throw down your name (there will be a wait), stroll the 4th St district, then loosen your belt buckle when your number's up. Play tunes on the record-playing jukebox, and try not to cry with happiness when you eat the souffle pancakes served with real maple syrup.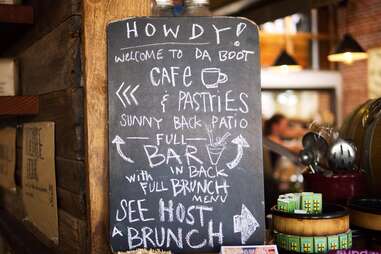 Oakland
Looking to impress your overnight date? Bring them here. The cocktail menu, house-made pastries, and laid-back vibe complement the fantastic food created by Oakland restaurant whiz, Charlie Hallowell. Snag a braised pork belly confit sandwich with souffled eggs, spicy onion jam, and aioli while you soak up the scene inside or on the back patio. After the food party, walk to a matinee at the Grand Lake Theatre and hear the organ roar.
Lake Merritt (& other locations)
The food at GLK, like the Lake Merritt scenery, is bitchin' -- go for the savory French toast or the chilaquiles. It's a bit cramped on the inside (as well as the front patio), so the sidewalk wait always looks like a mid-morning street party is taking place... which is admittedly half the fun.
South Berkeley
The Sunday brunch at the Wat Mongkolratanaram Buddhist Temple is a Berkeley tradition. For over two decades, the temple has opened its gates to serve authentic Thai food to the hippies, academics, and hipsters/yuppies/"whatever you want to call thems" of the East Bay. Exchange your cash for tokens, and trade those for food from the endless street-food stalls full of curries, noodles, veggie delights, desserts, and more.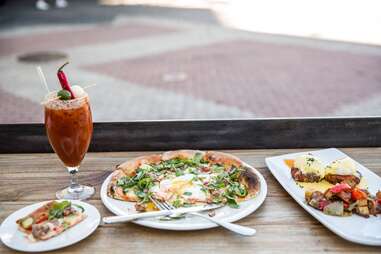 Jack London Square
The modern Italian food is great, but the views are sublime. The waterfront location has a prime seat overlooking JLS and the harbor. The interior is contemporary and classy, there's a full bar in case you want to start drinking on Tokyo time, and there are kick-ass seasonal breakfast options. Parents in town? Bring 'em here. After, cruise to SF on the ferry and soak in the glory of the Bay.
Grand Lake (& other locations)
This French restaurant is a food-lover's favorite that serves an unparalleled brunch. Feeling bold? Bison tartar will take care of that. Feeling cheesy? A decadent croque-madame is yours. Feeling saucy? Sinful cocktails will make you forget it's not even noon yet.
Downtown Berkeley
The back patio is perfect for sunny-day mimosa sessions over a plate of lemon gingerbread pancakes with poached pears. In the colder months, stay cozy inside while gearing up for hibernation mode with the decadent Provençal dishes.
Jack London District (& other locations)
What makes Nido so great? For starters, the shipping-container decor, Mexican folk-art flair, and freaking delicious food that will have you coming back each weekend. The fare is traditional Mexican done farm-to-table style, and it's full of flavor and originality. If your friends have never heard of this spot, introduce them immediately and they'll likely buy you a drink for your sagacious brunch wisdom. And if you happen to go on a Sunday, stroll a few blocks to the farmers' market after.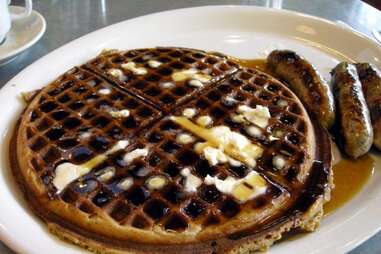 Claremont (& other locations)
Once you have the red-flannel hash (sweet potato, bacon, new potato, beets, and red onion), you'll be hooked. Also, the charming tree-lined street is a great place to hang while waiting for a table indoors (or out).
Laurel District (& other locations)
Quaint and glorious, with an old-school counter and a very chill dining area. The chefs have put their heart and soul into everything, and they have the fan club to prove it. This spot serves all the usual brunch staples (omelets, biscuits & gravy, granola, etc.), as well as Highwire coffee to help balance out those mimosas.
Sign up here for our daily San Francisco email and be the first to get all the food/drink/fun SF has to offer.
Annie Crawford is a freelance writer eating all the good food in Oakland, CA. Follow her at @ReinaAnnie.