The dude who made pizza in a modded Weber Grill outside dive bars? He got a restaurant.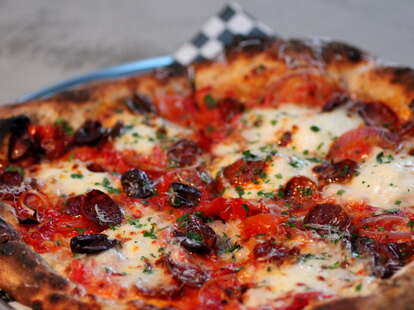 The last time you saw the PizzaHacker, he was outside of a bar (probably Bloodhound), not-super-legally slinging some of SF's best pies from a jerry-rigged Weber Grill pizza oven he calls the "FrankenWeber". The next time you see the PizzaHacker? He'll be way-more-kinda-legally slinging (still!) some of SF's best pies from his very own namesake Mission slice-house.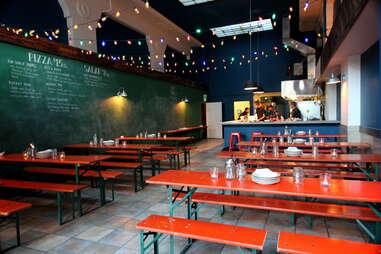 The whole place kinda looks like an outdoor beer garden party... inside (huh). It's complete with a poured-concrete bar where you can drink local beers on tap and watch them making your pizzas. Speaking of which...
GRATUITOUS PIZZA-MAKING SHOTS!!!
Look directly into the spinning dough and listen to our voice...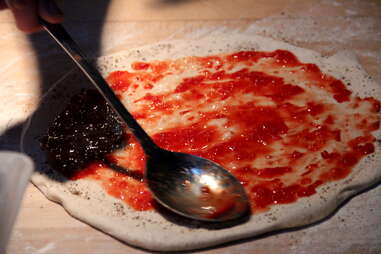 Though not all of the 'zas have this house-made tomato sauce, they do all contain fresh, house-stretched mozzarella, Bariani olive oil, and Alderwood smoked-salt.
Here, he's building a combo of 4505 spicy Italian sausage, tomato sauce, fresh mozzarella, Kalamata olives, marinated onions, and Mama Lil's hot cherry peppers, dubbed the Yo! Vinny, 'cuz.
This, on the other hand, is the beginning of The Crowd Pleaser, which seriously lives up to its name (just trust us, you'll see it again later).
Oh, this? Just the steam coming off of them from being in a ONE THOUSAND-degree oven.
Time for the finishing touch of Parmesan, of which one can never have enough or too much, but definitely too little.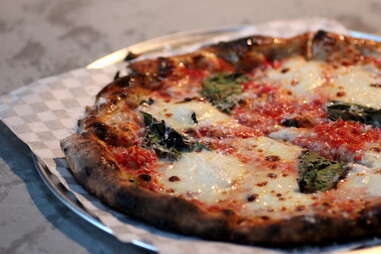 And here is the fully baked (!!!) Top Shelf Margerita, which won't make you super-touchy and loud, but will be one of the best margs you've ever had, with dry, farmed Early Girl tomatoes, fresh basil, and house-stretched mozz.
And fiiiiinally, the aforementioned Pleaser -- dried fig, radicchio, Point Reyes Blue, mozz, rosemary, and balsamic -- now in melty, delicious-looking form.