Because we don't quite have the level of mercury poisoning necessary to make credible picks for the best sushi in SF, we found two people who (probably?) do: Tim and Erin Archuleta, the power couple behind ICHI Sushi + NI Bar in Bernal Heights -- one of SF's absolute best raw fisheries. Here're their picks for SF's seven best bets.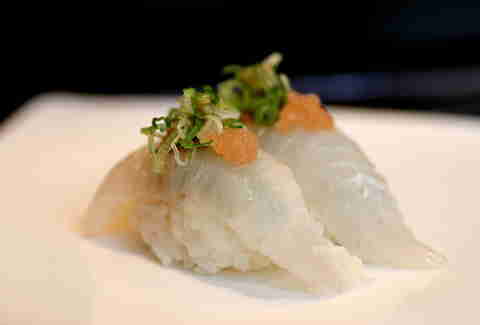 Koo (address and info)
Inner Sunset
Tim & Erin: "We always order omakase at the sushi bar with Tim's sensei, Chef Kiyoshi Hayakawa. He always has a wide variety of specials, and with a combination of a few hot plates, it's a perfect meal. His wife Ayumi will warmly greet you and your party and make you feel at home. Kiyoshi-San's nigiri is not to be missed."
Eiji (address and info)
Castro
Tim & Erin: "This tiny, intimate place is great for dinner with a pal. It's a good, affordable date spot where you can actually hear each other and catch up over its famous, table-side tofu and some solid sushi."
Kiss Seafood (address and info)
Japantown
Tim & Erin: "This is a perfect combination of sushi and traditional Japanese food. You can order a la carte, but like the others, we'd recommend omakase. There are two pricing tiers; spend a little more, and you'll land more specialty items that the chef is changing regularly. This is an itty-bitty space, so be sure to make a reservation."
Akiko's Restaurant (address and info)
Chinatown
Tim & Erin: "Akiko's has an awesome selection of fish. While there's a lot of sushi in their 'hood, Akiko's butchery and craft stands out. It's also a family-owned place, with two generations running the business. Their Ikura Nigiri is a special truffle-marinated experience."
Ryoko's (address and info)
Tenderloin
Tim & Erin: "Open late. Always a party. Remember, it's up a hill, but it's worth it. If you have to wait on the staircase, order a beer or some sake and relax. It's gonna be great. This is the perfect place to go with a group of pals when you're out late and looking for some skilled Japanese chefs."
Sushi Ran (address and info)
Sausalito
Tim & Erin: "While this longtime Bay Area sushi destination isn't technically in San Francisco (shhhhhh), we drive up North almost every weekend to get away, and it's a great stop in Sausalito on the way home for a lighter meal at the end of the weekend. The omakase features a lot of Japanese fish that they pair with sake recommendations."
Honorable Mentions: Saru Sushi ("It's an intimate restaurant with a wide selection of Japanese fish."); Kusakabe ("We're excited to see what their kaiseki menu is like."); Pabu ("We have some pals working there and we can't wait to cheer them on."); and Maruya ("This traditional, Tokyo-style sushi is on our list of next eats. The chef/owner is good friends with one of our chefs, Tadashi-San, and we're excited to eat there.").
Joe Starkey is Thrillist's San Francisco editor and maybe ate a lot of sushi while shooting photos for this. Follow him on Twitter and hit up ICHI Sushi + NI Bar. That place is seriously awesome.