The 13 Best Banh Mi Sandwiches in SF
Banh mi: hard to pronounce, not hard to eat at lunch every single day for the rest of your life. Especially if you live in San Francisco, where we're flush with really good options. These 13? They're the good-est.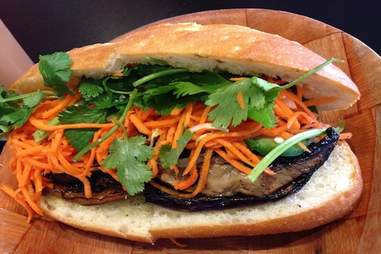 Trevor Felch/Thrillist
Inner Richmond
Real talk: why do we even care about pork belly and cold cuts when we can have shredded duck banh mi? Is it really just because nobody came up with using it before this charming little five-year-old spot? SF's loss: get in on this quack attack, or if you're not a meat-dude, cry a bunch, and then pounce on SF's finest vegetarian banh mi: the "Smoked Vegetable" sports portobello mushroom, eggplant, and homemade soy sauce in place of pâté. Umami is a cliché, but you'll be knee deep in it with this sando.
 
Union Square
Banh mi might borrow its baguette from the French influence on Vietnam, but there's nothing Italian about banh mi or Café Dolci. Spring for the classic with ham and pâté in this tiny spot that's studio apartment-level small. Note (which you should read before going): there's a Caffé Dolci in Cow Hollow that serves paninis and gelato -- don't go to that one if you're after this banh mi.
Castro
This modern day banh mi is deeply rooted in the traditional style. The three to know: steamed pork meat balls, the rare-worth ordering tuna (FYI: it's tuna salad, not "rare" sushi…), and the Prince at the Ball, aka the shaking beef, which is in must-add territory for virtually any banh mi out there. Oh and good news suburbanites: Dinosaurs is expanding down the Peninsula.
Courtesy of Mission Banh Mi
Mission
According to Webster's Food Dictionary, "Mission-style" means anything "massive" or "enormous," whether you're talking burritos or -- turns out -- banh mi. These are truthfully hybrid banh mi-tortas, the size of which Mission Banh Mi self-applauds on its website. Head inside Duc Loi Market (where it's located) and get "The Authentic" banh mi full of roasted pork belly and five-spice-rubbed pork shoulder, house-made head cheese, and Vietnamese pork sausage. Mission-style, please.
 
SOMA
We can't vouch for the lattes (guys, Blue Bottle Mint is a block away), but they could serve Folgers and you'd still be glowing after either the pork meatball or the slick, sweet grilled pork banh mi. The owners are from Cambodia and the coffee shop really is a donut shop that specializes in banh mi. Welcome to San Francisco. If you really want to be a baller (you do), put that glazed donut inside the grilled chicken banh mi. You're welcome.
Trevor Felch/Thrillist
Inner Richmond
Grilled chicken. Yawn. What's the point? Grilled tire tastes better. Unless it's grilled five-spice chicken bursting with potential energy from its marinade. The pork meatball also deserves a nod, as does the quality and proportion of protein to garnishes to baguette -- it's next to none at this handicap-bathroom-sized storefront. Also: give the spring rolls a try.
Mission
Doesn't matter what you choose, you'll win the game of banh mi roshambo at this new brick-and-mortar location of the pop-up legend inside Brick & Mortar Music Hall. At lunch, order fried chicken in a banh mi or a fried egg with Vietnamese ham banh mi. At anytime, order the grilled hanger steak banh mi that's been bathed in oyster sauce. Oh BTW: Scissors always wins.
 
Financial District
And now for the wild card portion of our banh mi program. Chef Charlie's barbecue at Wexler's is quite simply some of the most notable smoked meat not just in our city, but anywhere in this country. It's a polished, sophisticated restaurant with the soul of an Arthur Bryant's or Kreuz Market. Layer the Wexler's brisket inside a lunch-only "banh mi" along with Fresno chilies, cilantro, and pickled cabbage, all tucked inside a ciabatta roll instead of a baguette. It's not by the book (and also three times the price of its banh mi peers), but this is first-rate meat in a first-rate banh-mi-inspired vehicle.
Fillmore
If you're one of those annoying critics who complain Bun Mee's banh mi go over the top with creativity and aren't "authentic," shut the hell up and try Bun Mee's simple, Hanoi-style fried catfish banh mi. If you're NOT one of those annoying critics, then... try one of Bun Mee's banh mi that go over the top with creativity and isn't "authentic" like, say, the lemongrass pork banh mi with garlic mayo. Bonus points for RISK-style expanding across SF, from Fillmore to Market, where it's now your best lunchtime option on the thoroughfare near the FiDi (sorry Super Duper).
 
Castro
If the fabled Zuni chicken and a banh mi did the sex, and then nine month later popped out a little one, it'd look kinda sorta exactly like Castro Tarts' version of a roasted chicken banh mi. So, yeah, get that, and also maybe the pork loin banh mi with sautéed onions and the rosemary chicken banh mi with all the regular pickled fixings.
Tenderloin
This is possibly THE perfect banh mi -- from the baguette to the buttery head cheese. You'll probably still stumble over a few needles here and there approaching the deli, but oh is it worth it. Everyone, everywhere falls in love with it.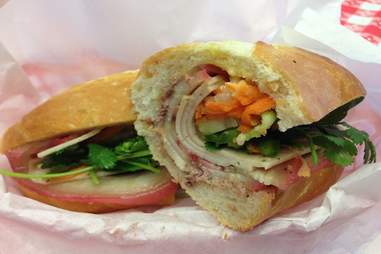 Trevor Felch/Thrillist
Tenderloin
Yet another reason why SF is sooo much better than NY. Back East, Sing Sing is a high security prison (former home of Julius and Ethel Rosenberg). Here, it's home to SF's quintessential banh mi called The Special Combo. It's the best baguette, toasted with gusto, then graced with a slab of house-made mayo, the sneakiest jalapeño slivers, and spot on pink-colored pork belly morsels, head cheese, and thin pork sausage. Recently they've expanded the vast menu to offer chicken, pork meatball, and shredded pork skin banh mi and raised the price from $3 to $4. And in the back, the men of the café and neighborhood might still be playing cards, smoking cigs… I'll stop there and let the banh mi be the focus. Atmosphere is politely declined at Sing Sing.
 
Inner Sunset
After a workout on the Kezar track, you deserve a good sandwich. This is the address to seek out. Wooly Pig is totally not Vietnamese, yet the people here know how to layer myriad cold cuts and pâté for the UCSF med students who think of this as a part of their apartment. On special days, don't think twice about getting the pork meatball banh mi. Other than that, you're in non-banh mi territory.
Sign up here for our daily San Francisco email and be the first to get all the food/drink/fun SF has to offer.
Trevor Felch is a restaurants writer for SF Weekly and contributing editor for Vino 24/7. He is very proud of his Super Bowl Champion the New England Patriots. And no, he has never deflated any footballs or operated any spy cameras. Follow him on Twitter @TrevorFelch.