F
F

rom killer new brunch spots to San Francisco's first kosher bakery, December was a hot month for new openings. That means you've got a bevy of new options like an immersive speakeasy dinner theater, SF's best new burger, a virtual trip to coastal Italy, or a new secret bar to frequent at the start of 2017. So here's exactly what you missed while you were holiday partying and where you can spend a cheat day or two from your New Year's resolutions.
Recommended Video
$1,000 Pizza Slice: Worth It?
Cow Hollow
From the same restaurant group that brought us Thrillist-fave Belga, comes this buzzy, expansive Mexican restaurant in the old Betelnut space right next door. The shareable menu of traditional fare has something for everyone from quesadillas to sopes de palmito (lightly fried masa dumplings) to negro poblano and plates of carnitas. The mid-ranged price point allows you to nibble your way through a substantial portion of it, but definitely order the ceviche de pescado and anything with handmade tortillas -- spoiler alert -- that's most of the menu. Executive Chef Alejandro "Alex" Morgan (Lolinda and Techo) has made fresh masa the star of the menu, perfecting the tortillas of his childhood. Marina and Cow Hollow have a ton of Mexican eateries to choose from, especially as Don Pistos tequila bar moved in recently, but Flores stands out for its modern cocktail list, which is so good we wrote a whole article on it.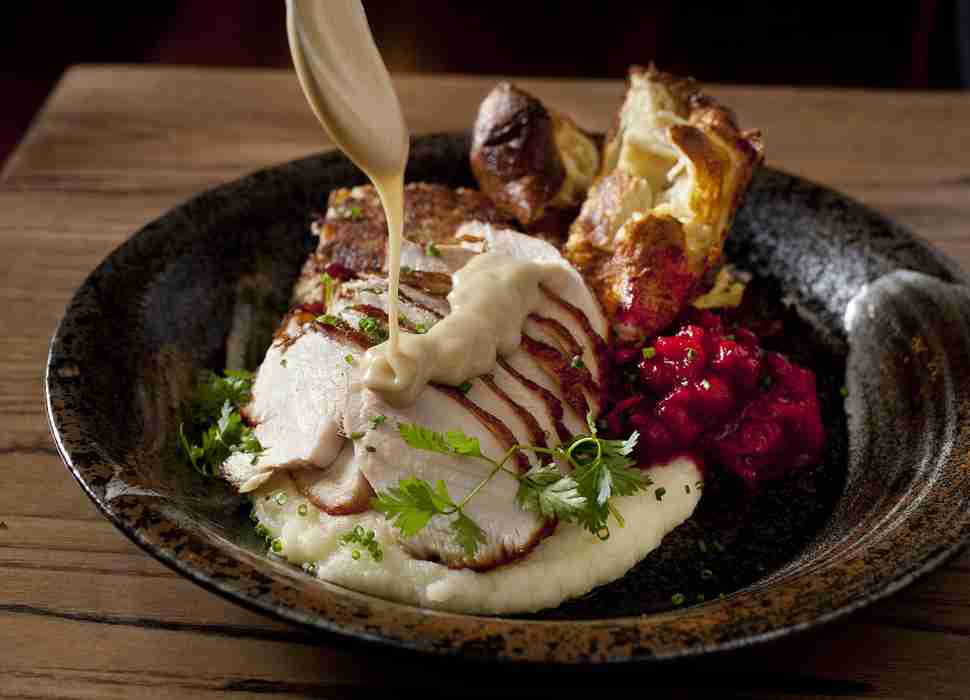 Castro
Across town is another luxurious new hot-spot where you'll want to order one of everything... over and over. Finn Town is the kind of place you go to for brunch to feel fabulous and end up staying forever (or at least wishing you could). We got to move in one Sunday brunch to experience the homey yet rollicking atmosphere and inventive comfort food Executive Chef Ryan Scott and Chef de Cuisine Jason Raffin have become known for through stints at Market and Rye and Scotland Yard respectively. Must-orders include the lobster eggs Benedict on a homemade english muffin, the fried egg breakfast sandwich, and the French toast fingers that come with huckleberry sauce. We haven't been for dinner yet, but something tells us Raffin has brought his burger skills to the Castro. With two bars (along with signature cocktails on tap), sleek comfy leather chairs, and jewel tones that recall vintage SF, Finn Town offers loads of ambiance for price points in the $7-$21 range.
Marina
Chef Adam Sobel, Thrillist's San Francisco Chef of the YEAR, has done it again with his latest seafood-driven concept for MINA Test Kitchen, which opens a new pop-up every three to five months. This time the extensive tasting menu ($59/person) takes your taste buds on a trip through coastal Italy with menu full of pescaterean delights, Italian cocktails, and a house-made limoncello program. Treat yourself to this virtual vacation immediately and definitely order the yellowfin tuna crudo, the cauliflower with sea urchin, and the black pasta with octopus, clams, garlic, and hot peppers. If fish isn't your thing, there are a few really special items on the menu that still make it worth a trip. Go for the ricotta and short rib-stuffed "pillows" and the bone-in New York steak for two.
North Beach
The Boxcar Theater's immersive 2014 theatrical hit is back, offering modern-day revelers a chance to travel back to 1923. Since its brief stint, the 9,000sqft space has undergone a $2 million renovation, which includes a two-story circular cabaret space, as well as secret passageways and disguised entrances. Here the servers and bartenders are actually actors, creating an elaborately staged nightclub from 1923. But don't worry, these actors know how to pour a cocktail. Prohibition Era cocktails like Corpse Revivers and Black Manhattans are on offer for $12-$13 and a couple light bites.
Mission
Secret bar alert! Inside WesBurger 'N' More (the Mission's diner you need in your life) is a tiny Tiki-inspired lounge called The Den. The space may be small but it packs a punch -- literally. A rotating selection of house-made punches crafted by top SF bartenders is the star, but you can also get beer and cans of Funaguchi, one of Japan's most popular aged sakes that's neither pasteurized nor blended to create a rich, light taste.
SOMA
San Francisco gets its first Kosher-certified bakery with the Israeli-owned Taboon. Relying on recipes passed down from a Jewish great-grandfather who owned a bakery in Isreal, the team is baking up all sorts of Middle Eastern delights fresh every day except Saturday, such as challah, pita, bagels, babka, Israeli-style donuts, and a variety of stuffed puffed pastries called burekas. Get there early (they open at 8am everyday except Saturday) or order ahead online -- the popular pastries are already selling out daily.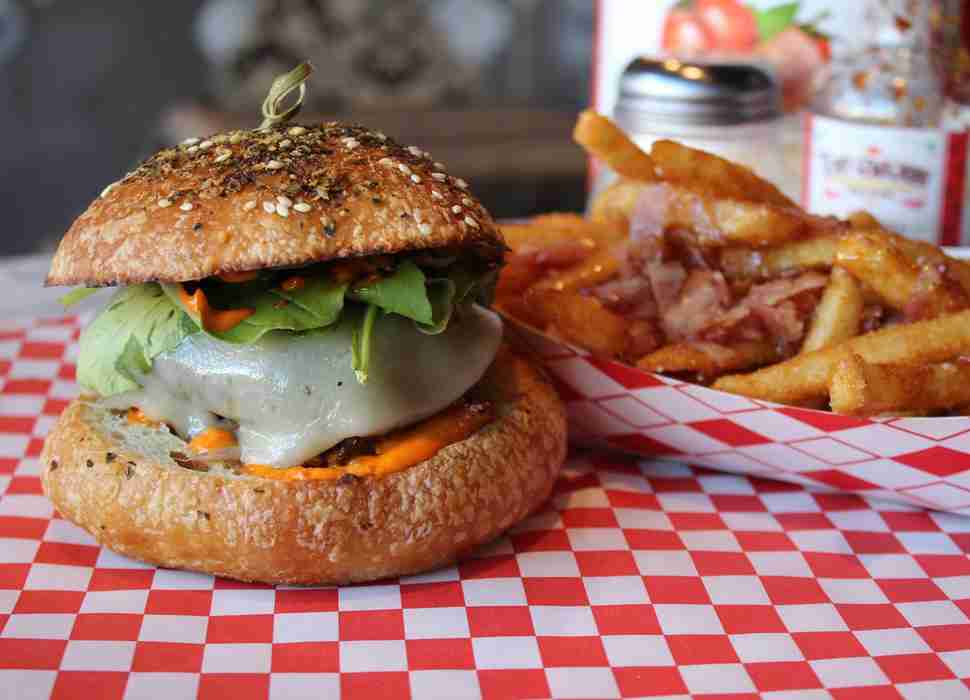 Haight
Twelve-time World Pizza Champion Tony Gemignani opened his seventh Slice House this month and because you can never have enough award-winning pizza in your life, we're not mad about it! The Haight St location has some unique additions, like house-made hamburgers served on house-made Kaiser buns like the El Diablo with serrano peppers, Calabrese aioli, smoked provolone, arugula and agave syrup, and the vegetarian-friendly Honey Hippie Veggie Burger with mozzarella, red onion, arugula, peppadew peppers and honey. Pair it with Blue Moon beer-battered onion rings, rosemary garlic fries or honey pancetta fries with Parmigiano cheese. As a nod to the historic Haight St location, Warhol-esque prints of cultural icons like Wonder Woman and Spock as well as portraits of Jimi Hendrix, Jim Morrison, and John Lennon line the walls.
Fillmore
The popular cafes located in Fillmore and Tenderloin have expanded to this new bakery concept, overseen by Head Baker Jorgen Carlsen, who's behind the artful bread baking at Osteria Stellina in Point Reyes Station. The new location features a production bakery and offers an extensive selection of breads, pastries, and baked goods including mini cookies available in peanut butter tahini, almond fennel biscotti chocolate shortbread, meringue kisses, savory croissants, cinnamon rolls, chocolate brioche, and much more. Fresh bread includes surprising twists like chocolate sourdough and several gluten-free options as well. A small menu of breakfast, brunch, and lunch offerings is available, as well as to-go ordering. The food menu will have JANE's classic sandwiches with daily flatbread additions as well as other savory items to pair with soups and salads.
Sign up here for our daily San Francisco email and be the first to get all the food/drink/fun SF has to offer.