The Best SF Barbecue for Pickup & Delivery
You can still celebrate summer.
Ah, summer. Time to fire up ribs on the grill, throw some pulled pork in the smoker, get a big stockpot of collard greens stewing, and then remember that you live in a cramped one-bedroom apartment and have none of those things. Thankfully, SF has no end of barbecue purveyors ready to keep you in brisket and baked beans, not to mention other Southern delights like biscuits, fried chicken, and pie. Here's where to get your summer barbecue fix, all via takeout and delivery.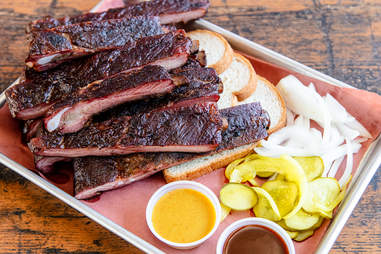 4505 Burgers & BBQ

| Courtesy of Nicola Parisi
Divisadero
Someday, we will all gather once again for a giant plate of brisket on 4505's patio. In the meantime, the pulled pork, spare ribs, and the beloved frankaroni (a fried chunk of hot dog-studded mac and cheese) are all available for delivery to your front door. Toss a bag of the famed chicharrones into your cart for later. 
Order for pickup via Toast, or for delivery via Caviar, DoorDash, Grubhub, Postmates or Uber Eats
Bernal Heights
The barbecue kings of Bernal continue to offer door-to-door service in these trying times, with ribs, brisket, cornbread, and potato salad at the touch of an app. For anyone clinging to their pre-pandemic paleo kick, the Baby Blues salad (greens, peppers, tomatoes, vinaigrette, and an add-on topping of brisket or pulled pork) is a reasonable concession to health.
Order for pickup by calling (415) 896-4250, or get delivery via DoorDash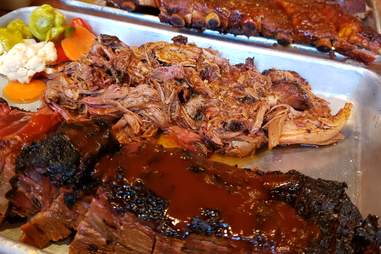 CatHead's BBQ

| Courtesy of @eatwithchewey
SoMa
Known for its housemade hot links, Coca-Cola braised brisket and honey butter-topped biscuits "the size of a cat's head," this SoMa standby is chugging along in the Covid-19 era. The Maker's Mark-glazed portobello mushroom is one of the better vegetarian barbecue options out there, and the above-average beer selection from local brewers like Temescal, Altamont, and Faction can now be delivered alongside your dinner.
Order for pickup or delivery via ChowNow
Courtesy of Guerra's To Go
West Portal
Designed around prepared foods for takeaway, Guerra's was uniquely suited to weather the shelter-in-place era. Now, you can order up its brisket, baby back ribs, and pulled pork for curbside pickup, alongside some non-barbecue items like lasagna and chicken marsala to stock the fridge for later. 
Order for pickup via ChowNow, or delivery via GrubHub and Postmates
Dogpatch/Outer Richmond
If your idea of barbecue is less smoky brisket and more saucy, baked goodness, this duo of Southern comfort eateries will hit the spot with their old-school chicken or spareribs. The famous fried chicken is equally solid, as are sides like collard greens and black-eyed peas.
Order for delivery via Caviar, GrubHub or Uber Eats (Dogpatch, Richmond) 
Go Duck Yourself by Hing Lung Company
Chinatown
Family-owned Hing Lung has been dishing out some of the city's best Chinese barbecue for decades, and now it's offering delivery for the first time under the moniker "Go Duck Yourself." For dinner, opt for a plate of roast duck or honey-glazed pork, served over rice, veggies, and plum sauce. Or cater an afternoon binge-watch session with duck fat-fried chicharrones and salt-and-pepper jalapeño wings. 
Order for delivery via DoorDash or GrubHub
SoMa
Steph and Ayesha Curry have both been benched by the pandemic, but the latter's global barbecue eatery lives on via Michael Mina's takeout arm, which has become sort of an Avengers-style supergroup of his partner restaurants. The Curry-centric dishes include jerk chicken wings, St. Louis-style ribs, and a pulled pork sandwich, plus rib-tip mac and cheese. One advantage of the mega-Mina setup is that it's easy to mash up an order with other Mina dishes, so those ribs could be accompanied by a tuna tartare or Mediterranean mezze starter. 
Order for pickup (10% discount) by calling (415) 722-2138 or emailing orders@minafamilykitchen.com; delivery available via BBot
Lower Haight
An SF barbecue icon before it was cool, Minnie's continues to dish up some of the city's best ribs, brisket and pulled pork, with an especially solid sauce game (try the Carolina mustard). It's also one of the few local barbecue places to bring it on the dessert front, with some seriously good pecan and peach pie.
Order for pickup or cash-only delivery within a limited zone by calling (415) 864-7675; delivery to outlying neighborhoods and all credit-card orders go through Caviar
Tenderloin
Rusty Olson is a Carolina native, and his Tenderloin Southern eatery specializes in the local signature, pulled pork. The hickory-smoked shoulder can be ordered by the pound, and sides include hush puppies, cast-iron mac and cheese, and buttermilk biscuits. The beer and wine pairings (pickup only) are especially strong, thanks to Olson's time running the bar at Suppenkuche.
Order for pickup via Upserve or delivery via Caviar
Saison Smokehouse

| Courtesy of Christopher Presutti
Saison Smokehouse
Embarcadero
If you prefer your barbecue to come with a side of Michelin stars, look no further than Saison's pandemic pivot to Southern fare. Operating out of sister restaurant Angler, this 'cue newbie cooks over the open wood stove for which both spots are known, putting out some very pedigreed pork ribs and pastrami-spiced brisket. And you definitely won't find their embered caramel Frostys at Wendy's anytime soon.
Order for pickup via Tock
Bayview
This Bayview-based barbecue window puts out some seriously smokin' beef ribs, brisket, and barbecue chicken, best enjoyed with sides like bacon and jalapeño-topped mac and cheese, coleslaw, and cornbread. Be sure to throw in a pint of the brisket chili for a killer next-day WFH lunch.
Order for delivery via DoorDash or UberEats
Inner Richmond
One of Oakland's best-regarded barbecue spots has been quietly operating an SF delivery pop-up out of Richmond. While the famous beef rib isn't part of the lineup (even Oaklanders can only get it for pickup), a half-slab of pork ribs with mac and cheese, collards, or brussels sprouts still ranks among the best options in town right now. Try the 7-Up pound cake for dessert.
Order for delivery via Caviar
Sign up here for our daily San Francisco email and be the first to get all the food/drink/fun SF has to offer.