We may not be able to boast a specific San Francisco barbecue style, but we're spoiled by a wealth of stellar restaurants that offer a diverse range of classic styles in this city. We can sample authentic 'cue from North Carolina, Texas, Memphis, and St. Louis -- without ever having to leave our fair city. Stop by these great SF barbecue spots for some smoked meat love.
Recommended Video
You've Been Waiting Your Whole Life to Face San Diego's The Kraken Burger
Lower Haight
Props to Memphis Minnie's, which has been around since the '90s and is still going strong: their Tennessee-style, spice-rubbed barbecue is well worth stopping in for -- go for the sweet, smoked pork sandwich. You can also get Texas brisket here (and it's really good, despite not quite matching the theme).
Mission
Ben Thorne, the man behind Sneaky's, took over at Southpaw last fall, so now we get to enjoy pulled pork shoulder doused in the classic, vinegar-heavy sauce they love in Tar Heel Country -- while enjoying a pint of Southpaw's house-brewed Big Bad Leroy Brown ale. A micro-brewery and sensational Carolina 'cue in one room: enough said. Plus, a note to vegetarians: the smoked jackfruit and seitan are no supporting cast players. They're legit meatless options and not supporting players here.
Tenderloin
For homesick Carolinians, the Tenderloin has your vinegar-sauced pork barbecue remedy. Rusty Olson has essentially taught the city what North Carolina-style means: chopped, hickory-smoked pork shoulder. This is a dish in which you truly taste the pork, and use the sauce and red slaw to subtly bring the meat's flavors to the fore -- instead of smothering it, as is the case with some other classic barbecue styles (cough, Kansas City, cough) (We love you, too, Kansas City). Rusty's has brought us some other glorious Southern traditions, as well: proper hush puppies, shrimp and grits, and chicken fried steak. Of course, barbecue remains king of Tobacco Rd.
Fillmore
The excitement still hasn't subsided in the Fillmore since Black Bark's January opening from Chef David Lawrence. The inspiration for this "urban barbecue" joint is Texas, and Lawrence isn't messing with it: he spent four years studying the art of Texas-style barbecue, and had a mentor in Edith Cheadle, who cooked barbecue and ran an establishment in Dallas for 20 years -- which means, yeah, she knows oak wood-smoked barbecue like very few do. Following suit, Black Bark's ribs, brisket, and hot links aren't playing. Try the smoked fried chicken and dirty fries, a poutine-style fries pile coated with barbecue sauce, too. And don't forget the sweet potato pie.
Nopa
Everyone knows where the best damn cheeseburger in San Francisco is at 4505's, but this place is also all about smoked meat: whether you go for the pork spare ribs or brisket by the pound, you can't really go wrong here. These guys also do unforgettable sides, so be sure to try the chimichurri spicy fries and frankaroni -- and also grab a brew from their excellent beer selection.
Lower Haight
Props to Memphis Minnie's, which has been around since the '90s and is still going strong: their Tennessee-style, spice-rubbed barbecue is well worth stopping in for -- go for the sweet, smoked pork sandwich. You can also get Texas brisket here (and it's really good, despite not quite matching the theme).
Bernal Heights
From two dudes who come from a long line of BBQ-ers, this Bernal Heights joint uses a hybrid BBQ style ("We have a Memphis-style, St. Louis-cut rib, a dry-rubbed baby back, brisket, and pork that are slow-smoked in Guinness beer, and a sauce that hails from the Western region of North Carolina... we just felt 'hybrid' summed it up.") The pro move here has to be the hot link combo, partially because it's delicious, but mostly because it's called the Cherokee Spike. Combo plates are the route to take here: go for the "Bones No Bones," with Memphis pork ribs and pulled pork. We'll leave you to figure out which one has the bones.
SoMa
Four years ago, CatHead's opened with the unenviable task of filling the oversized shoes of Big Nate's BBQ, but they did just fine and are opening our eyes to some unique styles: this place isn't a shrine to Kansas City or Taylor, Texas. They just go for the barbecue glory, regardless of geography. Count on stand-out St. Louis cut ribs, sweet tea chicken, and even a Maker's Mark marinated portobello mushroom. The large selection of sauce choices makes this place stand out -- the habanero sauce is not playing around -- as do the mammoth biscuits, which are approximately the size of a cat's head -- if the cat in question is Mufasa.
Dogpatch
It turns out that Magnolia's beers (and shockingly good cocktails for a beer-centric bar) pair well with sensational barbecued meats and a fun warehouse bar vibe. Go for the unusual half-pound cuts like smoked duck or Wagyu beef back rib. The only complaint is is that you can't get eats and drinks at the same time -- but it's a minor issue when you're wiping delicious sauce from your lips.
Bayview
It's not easy to spot Let's Eat -- it looks like another restaurant storefront amidst countless others in one of the emerging food corridors in a rapidly changing part of the city. All of the classics are here, but stick with the basics -- like pulled pork sandwiches.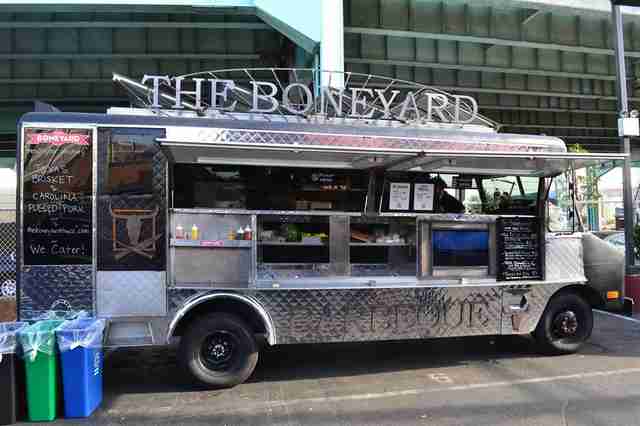 Various locations
Barbecue is so messy that it really should be an outdoor affair, after all, so a barbecue truck seems like a natural fit. Try out the Cally Bowl with beans, bacon aioli, a fried egg, and Santa Maria-style chicken, or brisket nachos. You can follow the truck on Twitter -- it's definitely easier than driving a Tesla to Lockhart, Texas.
 

Bayview
This brisket is exceptional: slow cooked for ten hours, it fulfills smoky-meaty bliss. We'd order it every time, if it weren't rivaled by the "Smokin'," a cheeseburger topped with bacon, onion rings, and pulled pork. Of course, mac 'n' cheese with bacon and jalapeños is the side dish of choice. This place only has a walk-up window and daytime hours, so bring picnic gear and call in sick.
Fisherman's Wharf
While The Pub is located in Ghirardelli Square -- and is kind of a stereotypical sports bar -- the barbecue here is not bad. In fact, it's really pretty good. They make their hot links and the brisket reuben is lick-your-fingers delicious -- plus, there's a stellar view of the Bay outside the windows. Hey, savvy locals: give it a try... this is no Bubba Gump's.
Sign up here for our daily San Francisco email and be the first to get all the food/drink/fun SF has to offer.
Trevor Felch is the San Francisco editor for Zagat. He once ate barbecued pig snouts on the hood of a rental car in St. Louis, because apparently Missouri loves pig snouts. Thankfully, San Francisco doesn't. Follow him @TrevorFelch.