San Francisco has a lot of things, but the one thing it doesn't have (quite frankly shouldn't) is a specific style of barbecue. And we're cool with that. It means there are an assortment of BBQ spots doing an assortment of BBQ things, so we can always find whatever style we have a hankering for -- North Carolina, South Carolina, Texas, Memphis, Kansas City, as well as inventive mashups that could only exist here.
Next time you're craving a plate piled high with smoked meat, these are the barbecue spots you'll want to hit up.
Mission
North Carolina-style barbecue, microbrews, and whiskey.
If you're looking for North Carolina-style barbecue and cold beer look no further than Southpaw, where the meat comes dressed in a thin, vinegar-pepper sauce and the beer is brewed in-house. Not a beer drinker? There are over 100 whiskeys on the menu. A micro-brewery, whiskey haven, AND sensational Carolina 'cue all in one room? We are so lucky. Also, for you vegetarians reading this (why?), the smoked jackfruit and portabella are legit meatless dishes you'll love.
Tenderloin
As close as you'll get in SF to Southern food served with Southern hospitality
This Tenderloin BBQ joint has the remedy for homesick Tar Heels and homesick Sandlappers: chopped, hickory-smoked pork shoulder that comes with a choice of North Carolina vinegar or South Carolina mustard sauce, hush puppies, and a red cabbage slaw. The Southern touch doesn't stop there though. The menu also offers shrimp and grits, buttermilk biscuits with pepper jelly, fried green tomatoes, and deviled eggs. Oh, and those hushpuppies? They come with a pimento ranch.
DIVISADERO CORRIDOR
One of SF's most popular BBQ spots for good reason
Everyone knows where the "best damn cheeseburger" in San Francisco is at 4505's, but this place is also all about smoked meat: whether you go for the pork spare ribs, brisket by the pound, or something else, you'll 100% be pleased. These guys also do unforgettable sides, so be sure to try the spicy chimichurri spicy fries and the frankaroni (a crispy fried mac and cheese with a hot dog inside) -- and also grab a cold one from their excellent selection of beers.
Lower Haight
San Francisco's oldest barbecue joint... and easily in the Top 3
Props to Memphis Minnie's, which has been around since the '90s and is still going strong, even with a recent change in ownership. Despite the name, Memphis Minnie's doesn't actually serve Tennessee-style barbecue. But the slow-smoked Texas-style 'cue with house-made sauces (on the side) is well worth stopping in for. Go for the beef brisket with a side of pit smoked beans, tart 'n tangy slaw, and a corn muffin. And even though there's no way you'll be able to save room for it, get the fried peach pie anyway. Your stomach, like life, finds a way.
SoMa
An inventive take on barbecue and the biggest biscuits you'll ever eat
CatHead's BBQ isn't like any other barbecue you'll find in SF because the preparation of the slow-smoked meat is inspired by the husband-and-wife teams' Tennessee (makes sense) and Michigan (yup, you read that right) roots, which means you can expect a little bit of everything, but also with a twist. As far as the 'cue goes, the Coca-Cola smoked brisket or the sweet tea chicken are the right choices. If you're a pimento cheese fan, the mac and cheese that's made with it is a no brainer and, of course, you have to get the Cathead biscuits, which are approximately the size of a cat's head -- if the cat in question is Mufasa.
Bernal Heights
The place to go for people with varying barbecue preferences
This Bernal Heights joint from two dudes who come from a long line of barbecuers has it all: Memphis ribs, baby back ribs, Texas-style beef brisket, and North Carolina-style pulled pork that's slow-cooked in Guinness. The combo chef's plate is the route to take here because you get three different meats and the more types of meat the better. Go for the pulled pork, the Memphis ribs, and the grilled shrimp. (Okay, so that last one doesn't really count as meat, but it's still good.)
Bayview
A no-frills family-owned restaurant with great service and generous portions
This laidback barbecue joint is right down the street from Frisco Fried, so you're going to have to make some tough decisions, but if you DO opt for Let's Eat BBQ and More, you'll find a very friendly staff, huge portions, all of the barbecue classics and, that's right, more -- like grilled or blackened seafood and rotisserie chicken. But you're there for the barbecue, so get the pulled pork sandwich with a side of mac n' cheese.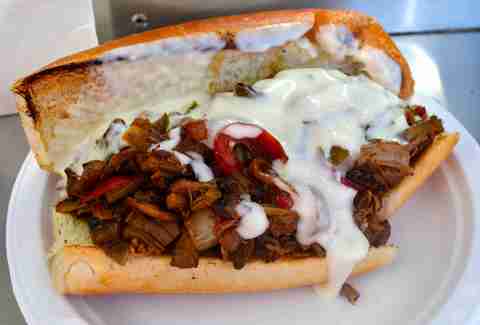 Various locations
A roaming truck serving up tasty barbecue
There's nothing quite like sitting in a friend's backyard on a summer day, eating delicious meat, and drinking cold beer from the can. But backyards and summer aren't always available in SF, which is why we're so into The Boneyard Truck, which roves around, but can often be found at Off the Grid events, a lot of which take place right by a park and also have beer. So it's kind of like a cookout, but without the cleanup and with a puffy jacket. Everything from this truck is good, but if you're trying to keep your hands clean, try the fork-required Cally Bowl with beans, bacon aioli, a fried egg, and Santa Maria-style chicken. If you could care less about sticky fingers, then the brisket nachos are your new best friend.
Bayview
You'll have to play hooky to get this barbecue, but it's absolutely worth it
The brisket at this literal hole in the wall in Bayview is slowly smoked and cooked for ten hours and is some of the tastiest we've eaten in SF. We'd order it every time, if it weren't rivaled by the "Smokin'," a cheeseburger topped with bacon, onion rings, and pulled pork. Of course, mac 'n' cheese with bacon and jalapeños is the side dish of choice. This place only has a walk-up window and daytime weekday hours, so bring picnic gear and call in sick.
Fisherman's Wharf
Great barbecue with a view of the water
Don't let the fact that The Pub is located in Ghirardelli Square scare you aware because despite the fact that it's right in the heart of touristy town, the barbecue here is not bad. In fact, damn good. Do you like your meat rubbed? Sauced? With vinegar? Mustard barbecue? There's something for every palate at this sports bar, and a stellar view of the Bay to boot.
Sign up here for our daily San Francisco email and be the first to get all the food/drink/fun SF has to offer.