The 7 best breakfast sandwiches in SF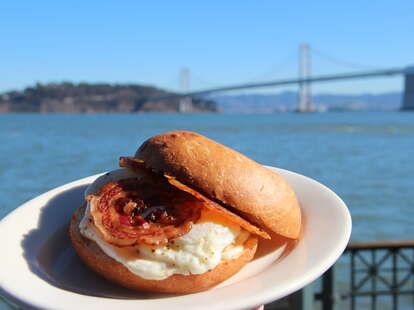 In honor of football, drinking, America, and YOU, we proclaim the Monday after the Super Bowl shall henceforth be known as National Hangover Day. It's a day for hangovers to be celebrated, embraced, and combated in the most enjoyable of ways -- namely, eating delicious food, and possibly drinking more. The ultimate goal? Getting the entire country a day off work, a beautiful dream you can help make happen by signing this petition to our sports-loving President right here and tweeting it.
The immediate goal, though? Fixing that hangover by filling you with SF's seven best breakfast sandwiches...
What: Big Blue
Where: Blue Fog (click here for address and deets)
If you haven't stopped by Blue Fog, you're missing out. And if you haven't gotten this sammy with breakfast sausage, eggs over-easy, cheddar, avocado, tomato, arugula, and red onion (and Tapatio!) on a toasted Leadbetter's English muffin, then you're... um... still hungover.

What: Breakfast Sandwich
Where: Devil's Teeth Baking Company (click here for address and deets)
Brevity is the soul of wit, and simplicity is the soul of a perfect breakfast sandwich (Shakespeare used to get terrible hangovers). Two eggs scrambled, cheddar, applewood bacon, and a homemade buttermilk biscuit are all you need.
What: Bacon & Egg Breakfast Bagel
Where: Arlequin Cafe (click here for address and deets)
A favorite recc from a local food critic, Arleguin's got a "really ridiculously buttery egg-and-bacon bagel". There's also aged cheddar involved, because leaving it at "ridiculously buttery" would have been a perilous shortage of dairy fat.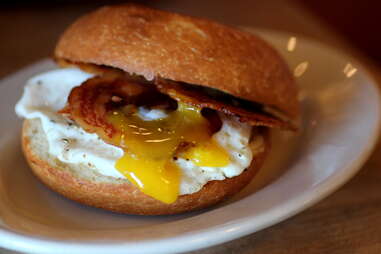 What: Breakfast Sandwich of the Day
Where: Il Cane Rosso (click here for address and deets)
ICR's got a pretty frequently rotating menu, but you're likely to have some kind of greatness available, like an olive oil-fried egg sandwich with Boccalone pancetta, aged Provolone, and sweet onion butter. You can trust them, unlike your friend who bought three rounds of shots last night and skipped out on the tab.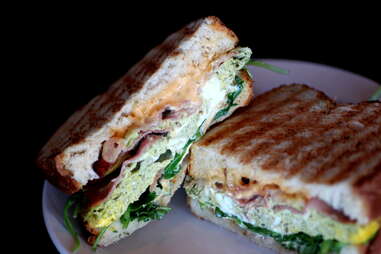 What: Green Eggs and Ham
Where: Vinyl (click here for address and deets)
You will like it, Sam I Am, you will like the egg, cheddar, scallion, tomato, ham, and remoulade on a soft rosemary roll combo that is Green Eggs and Ham. (Seussian rhyming meter nailed!!).
What: Breakfast Burrito
Where: Green Chile Kitchen (click here for address and deets)
Is a burrito really a sandwich?! You're way too hungover to contemplate menu semantics. All you should be concerned with is this efficient delivery system for eggs, roasted potatoes, pico de gallo, cheese, chile, and optional steak. So yeah, there'll be steak in it.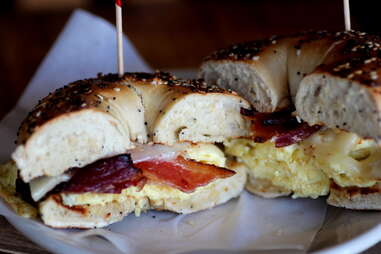 What: Raul's Bagel
Where: The Grove (click here for address and deets)
On your choice of bagel, you get scrambled eggs, Fontina cheese, and thick-sliced bacon (pro tip: add tomato). Since they serve breakfast all day, you can even get it after work... on the off-chance you couldn't handle anything but Gatorade until 6pm.
Joe Starkey is San Francisco's Thrillist Editor and is so Irish, he once asked his sophomore year roommate what a hangover felt like. Follow him on Twitter.