The Best San Francisco Restaurants for Brunch Delivery and Takeout
Just in time for Mother's Day.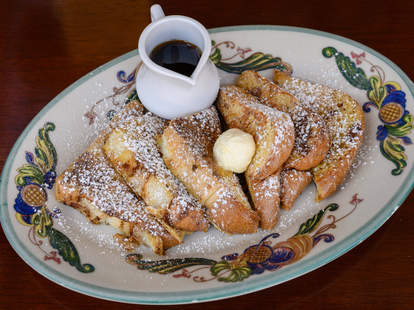 There's no meal that San Franciscans love more than brunch, and that's not just because drinking before noon is not only tolerated, but encouraged, but because … okay, fine, that's exactly what we're saying, but the food, friends, and ambiance also add a lot to the experience. Though we are in strange times as we try to navigate COVID-19 and what that means for eating out in the future, and the friends and ambiance part of brunching as a verb, for now, you can at least get it delivered or to-go from some of SF's very best spots. Many of them are also offering breakfast cocktails -- something we truly need now more than ever.
Courtesy of The Front Porch
Bernal Heights/Mission
Despite the word "home" in the phrase "Southern home cooking," it's one of those cuisines that's best left to either grandmothers who live below the Mason-Dixon line or professional chefs, like the one at The Front Porch. Right now, the Mission spot is offering a limited brunch menu for delivery and take-out that includes the popular fried chicken and cornmeal waffles and a country-style breakfast (two eggs any style, choice of meat, cheesy grits, and a biscuit), as well as a bacon bloody mary and other boozy breakfast beverages. There are also a few lunch options available, as is required in order for a meal to be called brunch, including a bucket of fried chicken, porch burger (add a fried egg and bacon to make it a breakfast burger), beignets, and bourbon pecan pie. Sleep later than you meant (again) but still want brunch? You're in luck because the Front Porch is offering it from 10am to 3:30pm, Thursday through Sunday.
Click here to order pickup and use Caviar for delivery
Courtesy of Plow
Dogpatch
Turns out the key to the most delicious breakfast potatoes you'll possibly ever eat is to mash them, fry them until they're brown and crispy, and season them with rosemary and thyme. But even if you tried to do that at home, you'd never get anywhere close to the deliciousness of Plow's potatoes. Usually you'd have to wait for one to two hours to get them on the weekend, but, for now anyway, you can order them, and some of Plow's other wait-worthy brunch dishes, to be picked up curbside. We recommend you get "The Plow," so that you can get eggs, house-made pork sausage patties, those potatoes, and two of the famous lemon ricotta pancakes. And since you're leaving the house, you might as well throw in some blueberry corn muffins and buttermilk biscuits as well.
Call 415-821-7569 to order pickup
Outer Richmond
Some people think of brunch as eggs Benedict and fancy French toast, but in SF we know that it also means feasting on delicious dim sum. Dragon Beaux, a dim sum spot from the founders of Koi Palace, puts a modern spin on classic dishes, and never disappoints. And, although to-go food doesn't usually present well in photos, if you're hungry for a gorgeous food pic to post on your Instagram, the colorful dim sum from Dragon Beaux will give you what you seek (especially the five guys xiao long bao and the rainbow taro paste bao). Right now, you can get lunch delivery and carry-out every day from 11am to 3pm.
Call 415.333.8899 for pickup
Mother's Day special: Dragon Beaux is offering a prix fixe menu for four to six people on May 9 and May 10 for $222. Call at least three hours in advance if you'd like to order it.
Courtesy of Bacon Bacon
Ashbury Heights
When the hankering for savory salt-cured pork really hits, Bacon Bacon is the only way to start your day. Right now the cafe is only open Thursday through Sunday from 8am to 2pm, but during that time you can get the entire bacon-centric menu, including the breakfast burrito with scrambled eggs, pulled pork, bacon, avocado, cheddar, and mama lil's peppers, a classic B.E.C., and The Frederick, a fried egg sandwich with maple bacon pork sausage, Cheddar, bacon, and cream cheese on an English muffin. Lunch starts at 11am and offers bacon cheeseburgers, a bacon BBQ burrito, a bacon fried chicken sandwich, and more things that will clog your arteries in the most satisfying way possible. Best of all: Right now
you can also buy our healthcare heroes a sandwich
, which Bacon Bacon will deliver for you.
Call 415-218-4347 for pickup or use Caviar for delivery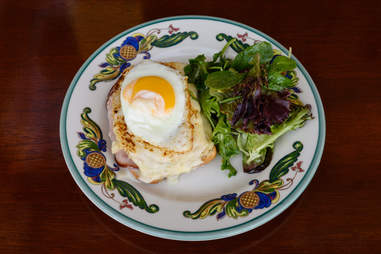 Courtesy of Zazie
Cole Valley
Zazie's brunch is known for long waits that are actually worth it, but, for now, the neighborhood bistro is pivoting to take-out only, which means you can enjoy all of the deliciousness without the risk of getting hangry. The entire brunch menu is available, and though you truly can't go wrong with any of the dishes, our favorites are the miracle pancakes, croque madame, and pierre noir (eggs benedict with bacon, tomatoes provençales, and possibly the best lemon hollandaise to exist anywhere on the planet). Add on a build-your-own mimosa kit or any of the other breakfast cocktails, all of which are 20% off during this time, and which will help make up for the fact that you're eating the meal at home and not in Zazie's gorgeous "secret" garden.
Click here for takeout
Mother's Day special: Build-your-own brunch kits with housemade pancake batter, specialty egg scramble mix, home fries, bacon, sausage, or fruit, and a mug for Mom (and instructions on how to cook it all) are available for those who pre-order by noon on Saturday, May 9. The kit is $45 for two people and $85 for four people.
Courtesy of Brenda's Meat & Three
Divisadero Corridor
In a world without days of the week, it seems ridiculous that one should actually have to wait until the weekend, plus figure out that it even *is* the weekend in order to enjoy brunch. Brenda's agrees with that sentiment even in normal times, which is why you can order breakfast seven days a week from 8am to 3pm. The indulgent menu includes dishes like stuffed johnnycakes, pulled pork hash, cream biscuit and country gravy, shrimp and grits, and low country gumbo. And, of course, you can't place an order without adding beignets. Breakfast, lunch, and supper are available for pickup and delivery.
Click here for pickup and use Caviar for delivery.Dogpatch
Just for You isn't holding back when it comes to its breakfast and lunch menu. While a lot of restaurants have scaled back on their offerings for financial reasons and limited staff, this cozy cafe is still putting out its entire menu, including eggs, pancakes, French toast, New Orleans- and Mexican-inspried specialty dishes, sandwiches, burgers, salads, and dessert. Though the cafe is called "Just for You," there's truly something for everyone, but if you find you indulged a little too much the night before, the hangtown fry made with three scrambled eggs, bacon, oysters, and onion is your best bet. Add some house-baked bread to enjoy later and, if you're picking up your food, a 16 ounce mimosa to enjoy when you get back home.
Call 415-647-3033 for pickup and use UberEats for delivery
Courtesy of Sunset Reservoir Brewing Company
Outer Sunset
SRBC partnered with sister company Devil's Teeth to make sure you can still get your breakfast sandwich fix during these strange times. From 10am to 2pm on Saturday and Sunday, choose from the original Devil's Teeth breakfast sandwich (eggs, bacon, and Cheddar on a house-made biscuit) or the "special" version (eggs, bacon, pepper jack, and lemon-aioli on a biscuit). Add a premade batch of large-format cocktails to take home and enjoy, like the Irish Goodbye (Irish whiskey, Irish cream, coffee liqueur, cold brew coffee), which is $38 for about five drinks or the Sunset spritz, a play on an Aperol spritz that's $88 and will get you around 13 drinks total. You can get all of it delivered or pick it up curbside.
Call 415-571-8452 for pickup or delivery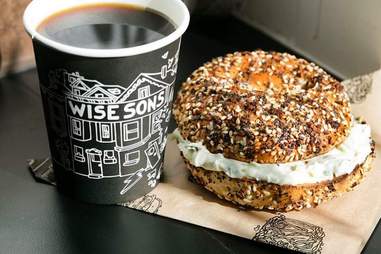 Courtesy of Wise Sons Jewish Delicatessen
Mission, Fillmore, Hayes Valley
While there aren't a lot of places in San Francisco to get Jewish comfort food, Wise Sons is undeniably incredible. The flagship location in the Mission offers a larger menu with dishes like a deli scramble with chopped pastrami and corn beef, challah French toast, potato latkes, and a bagel with smoked salmon, but you can get a bunch of bagel sandwiches and other pasties at the smaller shops in the Fillmore and Hayes Valley. Wise Sons also offers packaged food, including half pints of schmear, so why not grab some of that as well as some bagels to enjoy later? It's all available for pick-up or delivery.
Call 415-590-7955 for pickup or use Caviar for deliveryLower Pac Heights
We mean this in the best way possible, but of all the spots on this list if there's one where the ambiance doesn't do anything to add to the food (meaning: it'll taste just as good at home), it's Sweet Maple. After all, you're not going to the unassuming cafe for the decor, you're going for anything and everything served with the almost melts-in-your-mouth millionaire's bacon, a thick cut slice of bacon slowly cooked with brown sugar and spices for over four hours. The takeout and delivery menu is limited, but there's still a substantial selection of omelets, scrambles, benedicts, and sandwiches. New to millionaire's bacon? Try the sampler platter with four different kinds.
Use Caviar for pickup and delivery
Mother's Day special: Sweet Maple is offering a prix fixe Mother's Day menu for $95, as well as a couple of drink specials.
Sign up here for our daily San Francisco email and be the first to get all the food/drink/fun SF has to offer.
Daisy Barringer is an SF-based freelance writer who has eaten almost everything off of the Zazie brunch menu because she takes her research very seriously. Follow her on Instagram @daisysf to see what she's getting delivered these days.