SF is great at a lot of things: iconic bridges, unreliable weather, Batkid. But if there's one thing SF is really, REALLY great at, it's brunches. And if there's one thing we're really, REALLY great at, it's putting together lists of the best brunches in SF. So here they are.
Inner Richmond
Serving brunch every day means they've had the chance to perfect their craft, so grab an alcoholic milkshake (yep) and then grab The Mission-approved Red Flannel Hash, which consists of beef short rib, Kennebec potato, baby beets, arugula, caramelized onion, poached egg, chowchow, and maple syrup. Orrrrrr grab the burger with bacon jam.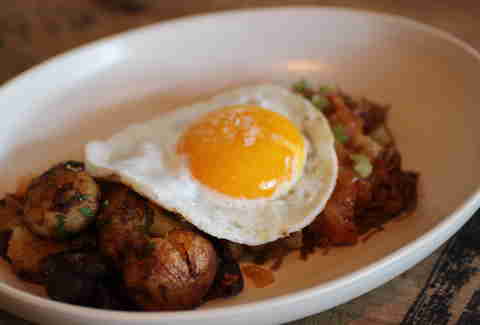 Lower Haight
Start out with a Maven Julius (orange, milk, vanilla, malt, and 5 Island Rum), then another one, then the Duck Hash with a fried duck egg and sofregit. It's so-legit.
North Beach
Get a cocktail (literally anything with the Douglas Fir Eau De Vie), get their avocado toast (seeded whole wheat, chile, lemon, sea salt), then get any of the entrees (and by "any of the entrees", we mean the fried duck egg sandwich with Nueske's bacon, avocado, frisée, and green garlic pesto).
SOMA
Dottie's is one of San Francisco's few diner experiences where you'll actually want to eat the pastries (because they're freshly made and mind-blowing), but in particular, get the house-made cinnamon pecan roll and the pecan French toast.
Union Square
You need reservations at this super-popular spot. Like, State Bird Provisions-style need them. You also need bottomless mimosas, and absolutely, unequivocally the chicken and waffles.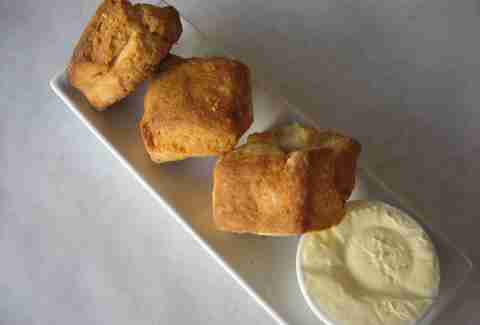 Lower Pac Heights
The best possible reason to slum it in Lower Pac Heights, this institution serves great Bloodys, unbelievable deviled eggs (yes, for brunch, get over it), and wow-moment biscuits (along with whatever actual brunch entree you choose).
Tenderloin
Despite the fact that you might be waiting for at least an hour in the Tenderloin, it's (sorta) totally worth it, for this Southern-style brunch. Especially if you get the beignets. Get the beignets.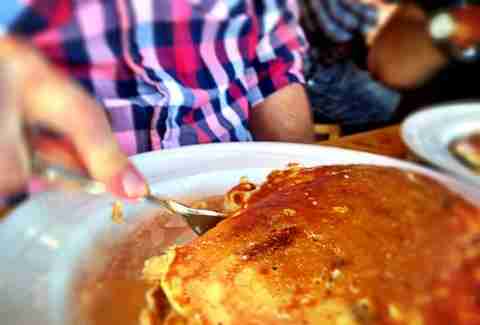 Presidio Heights
Ella's has all of your contemporary American brunch needs, like a fried egg sandwich with cheddar cheese, pesto aioli, arugula, and avocado on brioche, or the strawberry ricotta pancakes with Coombs Family Farms' pure maple syrup from Vermont.
Hayes Valley
Either make sure you have a reservation, or take a seat at the bar (at least you'll be closer to the mimosas), and grab any of BR's Louisiana-style comfort food. Then, in particular, grab the fried shrimp po' boy with Lil' Sarah's tartar sauce and hushpuppies.
Potrero Hill
We don't always go to Potrero Hill, but when we do, we go here. And Anchor Brewing Company. But mostly here. And mostly for the eggs Benny (with addable cold-smoked salmon).
SOMA
Get your British brunch on here in the company of taxidermied animals and hand-painted hunting scenes, while housing the perfected simplicity that is their bacon sandwich with fried hen egg, pepper cress, shallot, and mustard dressing. Also, ask for the little toast sticks you can dip in stuff. They'll know what you're talking about.
Cow Hollow
Sure, there might be a line down the block for this tiny spot, but that's what happens when you make a breakfast pizza (with smoked ham, Fontina, and eggs) as good as they do. It's also what happens when you only have said tiny spot.
Western Addition
Head on over to the neighborhood we refuse to call NOPA to... go to Nopa... for some obviously-gonna-be-good brunch items like a custard French toast with maple butter and caramelized apples.
The Marina
Hit the covered/heated back patio. Hit the Pimm's Cup. And hit their amazing huevos rancheros, because you might as well confuse your hungover brain with a British cocktail and Mexican food.
Joe Starkey is Thrillist's Brunch Addict (and SF Editor), and hopes never to know what the bottom of a mimosa glass looks like. Follow him on Twitter.