Where Are the Best Burgers in SF? We Tried Them All to Find Out.
From tasting menus to food trucks, taquerias to farm-to-table restaurants, there's no shortage of delicious, innovative food in San Francisco... which is great and all, but sometimes (most of the time), what we really want is just a damn good burger. Luckily, SF has plenty of those as well. Whether you're looking for a fancy burger, a fast-food burger, a burger in a bar with killer cocktails, or a late-night burger that was once proclaimed to be one of the tastiest in the world, there's something for everyone. Here are the 7x7's best efforts:
Marina
Almost two years ago, we told you that the Americana Burger at Causwells was "The Best Cheeseburger in SF That You're Not Eating Yet." We sincerely hope you've since remedied that and have indulged in the burger that's basically a way better version of any fast food burger you've ever had (yeah, including In-N-Out). If not, well, we're very disappointed in you, but you're in luck, because it's still on the menu and it's as tasty as ever. Two well-charred patties, made from beef that's ground in-house every day, are topped with American cheese; lettuce; pickle; onion, all sandwiched in a sesame seed bun. Top the whole thing off with Causwells' secret sauce, which is a combo of house-made Worcestershire, house-made Thousand Island dressing, cayenne, and other, classified ingredients. While this burger'll run you $16, it's tasty enough to be worth it.
Courtesy of ABV
Mission
ABV's $10 pimento cheeseburger is what dreams are made of, especially in a town where pimento anything is so hard to come by (SF is many things, but a bastion of good Southern food, it is not). The patty is flipped constantly, which gives it a perfect sear -- and keeps the fat from melting out -- and is served on a house-made bun that holds up well against the juicy burger. But the real hero here is the aforementioned tangy pimento cheese that's melted on top of the patty; it's also made in-house, and is both nostalgic and elevated all at the same time. This is one of the smaller burgers on the list (it's a 1/4lb patty), but that works on several levels: first, you don't want to be too full to enjoy ABV's awesome cocktails, and second, with a burger that's more bar snack than entree, you can definitely get out of sharing.
Cafe du Nord
Duboce Triangle
This dimly lit basement lounge is so sexy that one would never guess there's a bomb-ass burger on the menu, and yet: the $14.50 Burger du Nord, which is served with sharp cheddar, lettuce, pickles, and a secret sauce, plus a side of thick-cut fries, may just be the sexiest thing on the menu. It tastes even better late night, which is a thing at Café du Nord, where the kitchen stays open until 1am.
Sam Sheldon
Tenderloin
Chef Manfred Wrembel is straight-up killing it at Huxley, a tiny, 25-seat restaurant in the heart of the TL, but the thing to order is, of course, The Hux Deluxe, a 4oz burger with fried onion, 'Merican Cheese, frisee, a bacon wheel (!), MSG aioli (!!!), all served on a house-made seeded onion dill bun. When the $17 burger comes out, it looks like there's no way you'll be able to fit your mouth around it to get that perfect burger bite, but the key is to squeeze it down and just go for it. And though a 4oz burger may sound small, it's actually the perfect size because of the way it balances with all of the other ingredients. The burger is served with a knife sticking out of it, which makes you think it's intended to share. You can do that, but we warn you -- you might regret it.
SoMa
You can get the famous Marlowe burger at Marlowe's sister restaurants, The Cavalier and Park Tavern, but somehow, it always tastes just a little bit better when ordered at its original home in SoMa. The famous burger is perhaps almost too famous -- can a burger really continue to live up to that much hype? -- but the truth is, the Marlowe burger tastes just as good now as it did six years ago, thanks to its atypical blend of beef and lamb. The lamb adds a subtle, rich earthiness to the burger, which goes well with the char from the grill, and ensures the flavor of the patty comes through. The $16 burger comes with caramelized onions, cheddar, bacon, horseradish aioli, and shredded romaine, as well as a side of crispy fries. This is a legit juicy burger, which means you'll need (and want) to eat it rather quickly, but we're totally fine with that.
Western Addition
If you ask someone in San Francisco where to get the best burger, there's a good chance you'll be sent to Nopa and told to order the $17 wood grilled hamburger with pickled onions and French fries. The burger is made with grass-fed beef that's been salted to perfection, and comes on a toasted bun. The simplicity is part of what makes this burger so good, and though we usually believe that the best way to experience a burger is to order it the way it's described on the menu, adding cheddar gives this burger a little bite, which isn't necessarily needed, but makes the whole thing taste that much better.
Daisy Barringer
Mid-Market
Much like Beverly Hills, 90210 paved the way for Melrose Place, The Americana Burger at Causwells was such a success, the only real option was to open a spinoff fast-food restaurant focused solely on burgers. Enter Popsons, possibly the best burger joint in all of SF. Every single one of their burgers is out-of-this-world good, but the one to order is the cheeseburger. And yes, it's imperative that you make it a double ($8.70); the thin patties are smashed on the griddle to form a savory crust, and once you add American cheese, pickles, shredded lettuce, sliced onions, and the secret sauce, a single patty can get a little lost in the crowd. That being said, a single is still damn good, so if you insist on counting calories, you'll still be happy beyond words with your burger. Oh, and it's worth noting: even though this is basically a fast-food restaurant, you can still order wine and beer. Yay.
North Beach
Though he was a little inebriated when he said it, Anthony Bourdain once proclaimed the burger at Sam's to be one of the top three in the world. And though that may be a slight exaggeration, it's definitely one of the top 10 in SF... top five if you'd had a lot to drink, and it's 2am. Though beloved owner Mike Shawa sadly passed away this summer, his family continues to run this SF late night institution, and the $9 double cheeseburger with everything continues to be a burger every San Franciscan needs to eat.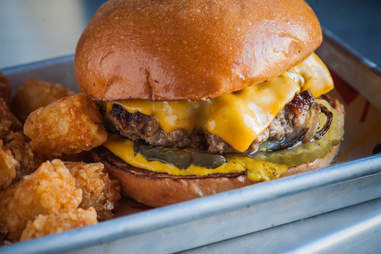 Wes Rowe
Mission
Once upon a time, a photographer decided to enter the SF Burger Brawl with his riff on a Jack in the Box burger called "The Hot Mess." Rowe's version, a 6oz patty topped with queso, onion rings, and pickled jalapeños, dubbed the Hot Wes, took home the top prize. For a long time, the only place to get it was at Rowe's weekly pop-up, but citizens of SF can rejoice: now the Hot Wes (and more!) is available at Rowe's very own retro-diner-style restaurant in the Mission. And while you can't go wrong with his original creation, the burger most people get is The All-American (a 6oz patty with lettuce, tomato, onion, special sauce, and American cheese). However, the burger you really want to order is The Okie ($11), a 6oz patty cooked over a bed of onions with mustard, pickles, and American cheese. Add bacon... you won't regret it. (You'll never regret adding bacon.)
Hayes Valley
This $17 grass-fed burger is ground in-house, and comes on grilled rosemary focaccia with aioli and Zuni pickles. And while a burger on rosemary focaccia may not sound like the kind of burger that should make a Thrillist list of Best Burgers, you'll just have to trust; 20 plus years ago, it was one of the first "fancy" burgers you could find in the city, and it's stayed on the menu ever since for good reason. Though it's even better if you add blue cheese ($2), which makes it a pricey indulgence -- especially since shoestring fries will cost you another six bucks. Oh, and it's only available at lunch or late night... which perhaps adds just a touch of mystique to the proceedings.
Western Addition
The folks at 4505 Burgers may have been getting slightly ahead of themselves when they named the burger "Best Damn Grass Fed Cheeseburger," but even though it may not exactly be the "best," it's still a legit tasty burger that deserves a spot on this list. A 1/4lb patty topped with lettuce, onion, Gruyere, and a secret sauce, served on a buttery, griddled sesame, and scallion bun. It sounds like a ton of competing flavors, but they work perfectly together; each bite is better than the next. A single will cost you $10, and a double is $14. We usually advocate for a double, but in this case, a single and a side of fries will probably get the job done.

Sign up here for our daily San Francisco email and be the first to get all the food/drink/fun SF has to offer.
Daisy Barringer is a freelance writer in San Francisco. This was pretty much the best article she's researched in all of 2016. Tell her your favorite burgers in the city on Twitter @daisy.