The 2015 SF Burger Manifesto
Burgers are the best. But especially these burgers, which we painstakingly (you hate us) tried and tasted just so we could give you a definitive guide to burgers in SF, complete with a hood-by-hood burger guide, a list of the city's most under-the-radar patties, and way, way, WAY more. En-freaking-joy.
SF's 10 best under-the-radar burgers
Ever notice how the same 10-ish burgers make pretty much every "Best Burgers in SF" list? Sure, Marlowe, Super Duper, Umami, and 4505 Meats make some really awesome burgers (like, really awesome), but there are a zillion burgers in SF, and plenty of others worth celebrating. That's why we assembled this list of the 10 best under-the-radar burgers in SF, all of which don't appear on the most recent "Best Of" lists, from 1) SF Weekly, 2) 7x7, and 3) Refinery 29. READ MORE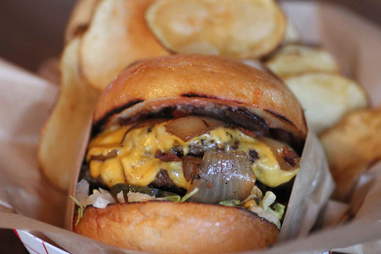 Joe Starkey
The best burger in 30 different San Francisco neighborhoods
You need a goal for 2015. Why not make it to go to these 30 different SF 'hoods for the sole purpose of eating these burgers? Grab your Fast Pass or call an Uber and let's get to it. They're not gonna eat themselves, ya know. READ MORE
The best burgers in SF, by price point
If there's one thing about burgers that's always true, it's that, no matter how much cash you've got in your pocket, you're gonna want one. Which explains why Americans eat nearly 50 billion burgers a year. Aka three burgers a week, PER PERSON -- a stat that is both terrifying and inspiring all at the same time. Anyway, the point is: you crave burgers constantly, but you can't eat a $28 burger every day of the week (unless you can, in which case we should totally be best friends).
For the rest of you, we broke down the best burgers in San Francisco by price, so whether you just paid rent or just got paid, you'll know where to find a delicious burger that's in your price range. READ MORE
Joe Starkey
Ranking all of SF's local "chain" burgers
Inspired by an awesome taste-test of national fast-food burgers written by... ourselves!... we decided to do a local SF version, where -- instead of eating a bunch of In-N-Out cheeseburgers (wait... why didn't we do that??) -- we decided to taste-test all of San Francisco's local "chain" burgers, i.e. signature burgers available at restaurants with more than one location. READ MORE
4 brand-new SF burgers that you need to eat immediately
There are just some things in life you can never get enough of: Game of Thrones fight scenes, Game of Thrones sex scenes, Game of Thrones fight scenes... that are sexy... oh, and BURGERS! Man, how good are burgers? Someone's job should literally just be to tell you about four new SF burgers every day. Someone like, um, us. READ MORE
Joe Starkey
The only thing you need to eat this weekend: the brunch burger
Guess what? Yep, chicken butt. But also, Bluestem Brasserie has unveiled a completely ridiculous, completely must-eat, Sat/Sun-only Brunch Burger THAT HAS HASH BROWNS ON IT. And homemade American cheese. And house-made bread & butter pickles. AND HASH BROWNS.  READ MORE
JOSH ALONZO
The best cheeseburger in SF that you're not eating yet
When's the last time you ate a cheeseburger that you were still thinking about the next day/week/geological eon? Because, despite the fact that there are some kick-ass beef-wiches in SF, that hadn't happened to us in a while. That is, until we visited Causwells, the new casual American bistro from Alvin Garcia (Delarosa, Lolinda, Don Pisto's) and Tom Patella (California Wine Merchant)... READ MORE
Sign up here for our daily San Francisco email and be the first to get all the food/drink/fun SF has to offer.
Daisy Barringer is Thrillist's SF Editor and she'll go ahead and admit that, though she'd never ask for mayonnaise on a burger, she's always secretly stoked when that's just how it comes. Follow her on Twitter @daisy.