The San Francisco brunch scene is amazing, and we have great options in every single neighborhood. But sometimes you're just not in a position to get brunch at some of the top-notch joints, where a meal can cost a tiny fortune, and your wallet weeps at the idea of a second round of mimosas. Fortunately, SF also has plenty of options for folks who want to chow down on crispy hash brown sandwiches, fresh acai bowls, and incredible breakfast burritos, without putting their rent money in jeopardy. These menus all feature dishes in the $10-dollars-or-less zone, so you'll still have plenty of Champagne spending money for your post-brunch plans.
Bernal Heights
Welcome to breakfast sandwich heaven. There are plenty of solid options here, but your best bet is the Pan con todo ,which combines soft white cheese, sour cream, black beans, and perfectly scrambled eggs, all stuffed into a thick, fresh roll. You'll want to add a splash of heat with their bright yellow hot sauce, too. Best of all, the whole thing'll set you back less than $5 -- in fact, if you want to tack on a side of plantains and a coffee, you'll still land under the $10 mark.
Inner Richmond
It's the go-to spot for delicious Russian pastries and sunny outdoor seating, but did you know Cinderella Bakery also serves an incredible breakfast menu? Try the luscious French toast, made with Russian white bread and strawberries; a breakfast sandwich on a fresh, buttery croissant; or order its traditional, nutty oatmeal kasha (all of those options will run you less than $7). Plus, you can enjoy a Ritual coffee with your highly affordable brunch. Cinderella's breakfast menu is only available until 11:30am, but you can create your own brunch any time with a pile of pastries, an order of delicious Russian crepes, and plenty of coffee.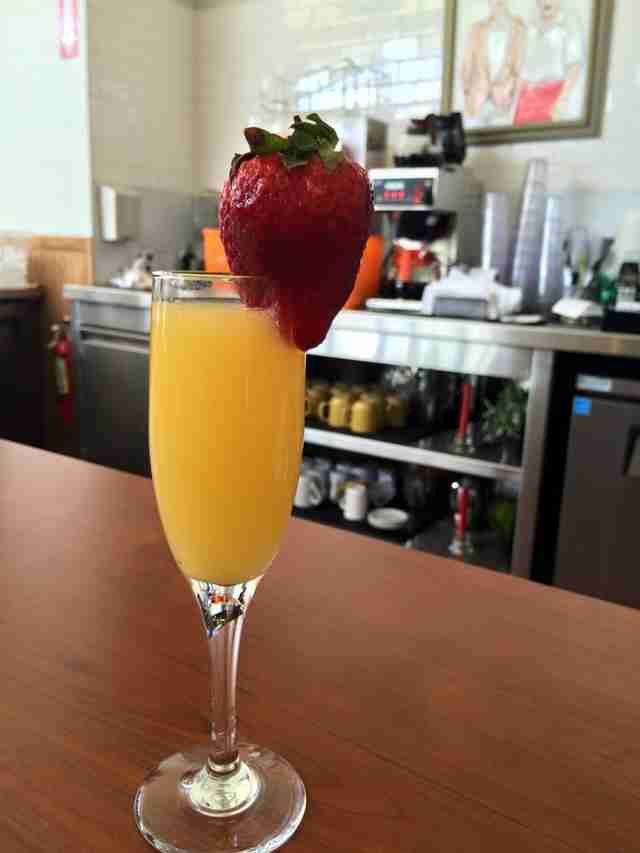 Excelsior
Some days, you just need a giant skillet full of tater tots to get started (especially if you had a really amazing time the night before). You're in luck: Breakfast at Tiffany's has a whole menu of tater tot skillets, starting at under $8. The "San Bruno Ave" tops an overflowing pan full of perfectly crisp tots with sauteed spinach, mushrooms, and melted Jack cheese. It's a big, comforting pile of delicious fried potatoes, served up in an airy diner where your coffee will always stay filled, and the service is excellent. And if you're not in a potato mood, it has a full menu of all-day brunch favorites like crustless French toast, omelettes, Benedicts, and more.
Mission
Prepare to travel through at It's Tops Coffee Shop, a retro '50s dining experience complete with vinyl booths and a chrome jukebox on every table playing an old-school soundtrack. The menu is chock-full of classic diner faves, including giant breakfast specials and tons of twists on waffles and pancakes, including the remarkable stuffed waffles. The apple pie waffle is a standout, featuring sweet apple pie filling surrounded by a fluffy waffle. Add whipped cream or ice cream to transform this dish into brunch a la mode.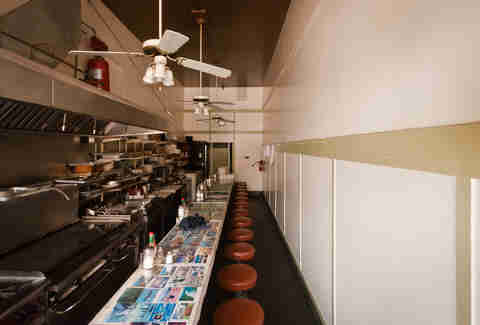 Inner Sunset
Art's Cafe offers classic diner dishes with a flavorful Korean twist. Get your bi bim bop with a side of bacon and eggs, or have a coffee with your tofu juru. The standout dish is the hash brown sandwich, a marriage made in diner brunch heaven. Instead of your typical bagel or roll, Art's Cafe stuffs a perfectly fried sheet of crisp hash browns with a range of breakfast sandwich fillings. The chicken teriyaki-filled hash brown sandwich is a classic, and all sandwiches come with a side of eggs. Seating is limited to a long counter, and the wait can get lengthy, so get there early on weekends to snag a couple stools.
Mission
This cozy neighborhood spot is known for its incredible chilaquiles, breakfast quesadillas, and mouthwatering scrambles paired with warm corn tortillas. The warm, nutty oatmeal pancakes are a can't-miss dish, served with fresh strawberries and maple syrup. Pair your order with the best diner coffee in town, and enjoy the endless refills. A crispy side of bacon is the perfect accompaniment to any dish on this super-affordable menu.
Parkside
New Taraval Cafe has the best breakfast combo in town, a serious smorgasbord of breakfast favorites for a wacky low price. Two eggs, two pieces of bacon or sausage, two pancakes or toast… for $4.50. Show up before 10am and the price drops to $4. Splurge and add a side of home-fried potatoes for an extra $1.50 -- it's worth it. You can order everything from a classic Irish breakfast to steak & eggs in this joint, and we challenge you to find a way to drop more than 10 bucks.
Castro
Go for a genuinely healthy brunch without losing an ounce of deliciousness at Bebebar. Its Brazilian menu is full of satisfying breakfast options, bursting with feel-good ingredients and flavors. Pair a vibrant acai bowl with a fresh juice and Brazilian coffee, or try the bolo de mandioca, a gluten-free yuca & coconut cake that's only available on the weekends. Bebebar is right down the street from Dolores Park, so you could even get your acai bowl to go and enjoy it in the sunshine.
Mission
San Jalisco is a Mexican breakfast paradise. Choose from a menu filled with breakfast favorites, including huevos a la Mexicana, huevos rancheros, chilaquiles, and more. Create your dream breakfast burrito by selecting from a menu of different burrito fillings, including bacon and eggs, chorizo, machaca, and more -- all for less than $8. Every breakfast comes with sides of homemade corn tortillas, Mexican rice, and your choice of beans. And if you want to make it a boozy brunch (you do), San Jalisco is known for its legendary spicy micheladas.

Sign up here for our daily San Francisco email and be the first to get all the food/drink/fun SF has to offer.