Meet Thrillist San Francisco's Chef of the Year: Adam Sobel of MINA Test Kitchen
Editor's Note: This article is part two of Thrillist's year-end look at the best of our cities' local food and drink scenes in 2016. In addition to our annual Best New Restaurants awards, this year, we're spotlighting the men and women behind the dishes we love to tell you to eat. Our chef of the year has redefined the definition of a "restaurant concept," reinventing his own spot with new pop-ups serving innovative dishes every few weeks. You can also check out our picks for the rest of America's 2016 Best Chefs, and then catch up on the Best New Restaurants.
San Francisco is a city full of talented chefs inspiring diners with their creative food and innovative techniques. There are chefs putting out beautiful tasting menus; chefs shaping menus based on their travels; chefs giving us delicious food at affordable prices. But none of those chefs are doing all of that and researching, developing, and opening three to four new restaurant concepts every year. Well, no one except Adam Sobel, that is.
Adam Sobel, the 36-year-old corporate chef at MINA Restaurants, has been at the helm of Cow Hollow's MINA Test Kitchen since it opened in July 2015. The restaurant, which opens a new pop-up restaurant every three to five months, delights San Francisco diners with its unique concepts, creative dishes, and excellent service. In fact, some of the concepts are so beloved that it's almost sad to see them go so quickly.
Yet after 18 months of service, it's clear that the next concept is going to be just as good as the last one, if not better. And though MINA Test Kitchen is consistently a collaboration between Michael Mina and guest chefs, the person most responsible for the magic coming out of the kitchen is Adam Sobel. Which is why he is Thrillist San Francisco's Chef of the Year.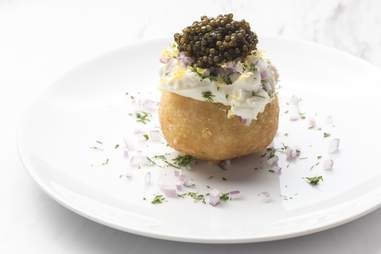 Kevin MuCullough
Meatballs and mischief
Adam discovered his love of cooking when he was 5 years old. "I would sleep at my grandmother's house on Saturday nights and help her cook our big Italian family dinner on Sundays." Every week, he happily joined Nana in the kitchen where he made the meatballs, stuffed peppers, and sauce, taking pride in the science and technique that went into it all. At age 11, Adam realized it wasn't cool to sleep at his grandmother's house anymore. Just like that, Nana's favorite helper was off the job.

As Adam became a teenager, cooking with his grandmother wasn't the only thing in which he lost interest. "I was kind of a mischievous young man; school wasn't really my thing, so my mom was trying to find a way to help me focus on something other than sports or terrorizing neighborhoods." Her goal was to do whatever it took for Adam to graduate. She remembered how excited he was to be in the kitchen when he was a kid, which is how she came up with the idea of enrolling him in a culinary arts program at a vocational school in Long Island.

"I was really hesitant because it had the stigma of being where the losers kids would go," Adam said. "But literally the first day I was in the kitchen there, I knew that cooking was what I wanted to do for the rest of my life. It was the most unbelievable thing that's ever happened to me to this day."

Even though Adam was only 16, his skills in the kitchen landed him jobs in some of the best restaurants on Long Island. "I decided to give up soccer my senior year of high school so I could work and cook. I was a great soccer player so no one understood it, but I gave it up because all I cared about was being in the kitchen."

While Adam's father was adamant that his son needed a college experience, Adam listened to his mentor and certified master chef John Johnstone instead. Johnstone insisted culinary school wasn't worth it and that Adam would receive the same education by working in kitchens; he gave him a job running the fish station at Tavern on the Green, which made Adam the youngest chef de partie in the history of the restaurant.

But even that wasn't enough to keep his dad from getting fed up with the fact that he was still living at home and not paying rent, so a year and a half after high school, Adam enrolled at the Culinary Institute of America in Hyde Park, New York, where he graduated with honors.
Courtesy of MINA Test Kitchen
Leaving Las Vegas... and also DC
After culinary school, Chef Bradley Ogden offered Adam a spot on his opening team for his namesake restaurant in Caesars Palace. A year later, it received the "Best New Restaurant" award by the James Beard Foundation. Adam stayed in Vegas for eight years, ultimately becoming chef de cuisine at Restaurant Guy Savoy, which was awarded two Michelin stars after his arrival. Adam was then offered the executive chef position at Michael Mina's BOURBON STEAK in Washington, DC.

"It was an incredible experience for a few years, but then Michael asked me if I'd be interested in coming to San Francisco. I said yes, but told him I wanted to do my own thing," Adam said. That's when Michael Mina made him an offer he couldn't refuse -- executive chef and partner of RN74. Adam took the job and earned San Francisco diners' respect with his bolder flavors. Though it didn't hurt that he also won the local Cochon555 crown and the "King of Porc" title in the prestigious Grand Cochon competition, where top chefs from across the country are judged on dishes prepared from heritage pork breeds.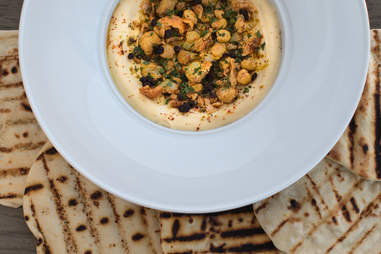 Courtesy of MINA Test Kitchen
The ultimate test (kitchen)
Adam loved melding international flavors with classic French techniques and working with local ingredients at RN74, but he always made himself available to help out with other Mina Group projects. "Michael always had me in the loop as far as menu development for new projects or helping to train chefs for new openings," he says, which he how he ended up growing into a corporate chef role, a job that meant he got to take some pretty amazing trip.

"I came back from Israel a few years ago and I was so gung ho about a concept, I told Michael, 'We have to do this.'" That was the beginning of the Middle'terranea, a concept that drew from Adam's Jewish culture and Michael's Middle Eastern background. The two developed recipes together and knew immediately it was a restaurant they had to make happen.

At the same time, Adam and Michael were looking to do a bar project in the Marina, which is how they stumbled upon the former Cafe Claude, a small restaurant in Cow Hollow that had recently shut its doors. "We saw it had a little kitchen and we threw around the idea of having a test kitchen where we could do pop-ups." Adam saw it as an opportunity to bring his collaborations with Michael to life and see how diners responded. And so MINA Test Kitchen was born.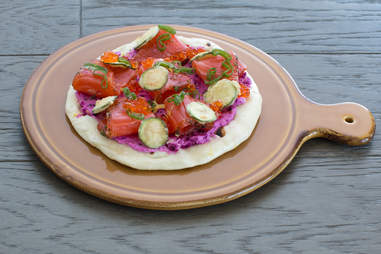 Kevin McCullough
Flipping the script
The food at MINA Test Kitchen is consistently so amazing that many diners don't realize is that it truly is what the name says: a test kitchen. Except whereas most test kitchens are a place where chefs can create freely without the worries of catering to actual diners, MINA Test Kitchen is also a pop-up restaurant that serves its dishes to 100 people a night from Tuesday to Saturday. And they're not just testing dishes; they're testing full-on concepts.

Even more impressive, the entire concept completely changes every couple of months, which is exciting but comes with also a ton of work, stress, and anxiety. "I don't want to put anyone down, but I don't know if there's another restaurant group that do that can do what we do as far as flipping an entire concept in less than a week," Adam said.

Which means the flips happen fast and furious. "If Saturday is our last day of service for a concept, the kitchen is back on Monday morning for development and training and then there are maybe four or five days to retrain the whole team, flip everything, and go," Adam said. "It's a challenge for the marketing team, for the PR team, for our chefs... It's crazy."

And all of that recipe development? It's also happening in-house on the days that MINA Test Kitchen isn't open. "It's not the most spacious operation," Adam noted. "There's one way in and one out of the kitchen. It's tough on the chefs, but my guys are amazing. It's a testament to them."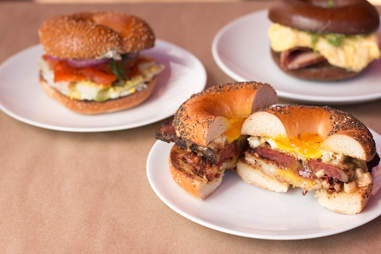 Kevin McCullough
Fueled by the rush of a new restaurant
All of the hard work and stress is worth it. There's nothing quite like the rush of opening a restaurant where the team is simultaneously fired up, challenged, and scared.

"When you have a concept you're really passionate about and you make it come to life and then you actually have guests in seats and they're blown away... you're like, holy shit, we did it," he said. "We hit a homerun. And it's incredible. But what's even more rewarding is when you have a concept that works as a pop-up and then it goes to brick and mortar and you realize that all of that hard work, the torture, the nerves, the anxiety, was all really worth it."

So far, there's a good chance that most of the MINA Test Kitchen pop-ups (there have been six since it opened a year and a half ago) will find life in another iteration. There will be a casual version of Little Italy, Adam's homage to his Italian culture and his grandmother, in Waikiki and Beverly Hills. Diane's Bloody Mary Brunch, a brunch concept that pays homage to Michael Mina's wife's famous Bloody Marys and for which Adam created all of the recipes, is being tested in a handful of Bourbon Steaks all over the country. International Smoke, the collaboration between Ayesha Curry and Michael Mina, is going to open in Hawaii. And Adam is hopeful that the current pop-up Postcards from La Costiera, a coastal Italian concept (and one of our favorite meals of 2016), will eventually be a brick and mortar in both San Francisco and Los Angeles.

It's a lot of hard work, but listening to Adam speak, it's clear he wouldn't have it any other way. And besides, he says it's the most fun he's ever had. "And I think Michael would agree," he added. "It's just incredible."

We're certain everyone who's had the pleasure of dining at MINA Test Kitchen would agree.
Sign up here for our daily San Francisco email and be the first to get all the food/drink/fun SF has to offer.
Daisy Barringer is an SF-based freelance writer whose favorite meal of 2016 was Postcards from La Costiera at MINA Test Kitchen. Tell her yours on Twitter @daisy.