These are the 8 best wings in SF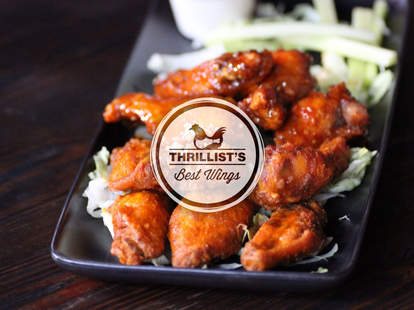 Pretty much everyone can agree that wings are one of God's greatest gifts to mankind, especially when you consider how well they go with His (or Her!) other gifts (fire, beer). Now, helping you figure out which of these greatest gifts is the greatest-est: this roundup of the best eight wings in the Bay.
Wing Wings
Lower Haight
Still the reigning champion, this Lower Haight go-to has a million (okay, like seven) flavors that you have to try, like Wing Wing, Honey Mustard, and Angry Korean, which will accurately describe your emotional state if anyone tries to take a wing from you.
FoodSpotting.com
Kezar Pub
Cole Valley
This famous sports pub advertises their "World Famous Wings" with good reason, because these things are seriously delicious and, unlike most girls you hit on, you can even get them "Naked"!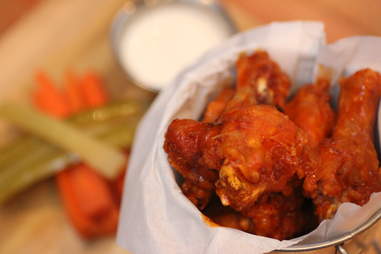 Hi Tops
The Castro
This sports bar in the land of bros who like bros packs a killer menu consulted on by a Top Cheftestant, which means you can get yourself some Top Chef-grade wings here.
Lightning Tavern's Facebook Page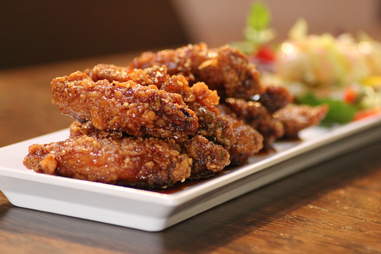 Ssisso
Japantown
Hidden in Japantown, this two-floor restaurant and bar has three giant projection screens you can watch sports on while downing their incredible soy-garlic-glazed wings.
Wilhelm Y. on Yelp
Double Decker
Hayes Valley
This spot you've probably walked past just off the main Hayes drag actually has some of the city's best Buffalo wings, which come in mild, hot, or inferno, and you can get them in freaking bucket size. Bucket!!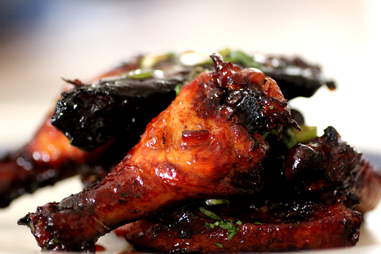 Memphis Minnie's
Lower Haight
Though you might not expect wings from a BBQ spot, MM's Smokey Mountain Wings are, much like you at Outside Lands, both smoked and fried before they're smothered in tangy BBQ sauce.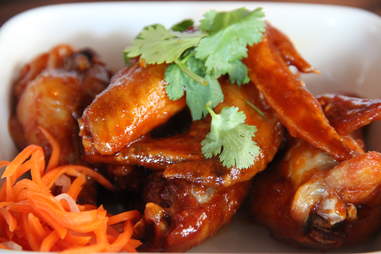 The Bureau 510
East Bay
This comfort food spot's tangy Asian BBQ sauce-accompanied spiced wings are good enough that you'll actually want to consider taking (gasp!) BART to get to them.