Whoever first said, "You are what you eat," was probably talking about the donut -- round, soft, doughy. Really, it's a testament to their unstoppable deliciousness that people keep buying them by the dozen, despite the disastrous impact on their collective midsections. But if you're going to fatten up on donuts, you might as well fatten up on the best, so here are the eight finest examples you can find in SF...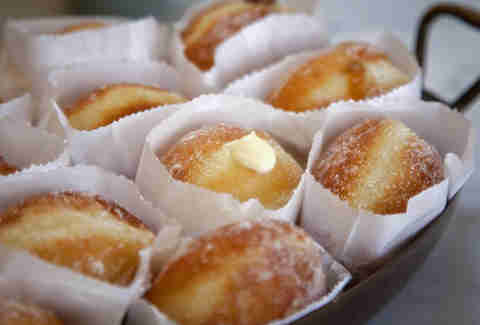 Doughnut Dolly
Oakland
The Must-Get Donut: Naughty Cream
Located in Temescal Alley and started by an awesome woman whose name is surprisingly not Dolly, this shop has done nothing but garner attention for its delicious hand-pump-filled donuts, and while all the rotating flavors are great, you absolutely have to try the signature Naughty Cream (Crème Fraîche Vanilla Bean Cream).
Dynamo Donut & Coffee
The Mission
The Must-Get Donut: Bacon Maple Apple
Available not only at their shop but also at select establishments around the city, Dynamo's donuts are delicious and also perfectly suited to SF's unique taste, thanks to... bacon (okay, maybe not THAT unique), which provides the perfect salty contrast to the sweetness of maple and apple.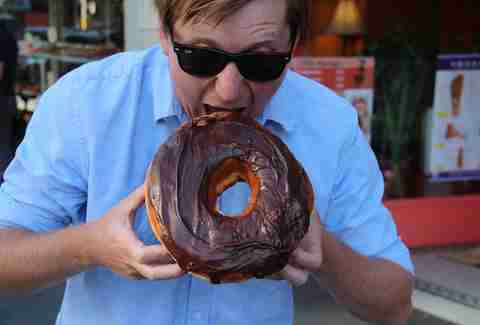 Bob's Donut and Pastry Shop
Nob Hill
The Must-Get Donut: Giant Donut
Usually a spot you head to after 12a, you're gonna want to get the big glazed donut which, we kid you not, is going to be larger than your head. Unless you are Spongebob Squarepants or Hey! Arnold. And if you ARE Spongebob, what are you doing reading about donuts in SF? Are you in town? Why haven't you called?!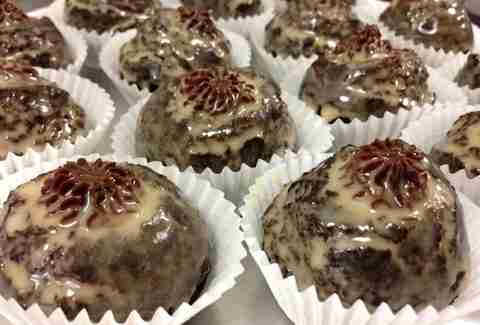 Donut Savant
Oakland
The Must-Get Donut: Chocolate Bomb
Proving that Oakland's doing some pretty amazing things with donuts, this spot comes up with wildly creative flavors daily, but the go-to move is the Chocolate Bomb, which is actually a chocolate donut filled with a Jameson ganache and coated in a Baileys and Guinness glaze, leading to the good kind of mouth-explosion.
Andalu
The Mission
The Must-Get Donut: Fresh Donut Holes w/ Castillian Hot Cocoa
You don't necessarily need to be at a donut shop to get the best 'nuts, as proven by The Mission's standout tapas restaurant where, after you've had some of their Dr Pepper-glazed ribs, you absolutely have to follow with these donut holes to dip in hot cocoa over a flame, like fondue that you actually due (eh???) want to due (sorry).
Heartbaker
Inner Richmond
The Must-Get Donut: Rum Custard rolled in Cinnamon Sugar Bomboloni
It's worth the trip out to this quaint Inner Richmond bake shop to try their bomboloni (Italian donuts) with seasonal fillings, our favorite of which is naturally the one with the booze.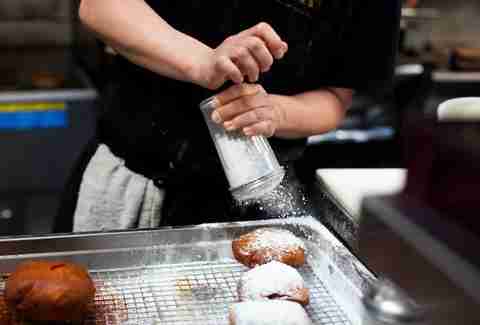 Brenda's French Soul Food
The Tenderloin
The Must-Get Donut: Beignet Flight
We'll start this off by saying if you haven't eaten at Brenda's, you are only living an empty shell of an existence. Sorry. Also, when you're there you gotta try the beignets (French donuts!!), and even though it's kinda cheating to say you should get the Flight, you really should try them all (classic, apple cinnamon, double chocolate, and even the savory crawfish).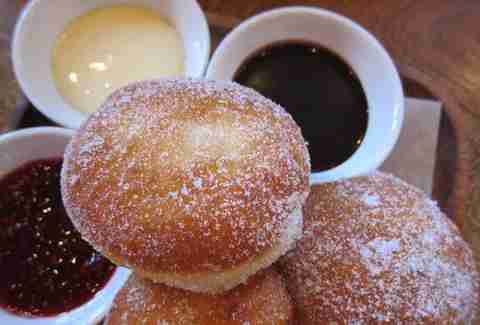 Delarosa
The Marina
The Must-Get Donut: Bomboloni Caldi
Not just great for an off-menu pizza, this Marina go-to also has some delectable hot Italian donuts that come with a trio of sauces: mascarpone cream, chocolate sauce, and raspberry puree.