The Best Food Trucks in San Francisco and Where to Find 'Em
San Francisco loves its food trucks. We have food truck parks, like SoMa StrEAT Food and Spark Social, as well as Off the Grid, a roaming food truck festival with over 60 events every week. Not to mention all of the trucks that park around town hoping to feed hungry diners who want good food, but don't have the time, money, or inclination to go to a restaurant.
Of course, with so many food trucks parking in our neighborhoods, it's hard to know which ones to hit up for maximum satisfaction... until now. We tried to let you know where you can find most of them, but the thing about food trucks is, well, they're trucks. They move around, y'know? So be sure to check their websites for updates and locations.
For three glorious years, you could get The Chairman's popular pork buns for lunch whenever you wanted at its brick and mortar Tenderloin location, but sadly, it shut down last year forcing us to once again track down the distinct red and white truck in order to get our bao fix. You can order them two ways: steamed, where the protein and fillings (pork belly, Coca-Cola braised pork, spicy chicken, or miso-cured tofu) are served in a fluffy steamed bun taco-style or baked (where the good stuff comes between a baked bun with a soft center and light sugar glaze sandwich-style). We like to get one of each.
Where to find it: Several locations throughout the Bay Area. Find the most recent schedule here or stop by Off the Grid at Front and Vallejo on Wednesdays between 11am and 2pm or 400 California Street (outside of the Bank of California building) on Tuesdays and Thursdays from 10am to 2:30pm.
Get your Indian street food fix at this truck that combines classic street foods like tacos, burritos, and bowls, with authentic Indian flavors. We highly recommend you eat your way through the entire menu, but the best place to start is with one of the signature dishes. Our favorites are the "sexy fries," an Indian-inspired poutine with sweet potato waffle fries, cheese, and your choice of chicken or paneer and the quesadillix, a whole wheat potato stuffed parantha flatbread with your choice of chicken or paneer, chaat masala yogurt, and chutney. If you're looking for something more classic, the tikka masala bowl is filling and flavorful.
Where to find it: Curry Up Now started as a food truck, but now there are fast casual brick-and-mortar locations all over the Bay Area, including one in the Mission. But this is about the trucks, and you'll often find said truck on weekdays from 11am to 2pm at 255 Bush (outside of the Standard Oil Building). Check the official schedule here.
Del Popolo's pizza is probably the best pizza in San Francisco, which is kind of crazy considering it started as a mobile pizzeria in 2012. Of course, it wasn't just any mobile pizzeria. Del Popolo's $180,000 truck is a huge shipping container on wheels with huge windows so that you can see the 5,000-pound wood-fired Stefano Ferrar oven inside. That oven is key to creating a perfect Neapolitan-style pie that is cooked in 90-seconds or less and comes out with a crust that is both crispy, tender, perfectly blistered. We love the classic margherita di bufala and the salami piccanti with crushed tomato, mozzarella, peppers, and onion.
Where to find it: You can find it at the Proxy pop-up in Hayes Valley most Fridays (12 to 8pm), Saturdays (12 to 8pm) and Sundays, (2 to 8pm). Find the entire schedule here.
FK was California's first frozen custard truck and it delivered something we didn't even know we needed: a denser take on ice cream (it's made with eggs) that is popular in the Midwest, but with a West Coast twist: unusual flavors, like ube, black sesame, and cornflakes cereal milk. Get it as an ice cream doughnut sandwich if unadulteraed bliss is a thing you're into.
Where to find it: You can check out the Lower Haight scoop shop or get boozy versions inside of Trademark & Copyright in SoMa, but if you want it from the truck, you'll have to hit up one of the Off the Grid food truck parties. Your best bet to find out where it will be is to checkout the Off the Grid site because FK doesn't seem to be updating their website much.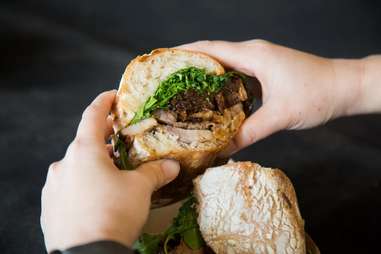 Roli Roti's porchetta (that's hand-rolled pork tenderloin wrapped in crispy pork belly and only available at the Ferry Building) sandwich is the kind of sandwich that people say they'd request for their last meal. The tender slices of pork -- seasoned with salt, rosemary, garlic, lemon juice, and other things that make meat taste better -- are served on an Acme roll that has been used to soak up the juices left on the cutting board and topped with arugula, onion marmalade, and rosemary sea salt. You're also going to want to get an order of roasted fingerling potatoes covered in pork and chicken drippings, and since you waited in line for so long, a slow-roasted rotisserie chicken to take home for dinner.
Where to find it: You can find Roli Roti all over the Bay Area, but in SF, your best bets are the Civic Center between 9am and 2pm on Wednesdays, the Fort Mason Farmers Market between 9am and 1:30pm on Sundays, and the Ferry Building between 10am and 2pm on Thursdays 8am and 2pm on Saturdays. The catch is that the Ferry Building is the only place where you can get the porchetta sandwich.
We told you to skip Lobsta Truck's chowder and that's because if you're going to enjoy creamy comfort in a bowl from a food truck, it should be from Sam's Chowder Mobile. This New England-inspired food truck makes a version that is hearty and satisfying (and perfect for dunking the Old Bay fries). That being said, we still prefer to satisfy our clam chowder cravings at Pier 39 'cause of that sourdough bread bowl. Instead, we'll hit up Sam's for fish and chips, fried shrimp po' boys, and popcorn shrimp, three classics that are sadly hard to find decent versions of in SF. Sam's got it dialed in though. Everything is fresh, flavorful, and fried to perfection. And we would like to note that while we love Lobsta Truck's lobster sandwich, Sam's is also excellent.
Where to find it: Check the website for the schedule. It's often at an Off the Grid around the Bay, including Fort Mason (5 to 10pm every Friday from March to October) and the Presidio Picnic (11am to 4pm every Sunday from April to October).
Even though we live in California, nothing says summer quite like a New England lobster roll. And though there are a couple of places in SF to partake in this indulgent sandwich, you won't find one that's more classically prepared or better priced than at the Lobsta Truck. The sandwiches are simple -- lots of fresh Maine lobster served on a toasted spilt top roll with butter (you can also opt for seasoned mayo, but why?). Because we're on the West Coast, there's also a Dungeness crab version, but we say skip it. You can also skip the clam chowder, but it's hard to say no to the lobster bisque. Get it in a pint and take it home for later.
Where to find it: Check the schedule for all of the locations, but you can usually find it at Off the Grid Fort Mason (5 to 10pm every Friday from March to October) and the Marin County Mart in Larkspur on Sundays between 11am and 3pm.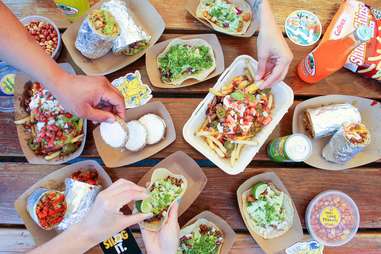 Señor Sisig is an OG when it comes to SF food trucks (it's been around since 2010) and one of the city's most popular. After all, where else are you going to get such a unique take on a traditional Filipino delicacy? You see, Sisig is traditionally a crispy pork dish made with all of the best parts from a pig's head and chicken liver, chopped into small pieces, fried, spiced with chili peppers and calamansi, and mixed with onion. It's also, as Anthony Bourdain said, "perfectly positioned to win the hearts and minds of the world as a whole." Not into eating pig head? Señor Sisig's version uses pork shoulder and there's even an adaptation for chicken and tofu. What takes it to the next level though is how it's served: in tacos, burritos, and on top of nachos and fries. You can also add a fried egg to any dish, which of course we recommend.
Where to find it:All over the city (there are five trucks), but our favorite places to get it are at the Off the Grid Presidio Picnic (11am to 4pm every Sunday from April to October) and Off the Grid Fort Mason (5 to 10pm every Friday from March to October) because you can hit all of your favorite food trucks and enjoy a cocktail or two and some kind of entertainment.
Sign up here for our daily San Francisco email and be the first to get all the food/drink/fun SF has to offer.
Daisy Barringer is an SF-based freelance writer and stands by her assertion that Del Popolo is the best pizza in the city. Tell her how much you agree with her on Twitter @daisy.