Eat Your Way Around the World Without Leaving SF
Send your taste buds on vacation.
These weeks (years?) of shelter-in-place seem to have caused the world to simultaneously contract and expand -- we're talking and texting and Zooming with friends and family around the world, seeking connection and solidarity. We're also housebound, with the journey from workday coffee to evening (afternoon) wine being the most anticipated trip any of us are taking.
Your passport may be tucked away for the time being, but you can still indulge your wanderlust thanks to San Francisco's ever-amazing restaurant community. Here are our 12, by no means exhaustive, picks for stellar takeout options with flavors and dishes from around the world.
[Editor's Note: We encourage you to support your neighborhood businesses first and foremost; consider this a sampling for great options throughout the city.]
Korea
Toyose
Outer Sunset
Housed in a converted garage and boasting some of the absolute best fried chicken wings in the city, Toyose is a go-to for late night feasts and unbeatable iterations of Korean drinking food. While nothing quite compares to tucking into a cozy booth and ringing a doorbell for service, your couch isn't a bad backup spot to feast on their kimchi pancake, gochujang-slicked rice cakes, and cheese corn, if you're so inclined. Their legendary hot pot setups are also available, and packaged for you to assemble yourself at home.
Available for take out and delivery Thursday - Sunday, 6 - 9 PM. Call 415-731-0232 or order via DoorDash, Postmates, or GrubHub.
China
Sam Wo
Chinatown
The myth, the legend, the Wo -- Sam Wo has been fulfilling our Chinatown dreams since 1907, surviving a World War, cultural upheaval, a Conan O'Brien appearance, and a litany of building code violations. After closing in 2012 and triumphantly reopening a few blocks away in 2015, Sam Wo continues to shine like a beacon of hope in trying times -- a feast of barbecue rice noodle pork rolls doused with their signature spicy mustard, soul-warming jook, and wok-kissed stir-fried noodles wont hurt the cause, either.
Open for takeout and delivery. Call 415-989-8898 or order via their website.
Japan
Rintaro
Mission
One of San Francisco's best izakayas, Rintaro developed something of a cult following for its daytime-only bento boxes. Now, you can get bento to-go, with a changing menu that might include hand-rolled udon noodles, assorted sushi featuring local fish (and, uh, Fort Bragg uni if you're so inclined), and chef's choice yakitori. You can add sides like chicken and Cowgirl Creamery Wagon Wheel cheese katsu, plus sake, beer, and wine, all of which sound like no-brainers over here.
Available for pickup and limited delivery. For delivery, call 415-517-8539. For pickup, order online.
Italy
La Ciccia
Noe Valley
Easily one of San Francisco's most beloved Italian restaurants, dinner at La Ciccia is the meal equivalent of a bear hug from your favorite Italian nonna. That is, if your nonna was a master of seafood-heavy Sardinian cuisine with one of the more epic wine lists in town. Dream team Chef Massimiliano Conti and his wife, Lorella, are letting you take some of the La Ciccia magic home with a takeout menu that includes hits like baby octopus stew in spicy tomato sauce, pasta loaded with creamy, fresh sea urchin, and cracker-thin Sardinian flatbread topped with olive oil and grated Pecorino (subject to ingredient availability; they've got pantry items on offer, too).
Available for takeout Tuesday - Sunday, 4 - 8 PM. Call 415-550-8114.
Nepal
Bini's Kitchen
SOMA
We're not saying that dumplings solve all problems, but we're also not saying that dumplings don't make everything a little bit better. Not least when the dumplings in question are Nepalese momos from Bini's Kitchen, glorious, flavor-filled packages of love and joy (and turkey, or vegetables, or best, yet, lamb). Get them hot and ready to eat alongside Bini's comforting yellow daal, spiced grilled chicken, and more, or frozen in packs of 50 to have on hand when the craving strikes.
Available for takeout and delivery Monday - Friday ($90 minimum for delivery). Call or text 415-361-6911, or email order@biniskitchen.com.
Thailand
Nari
Japantown
Nari, Pim Techamuanvivit's stunner of a follow-up to Khin Kao, was easily one of the most noteworthy restaurant openings of 2019. While you can't soak in the restaurant's gorgeously appointed dining room, you can lose yourself in the complex, intoxicating flavors of her masterfully executed Thai cuisine. Offerings include red curry with duck confit, melt-in-your-mouth tangy-spicy pork belly, or comforting khao mun gai to reheat at home, alongside pantry items and vegetable boxes from Dirty Girl Produce.
Available for takeout Tuesday - Saturday, 5 - 7 PM. Preorder online.
Palestine
Beit Rima
Cole Valley, Castro, Daly City
Beit Rima, a delicious showcase of of Samir Mogannam's Palestinian heritage, earned instant accolades and devoted fans for its flavorful mezze, perfectly grilled kebabs, fresh pita, and shareable stunners like braised lamb shank and whole fried branzino. Now that you're eating it at home, there's really no reason not to wildly overorder and indulge in the Beit Rima mastery for multiple meals in a row.
Available for takeout and delivery, Wednesday - Sunday, 4 - 8:30 PM. Order from all three locations via Caviar, DoorDash, and Postmates.
Mexico
Tacos El Patron
Mission
2019 may have been the year that birria tacos took over our collective, hungry consciousness, but 2020 is the year they save us with their delicious, soul-validating power. It's hard to beat the red-hued, tender beef-filled versions at Tacos El Patron, but don't sleep on their other offerings including tacos filled with shrimp, guacamole, and cheese, tamales, and on point micheladas.
Available for takeout and delivery. Call 415-829-7315, or order via UberEats.
Eritrea & Ethiopia
New Eritrea
Inner Sunset
A cozy, neighborhood favorite for Eritrean and Ethiopian classics, New Eritrea is open for takeout and limited delivery. The vegetarian and meat combinations are both worthwhile, but the special kitfo is worth special attention -- finely diced rare or raw beef is tossed with fresh cheese, collard greens, spices, and clarified butter. Definitely order extra all-teff injera on the side.
Available for takeout and delivery. Call 415-681-1288, or order online.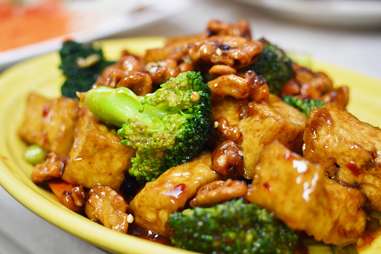 Myanmar
Mandalay
Inner Richmond
San Francisco's oldest Burmese restaurant is still one of its absolute best, and a go-to for complex curries, shatter-crisp samosas, and, of course, tea leaf salad, a riot of texture and flavor. Whatever your order, be sure to include plenty of balada, a crispy, buttery pancake served with a curry dipping sauce.
Available for takeout and delivery. Call 415-386-3895, or order through Caviar, DoorDash, UberEats, or GrubHub.
France
L'Ardoise
Duboce Triangle
L'Ardoise is the type of dreamy French bistro that you almost don't want to tell people about -- tucked away on tree-lined Noe Street, it feels like the best kind of neighborhood secret. But their takeout offerings are just too good not to share. Treat yourself to their perfect renditions of classic French dishes like coq au vin, steak frites, and duck confit, paired with a bottle of French wine.
Available for takeout. Keep an eye on their Facebook page for updates and order online.
All Over
La Cocina
Mission
Craving a round-the-world tour in delicious food form? Order the La Cocina Community Food Box for a week's worth of fresh and frozen goods from ten of the women-run businesses under the food incubator's purview. Boxes can be ordered vegetarian or omnivore and are available in two different sizes -- menus for the following week are posted every Saturday, and might include mole from El Huarache Loco, Persian kuku from Oyna Natural, and cheese-filled hand pies from Reem's.
Available for pickup only. Order online by Tuesday for pickup the following Friday.
Sign up here for our daily San Francisco email and be the first to get all the food/drink/fun SF has to offer.