The Best Korean Food in the East Bay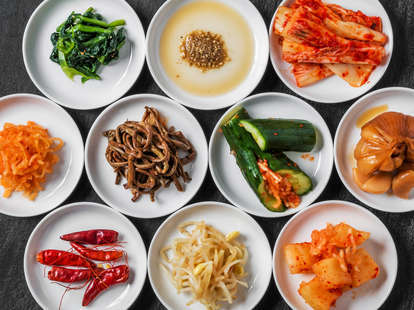 Korean food is amazing: filled with rich flavors, spicy meats, pickled vegetables, and tofu that you'll actually enjoy eating. And if you haven't spent much time at Korean restaurants yet, you'll swoon over the the beauty of banchan -- these delicious, mysterious side dishes that materialize magically with your meal. Prepare to feast like royalty at the best East Bay Korean food restaurants... we'll even teach you Korean BBQ etiquette before you go.
2775 Telegraph Ave
It's hard to resist a place referred to casually as the Porno Bar... but if you want to know where the nickname comes from, get your perv self down there for a late-night food fix. Their Korean street-style food, like the ever-popular corn cheese or spicy fried chicken, is delicious, and the bench seating at the bar, private booths, and big table down the middle make this the perfect place to transition from dinner to party all in one spot -- especially as the soju starts to flow.
4315 Telegraph Ave
Inviting and unpretentious, the warm, wooden tables and inviting Korean decor just serve as a backdrop for the real reason to come here: it's all about that black goat stew, baby. Chock full of tender meat, scallions, sesame leaves, and pungent spices served simmering in a stoneware dish, this stuff is amazing. If you happen not to dine on goats, no worries -- the family restaurant has brilliant options like kimchi and vegetable stew or ho bak jun (savory zucchini and jalapeño pancake) that will leave you full of joy.
3915 Broadway
This place serves upscale Korean food in a relaxed setting -- often with the game playing on their big screens. Boasting mesquite wood charcoal, attentive service, and a table-consuming array of banchan, it's your go-to KBBQ date spot (and word to the wise: there's a very affordable lunch buffet if you're not sure it's really true love). Extra props to Ohgane for the spectacular mural gracing the parking lot wall -- as an added bonus, the parking situation here is seriously easy.
933 Ashby Ave
This Korean hot spot is one of the Bowl'd family dynasty of Korean restaurants. It's not super fancy, but who's really that worried about decor when the food's dynamite? Get the dolsot (hot stone bowl) bibimbap, so the outer layer of your rice gets crispy cracklin' hot and the egg cooks to perfection. Yum. Super-extra bonus points for the Korean snacks, candies, and drinks you can purchase at the counter... you know you're going to want to bring some tasty Korean snacks home.
4701 Telegraph Ave
Look, tofu isn't actually bad, just sorely misunderstood. If you're unconvinced, you need to get to know this stuff via Pyeongchang Tofu Houses's rich and spicy soft tofu stew, in which it's a great companion to tender meat and perfectly-cooked vegetables… and has the capacity to contain more flavors than a crayon box. You can order their famous tofu stew mild, but why live life under a rock? Pull up a seat at the communal style tables, embrace the heat, and request kimchi, pork, beef, seafood, dumpling, or some wild combination of vegetables. Life is short, friend -- be adventurous.
2311-A Magnolia St
FuseBox is the cutest little joint you ever did see. This West Oakland lunch and dinner spot is more outdoors than in, with a colorful, walled-in patio perfect for sunny afternoon lounging. The inside is charming, cozy, and always bustling with action, as the town comes to eat the minimalist and artistic Korean fusion food. Daily specials like the bacon-wrapped enoki will keep you coming back for more. A pitch-perfect first date spot, this place is both laid-back and sophisticated (just like you'll pretend to be for the first, say, three dates or so).
4390 Telegraph Ave
Forget banchan, forget everything, really -- just leave behind your ideas of what makes a balanced meal. You're here to interface with KFC: Korean Fried Chicken. Crispy chicken that's double-fried (why have we not been double-frying everything?) with just the right amount of spice, and insides so juicy you might cry. Other items of note include the soy and black vinegar oven chicken, garlic chicken, and wine and green onion chicken... or if you're working on getting into fighting shape, the boneless ssam chicken is served with julienned fresh veggies and thinly sliced radish to wrap it all up... tasty, fresh, and sure to save you from the deep fryer.
2370 Telegraph Ave
If you want a delicious take-home option, KP is the answer. While you can grab Korean groceries, fresh fish, produce, and marinated meats here, the far easier option is to pick up packaged and prepared dishes for meals on the go for a quick dinner... or to serve at home and convince everyone you are the second coming of Chef Edward Kwon. They have seasonal kimchi, delicious spicy pork, and best of all, you can pick up a home cooker hotpot and some new socks in their housewares department next door.
2600 Telegraph Ave
The focus here is AYCE BBQ and hotpot... which means you should show up in your stretchiest pants. Huge flat screens line the walls of the secondary dining room, so there's no reason not to eat galbi (marinated short ribs) for hours on end while watching the game. There are the standard Korean menu items, but the highlight is grilling your own well-spiced meats and veggies at the table. Be prepared to wait with all the other KBBQ lovers, as the lines can range from one to two hours during a rush. On weekends, reservations are only available before 6pm or for large groups, so get the gang (or eat when your grandparents do).
3702 Telegraph Ave
Located between Big Daddy's Chinese Restaurant and a local liquor store, you'll find a Korean bar food gem. It's not the most glamorous, but it is just right for a late night food fix washed down with soju. They have killer bar fare, including corn cheese (a sweet corn mayo cheese concoction that will confuse and delight you), fried wings, and chicken gizzards, all set against a background of Korean pop music. Try the military stew, a big, bubbling mix of sausage, tofu, Spam (that's right, Spam), ramen noodles, green onions, spicy broth, and the rest of the kitchen sink. Buy some rounds of Hite for the bar and party all night with all your new best friends.
Sign up here for our daily San Francisco email and be the first to get all the food/drink/fun SF has to offer.